Martín: "I must keep my guard up with COVID-19"
"I have already passed it and it can happen to me again", says the future Ducati rider, where he will arrive ready to "be one day MotoGP champion".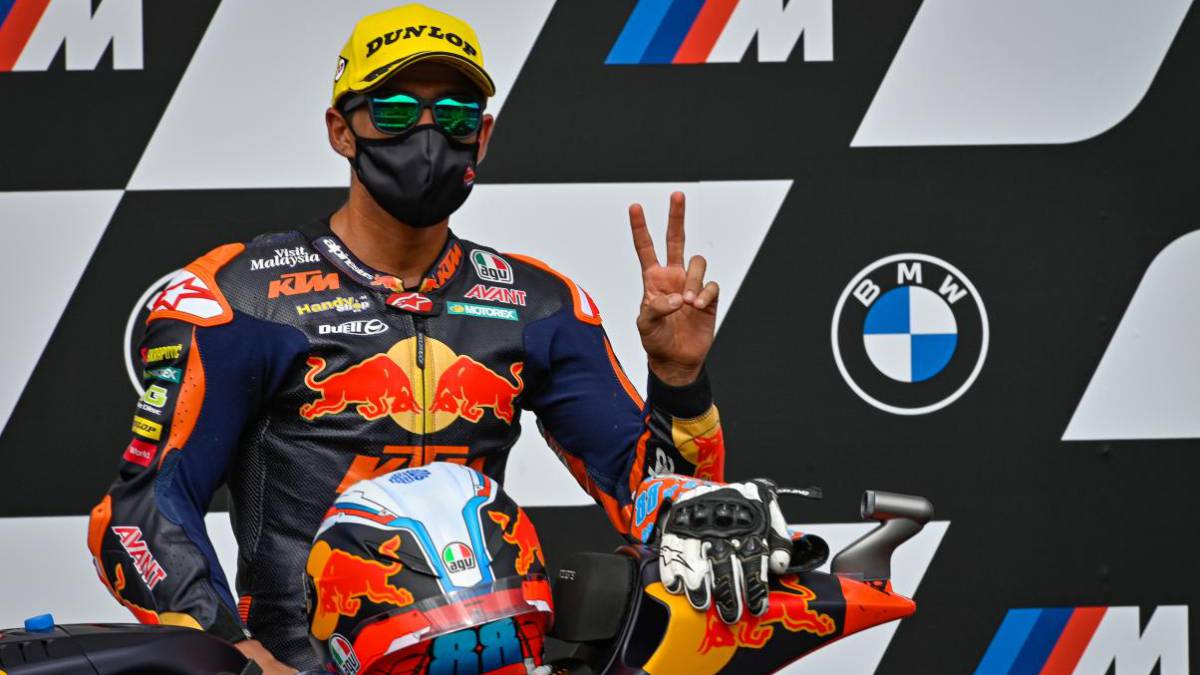 There was an in-depth pending conversation with Jorge Martín. The Madrilenian has been in the news in recent times. First, for his positive for Coronavirus that made him miss the two Misano races and ruined his title options in Moto2. Second, for the official announcement of his signing for Ducati to go up to MotoGP, within the Pramac team. He is seen with very clear ideas.
-How are you doing? We haven't seen each other for a long time and it's been in the news lately.
-I'm doing well. Let's see if all this changes for next year and we can meet again on the circuits.
-I was very sad to have to write before Misano who tested positive for Coronavirus, for what it meant on a personal and sports level. Was it a blow to you?
-Yes, it was quite hard, especially when they gave me the news. In the end it was not so, but when you see that you are at home, that you are well and see your greatest rivals competing and making podiums is when it really affects you. It is something that I have to accept and that is happening. I was the first case on the grid, but now there are many cases in the paddock and this can happen to anyone. I think it's something that everyone is going to have to go through, now or in winter. It is a very rare situation and one that nobody expected, but we have to live with it.
-Are you worried that it could happen again?
-I passed it (it was asymptomatic) and it can happen to me again. That is why you have to keep your guard up, keeping your distance both outside and in the box, because anyone can have it and without realizing it can pass it on to someone else. You have to be careful not to miss a race.
-Was it a matter of bad luck or do you think you committed something reckless?
-In the end we all lowered our guard a bit, because you see that you did not take it and that all the people who took it were a bit far from you. Maybe I shouldn't have let my guard down and not go to a dinner and be a little more careful, but they are things that can happen and I didn't do anything to write home about. I think it was in Andorra, because no one of my friends or my environment has it, so it must have been making the purchase or you know. My girl took it and then my family and I took it
-Has something changed in your habits?
-I try to clean my hands more, not get too close to people and always wear a mask, which is what protects us the most, but we cannot have everything under control. I try to be more cautious with this situation.
-Do you think the Moto2 title would have been yours without that positive?
-I don't know, because in the last two races I have made mistakes. I think I lacked experience this year, but I had speed. And if I hadn't missed Misano, I would have come to Montmeló more prepared. And if Montmeló had gone well, I would not have risked so much in France ...
-What encouraged you the most when you were at home, knowing that your Moto2 awaited you or that your jump to MotoGP with Ducati would be announced at any moment?
-My motivation has always been the championship. Even if I missed two races, I always saw it as viable, although I was 46 points behind I saw them as recoverable. That was the motivation. Going up to MotoGP is a bonus, but I don't think about it because I'll do it later.
-Who do you think is going to win the Moto2 title?
-Hard to say. I think the fastest right now is Bastianini, although I don't care who wins it. I wish I could recover all my disadvantage, but now I want to win races and show that I have the level to go up to MotoGP.
-Who was going to tell you just a few years ago that you were going to be in the antechamber of MotoGP right now…
-It is difficult what we have achieved. I look back and see all the effort, especially from my family. Thanks to them I have managed to get there. I remember an interview with AS in 2012 or 2013 in which I was in the Rookies and I saw a long way to go to the Moto3 World Championship, but now we are in MotoGP… The other day my father uploaded a photo to Instagram of me with him in the 748 in The one that I was not even a year old and it is curious to have a photo at that age with a Ducati, a brand with which I am now going to make the leap to MotoGP. I am very proud of all that has been achieved.
-And above he had the opportunity to choose. Isn't that amazing?
-I know that the opportunities I have had have been very good. Mahindra gave me the opportunity in Moto3, then Gresini to continue progressing, now in Moto2 with Aki and for MotoGP I was lucky to be able to choose, which was not easy, but I think I have chosen the right thing.
-Why Ducati and not KTM?
-Because Ducati is passion. It is something that you feel and felt that it was my best option, the right thing and where I think I have the most route for the future.
-Did KTM feel betrayed?
-Yes they were a bit disappointed, for giving me the opportunity to jump into Moto2 with them, but a rider has to be selfish in this regard and I have looked for myself. At the time I decided, the Ducati was the most competitive bike out there.
-How do you imagine your first day in MotoGP?
-I'm going around it and it's going to be complicated, because I've never ridden a more powerful motorcycle than the Moto2 and when I catch that bug I'm going to hallucinate. I smile just thinking about it, because I'm a little scared, but I think that all the riders who are there have gone through the same thing that I will go through. Maverick, Quartararo, Márquez, they all had that first day to learn and then be competitive.
-Which Ducati rider is your reference?
-I'm a mix, but I think Pecco (Bagnaia), although he has a different style, is similar to me. He went through the Mahindra and spent two years through Moto2. His career has been similar to mine. He had a little more cornering in Moto3 than I did, but we are both strong brakes. He is adjusting well and I hope the same thing happens with me. The cornering is a bit of a weak point for me, but I'll adapt to whatever.
-Is it very easy to have signed for two years?
-Yes. I have always liked to sign like this. Two years gives you the security of being able to learn the first and then demonstrate the second to renew.
-Do you see yourself winning the MotoGP title one day?
-Yes I see myself, yes. I am a pilot with a lot of potential. I lack experience, because it is something that I already see in Moto2, but I see my mistakes and I am making progress. My dream and my goal in this life is to become MotoGP world champion.
-How much time do you think it will take for something like that?
-I don't know. I hope to fight the first year to get into the top ten and be the rookie of the year; the second, fighting for podiums and, if possible, for a victory, as Pecco is doing; and from the third, try the World Cup as a goal. It makes sense, but you never know. You have to work hard and in MotoGP half of them are world champions.
-Quartararo and Mir are fighting for the title in their second year…
-That is what motivates me, because I have raced against them. Mir won the Moto3 World Championship the year I had a serious injury, but I didn't lack speed because I made nine poles. I think I have the level and the potential to do it, but you have to adapt. This year I think Quartararo will take it, because I see him with one more point, but Mir in the race is very strong and we will have to see until the end.
-Good luck.
-Thank you very much.
Photos from as.com