'La Mamba calva': the antihero Caruso triumphed in the Lakers
"Mamba Calva" or "Insurance Salesman", some of the nicknames of a player who was more than a viral sensation ... and who has seized his moment.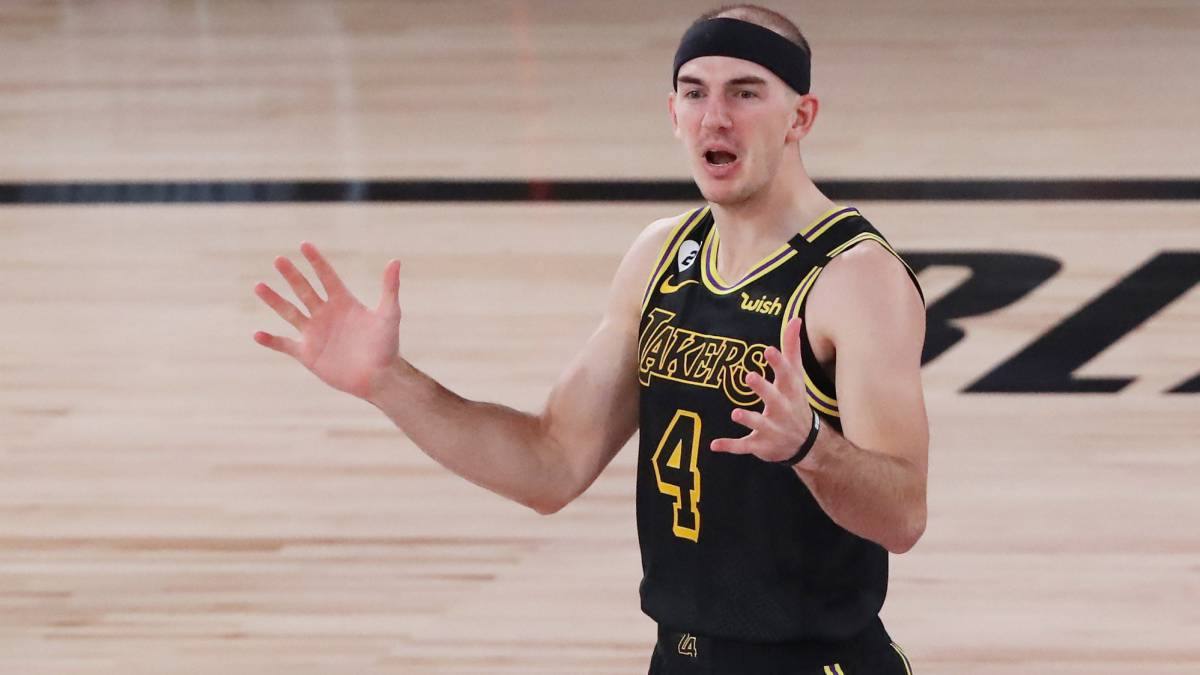 After losing Game 5 of the Finals, Frank Vogel was looking for an energy kick to close the title and avoid a dangerous seventh game against the Miami Heat. So the starting five changed: outside Dwight Howard ... and inside Alex Caruso, the 26-year-old point guard who finished off with that starting position on Ring Day a dream season, in which finally with a guaranteed contract (and excellent for the Lakers : 2.7 million this season, another 2.7 the next) became a fundamental member of an extraordinary defense, the axis of the new NBA champion. Caruso is already one of the best guards in the NBA on defense, where his physique (he's big and strong) and his instinct, focus and intensity have made him a perfect lieutenant for LeBron James and Anthony Davis. Member of the Los Angeles quintets with the best ratings on the track.
Some say, and surely they are right, that the only thing that separates Caruso from a very big contract in the summer of 2021 is a couple of summers shooting 3-pointers without stopping. Intelligent and aware of his limitations, he contributes in attack but scores little: if he improves at that, he will have the rank of starting point guard for any great NBA team. In the Lakers he finished almost every game, played many hot minutes, linked winning actions that do not appear in the statistics (especially in defense) and grew, like Kentavious Caldwell-Pope, in the absence of the bulldog Avery Bradley , which was not in the bubble. Both of them, along with Danny Green, had to work very hard throughout the playoffs: from Lillard and McCollum to Harden and Westbrook, Jamal Murray and finally Jimmy Butler and the Heat shooters.
"Now he has grown a lot, but when he was in the South Bay Lakers and we faced each other in training sessions, I already saw that he was very smart, that he always did the right thing. His defense, his presence, his communication ... always caught my attention. And that's what he's proud of as a player, "says Rajon Rondo, one of the great point guards of his generation, one who has played a formidable playoff for champion Los Angeles Lakers. Rondo concludes: "His growth, his confidence, how he has lived up to a moment like this… he has never backed down from anyone, he has always accepted all challenges. I love watching him play, he's a guy you want to have with you on the court. "
In the playoffs, the Lakers' defensive rating was seven percentage points better with Caruso on the court, something that LeBron James has also appreciated: "To play smart basketball, you have to have smart players. And he is. But he also plays with energy, you know what you can expect from him every night. It's not about getting shots or not, it's about knowing what is going to be there and what it is going to give you in defense. We love everything about him. "
Rondo and LeBron speak for the entire Lakers dressing room ... and for some fans who had already seen what a player could give of himself who before this season was only, for many, an inexhaustible source of jokes and montages on social networks . What they were missing is that Alex Caruso was also an excellent player. One winner.
The legend of the Mamba Calva
His name is Alex Caruso, and of course the last name helps because it has personality. His appearance also contributes drastically to the phenomenon: white and bald without style, it was said of him that it is "like watching a very fit blogger play in the NBA" or that "you don't know if you are watching an elite athlete or a cool stepfather, one of those who accompany his partner's children to their weekend games. " While he earned his place in the NBA and the Lakers through work (which many did not see), he became an internet sensation, the cult hero of a hobby that had spent years of hardship in hardship and that he found in the base does not so much more than an outsider, someone to reflect on. And it is not easy to find in the NBA, where the prodigious is the norm, a player of whom to say that so hackneyed of one of ours.
But it was that image that made him a viral sensation, a guy nicknamed Insurance Salesman, the Calva Mamba or Carushow and who saw, while working and working, how social networks and Reddit were filled with memes in his honor. He accepted and took it with humor, as he acknowledged to Bleacher Report: "It's a non-stop. Every day there are a few tweets, people who tell me that I am the best in history, who call me 'Carus-god' ... it's crazy ". The matter went so far that the NBA anti-doping controls visited him by surprise while an image of him training, treated with Photoshop to give him bodybuilding muscles, was circulating the networks.
He, beyond the anecdote, assumed a good part of the connection of the fans with his style: "I am not Hollywood at all ... I am quite the opposite, a very calm guy. It would seem more logical that I was in a place like San Antonio, Charlotte, Milwaukee ... but here I am, it's fun that I ended up in the maelstrom of LA. In every game I play as hard as I can and I think people appreciate that .. . And I have the appearance of a common guy on the street, of course. "
And now, finally, with a guaranteed contract, 5.5 million for (he has already completed the first) two seasons, "a surreal sensation" in his own words. It is, of course, the prize for work. At 25 years and 1.93, this Texan guard has taken advantage of every opportunity he has had in his three years at the Lakers, where he arrived after not being drafted in 2016 and after a stint in the G-League with Oklahoma City Blue. He knew how to use the springboard of the Summer Leagues (2017 and 2018) and sneak through every crack that appeared, almost always in the form of Lonzo Ball's injury. Finally, this summer he ignored the Grizzlies or Warriors and signed as part of the Lakers' plan B when they were left without Kawhi Leonard. His teammates at Staples had been warning for years: you can joke all you want, but there is an NBA player there. And one that made a lot of progress between the 2017-18 season and last, when it really seemed like a full-fledged rotation piece. Increasingly inspired in attack and with tremendous intensity in defense. And a physicist who deceives at first glance: he is capable of dunks that leave LeBron James himself speechless.
With a contract (he was the first player to come to the NBA since a G-League two-way agreement) finally guaranteed, he has taken advantage of his great opportunity and has been important in the rotation of the NBA champion: "Yes you look at the Lakers, there are LeBron, Anthony Davis, Danny Green ... great NBA players. Then there is me ". Before the Lakers, viral tweets and the NBA, he played four years at Texas A&M, almost a family affair since his mother works in human resources and his father is a sports director at a university where his two sisters also play. In the 2016 March Madness he led his team (25 points), his first moment of glory ("the biggest comeback in history," he said), in a second-round win against Northern Iowa after trailing by 12 to fault. 44 seconds. Glimpses of the player in LA who were confident he would become, as personnel director Nick Mazzella said: "He's a good and very big point guard. When he was between the NBA and the G-League he adapted very well, did everything he could. he asked him. It didn't matter if he was called at ten thirty at night to tell him that he had to travel with one team or the other, he accepted everything in the best way. He is more and more complete and his defense is already outstanding " And now he is already, too, NBA champion with all the gallons.
Photos from as.com