"Raúl looks like Capello"
Passionate and versatile, Iván Helguera is the history of Real Madrid and receives AS before making his debut as a Las Rozas coach ... against Castilla de Raúl. Two bigs.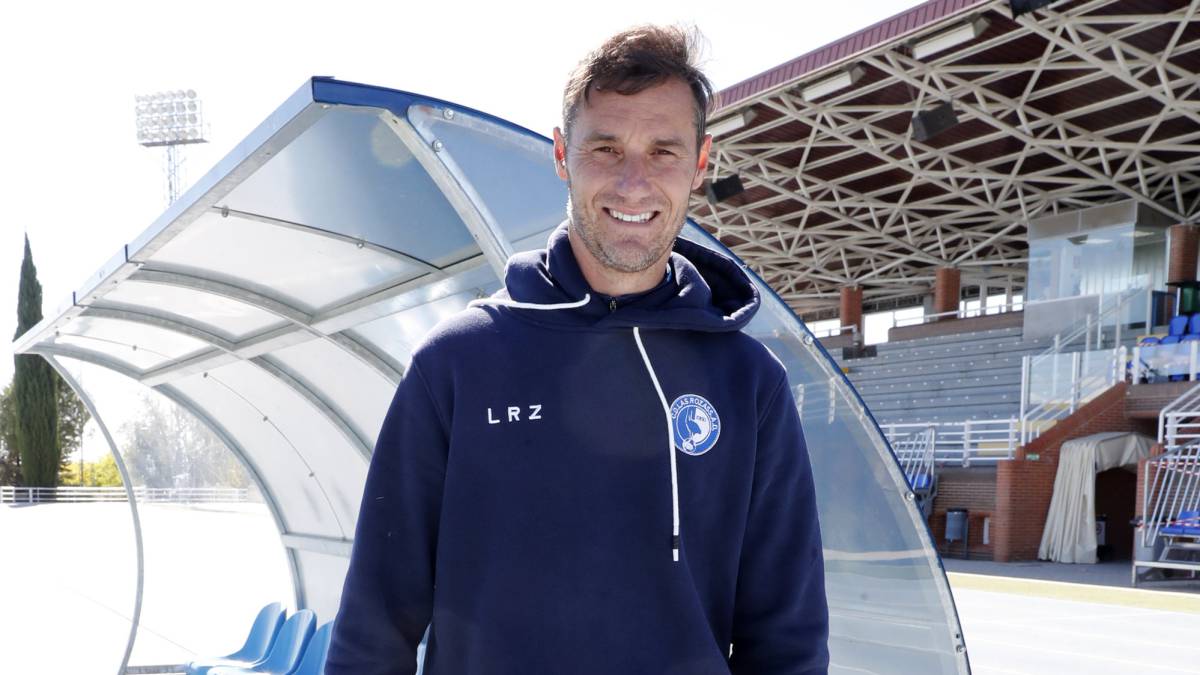 Together they won two Champions League titles for Real Madrid and now they will meet for the first time ... as coaches. Iván Helguera (Santander, 1975) receives AS as a brand new Las Rozas coach before taking on Raúl's Castilla this Sunday (12: 00h.). Fate has wanted his first official league match on a bench to be against his old club ... 444 444
Making his debut as a coach in a pandemic. That's adding another trick of difficulty.
Buff! (laughs). I didn't expect it when I decided to train. It is a surreal situation but we adapt, although we cannot use practically anything. We got on well.
You got the title of coach in 2012, why have you waited so long?
It's not that I waited, it's when you feel like it. I had very young children and preferred to spend time with my family. Now they are bigger, it is time. But I missed him, maybe you noticed something was missing, and the way to come back is as a coach.
Well, I see him physically in competition weight ...
By weight yes, but then you see me running and it's not the same! (laughs) Some time ago I had surgery on the Achilles tendon and it is difficult to do certain movements. I have five operations on the body. Elite football forces you to take care of yourself when you leave it ...
Hierro, Morientes, Solari, Guti ... His colleagues who started their coaching career at Madrid. Why not Iván Helguera?
I am sure that if I had called Madrid they would have given me a position there, but I did not feel like training such young boys and I did start with adults, more professional. That was given to me by Las Rozas. But there is a link with Madrid. We have three of his loans (Chechu, Algarra and Augusto) and we help each other. There is a connection and I love it, Madrid is my home and Las Rozas now too.
Before I have not summoned Raúl to dwell on him now. You make your debut against Castilla in '7', what a game.
Raúl is a winner, as a player and now as a coach, there is the Youth League. In that respect, he is a bit like Capello, when the competition starts he wants everything in its place, but then off the field he also reminds me of Fabio, he is a closer man.
Madrid sees in Raúl Zidane's natural heir ...
We'll see. With Zidane it was done like that and it turned out well, it may be. Maybe I see Raúl de Zidane different, but he knows the house very well and can be a very good first team coach.
How do you see them different?
Zidane is not like Raúl in personality, nothing to do with it. And he does not care so much about the game, in my point of view, he leaves the players to develop their game. Raúl is much more methodical in this regard.
Am I the only one who sees aspects of Calcio in this new Zizou that does not lose the rings for winning the games 1-0?
I learned a lot in Italy, before arriving I was much weaker and I learned tactically and Zidane too. Then here he was released, his football could be different because the defenses were not so far behind. But you can tell that he learned a lot in his years there.
Is it true that you acted as a guide for the Marseille star when he arrived in Madrid because they communicated in Italian?
Yes. It was difficult for him because he is very introverted at first. One day I even went with him to buy furniture! (laughs). We also had the lockers together, because he was wearing '5' and I was wearing '6'. Zidane and I connected a lot, yes.
By the way, they took that number from you to give to Diarra. Is that the kind of thing you will never allow a player of yours as a manager?
It happened with López Caro. I try to avoid those kinds of things because I have lived them. We have an injured player and we are on top of him because I know what you feel. It seems that you are no longer valid, that's why we also work with coaching here. They took my number off but I never lowered my arms and ended up playing. I want to instill that in my players.
I know you have been trained in coaching. Is it indispensable in modern football?
It is very important. It has helped me learn it and that is why I carry it out in Las Rozas. You work physically, tactically, but very little mentally the soccer player. It is necessary in elite sport. In football he has entered late, but it is essential to use it.
You have been trained from Zeman, a myth of Calcium, to Capello, Del Bosque ... What are your influences?
I have tried to learn what they do well and what they do wrong, identify it so as not to repeat it. I like a lot of coaches. Capello, especially in games, did not let you rest mentally, but then outside he was not as ogre as they painted him. He talked to the players, he laughed, he enjoyed the dressing room, oddly enough. But when the competition came it was something else ... From Zeman ... I remember athletics. Physically he crushed us, I became central with him, but his training sessions were for athletes. Their teams started out very well, but then ... With Vicente it's wonderful to remember what we lived through. He is a coach who has fulfilled me a lot.
Tell me about the philosophy you want now as a coach.
I want the player to enjoy the game. And passion, without it you can't get. From there I have my model and I think the way we play is for you to enjoy.
Refers to passion. Halfway through Spain when Iván Helguera is quoted that image comes to mind shouting at Al-Gandhour's face at the World Cup in Korea and Japan. Now, in the band, do you see it more calmly?
Sometimes that vein comes out, but I'm calmer. Sometimes I was too passionate in there. But that made me go perhaps a little further than others, that desire and attitude. I like to see that in the player, but in all this time without playing I have also realized that the player has to be reassured and that he does not get carried away so much by impulses ... 444 444
We have a Classic around the corner ...
I didn't even have it in my head! (laughs). I see a bit over Madrid, but it is still early.
It is not known if Hazard will be there. You went through an ordeal with injuries and understand what it feels like. What is going through the Belgian's head?
It is what Madrid entails. Or Barça, with Dembelé. Playing for Madrid is a very big responsibility when a player is injured too much. That generates a lot of pressure for the footballer. You have to give it confidence and eliminate everything that comes from outside. If not, it is difficult.
Is Madrid the one that has best adapted to this new normal that we have to live?
I do not know, but I am clear that he has the leader who works the most, which is Sergio Ramos. During the confinement he did nothing but work, that makes a winning team. With Cristiano we also had it. It is important to set an example. I don't know if other teams have a leader as good as Sergio.
Good luck on Sunday and in this labyrinthine new Second B.
I will give Raúl a hug and from there to compete. Match by match, there is no other.
Photos from as.com