Le Mans was an ordeal for the three leaders
Quartararo was there to win in the dry, but the rain relegated him to ninth, Marini could not even score in Moto2 and Ogura was only ninth in Moto3.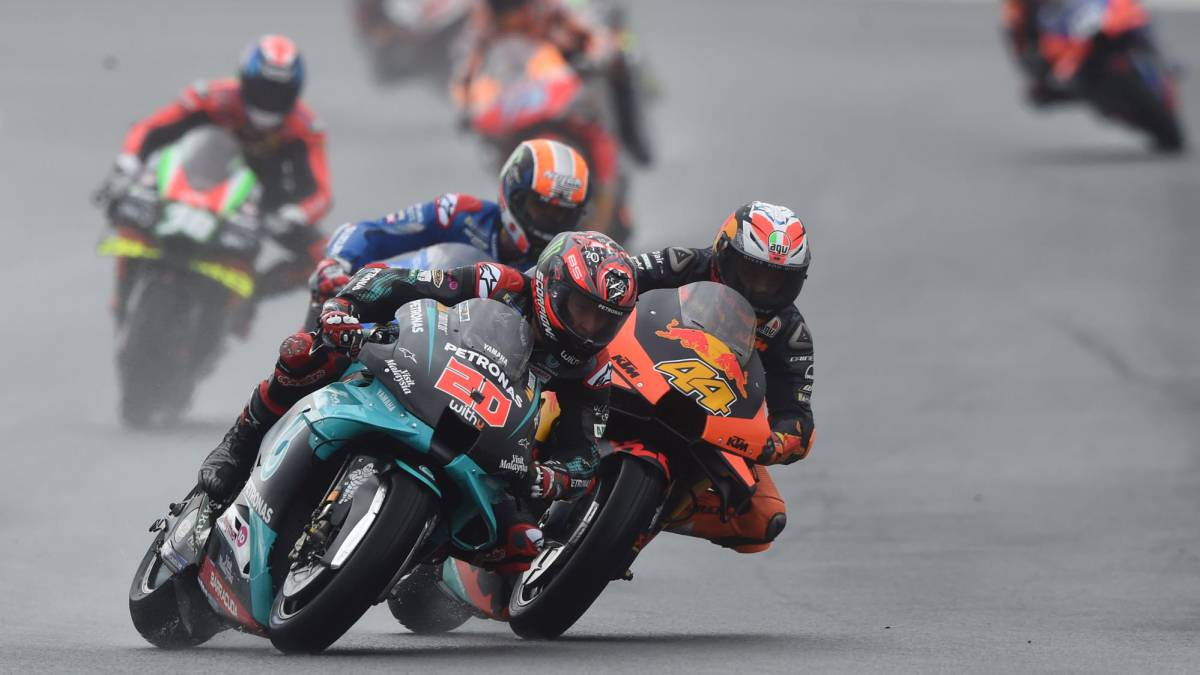 Rarely is a GP as fateful for the leaders of the three categories at the same time as that of France was for Quartararo, Marini and Ogura. The Frenchman was clearly set to win dry in MotoGP, but the rain that appeared five minutes before the start relegated him to ninth place. As for the Italian, he could not even score in Moto2 for running physically impaired in his left ankle by the horrifying gliding suffered on Friday. And as for the Japanese, he could only be ninth in Moto3 and in his case that poor result did cost him the loss of the leadership, in favor of Arenas, who was third and now leads with six points of advantage over Ai. In the cases of Fabio and Luca, the best news for them is that they continue at the head of the general classification, the queen class with 10 points of advantage over Mir and the middle class with 15 over Bastianini.
Despite the fact that he was going to win, and also at home, which a French rider in the top flight had not achieved since 1966 (Pierre Monneret), Quartaro tried to get the positive part out of his result: "When we were on the starting grid ready After starting the race, it started to rain and it was disappointing because we had options to have a good race in dry conditions. It was a tough race, but we are happy because we have never stopped fighting. On the last lap, when Mir has advanced, we were able to regain ninth position. It was important to score as many points as possible and, in fact, we have slightly increased our lead at the head of the general classification. We will see what happens in Aragon, but I am satisfied with my first race in these difficult conditions ".
As you can see, the great consolation for the MotoGP leader is that his main rival in the title fight did not have a good day either. Mir, who broke a good run of results with his weak 11th place, summed up his career this way: "The conditions were very difficult to handle. At the beginning of the race I had a hard time warming up the rear tire. But then when the good feelings came back, I felt very competitive. You have to see what happened, because I went from being one of the slowest at the beginning of the race to being one of the fastest at the end ". And he was very aware that the loss of points with respect to Fabio would have been much more than two to have contested the race with the sclicks instead of with the rain tires: "In the dry, Fabio had something more than the rest, and if we have taking into account that I did not feel very comfortable, surely I would have lost more points. A bad race is allowed, but we cannot repeat this result in Aragon ". From the outside, his fight on the last lap with Maverick, who finished tenth, and Quartararo was exciting, but it seemed to him something else on top of the Suzuki: "We were fighting with Maverick and Fabio as if we were fighting to win, when we really did. we were doing to get into the top 10. It was a bit sad, really. "
Photos from as.com