Laso: "We needed a win like this to get even"
The Vitorian coach assured that Llull's role at the end of the second quarter was key to starting to find the hoop. Fisac claimed character and ambition from its players.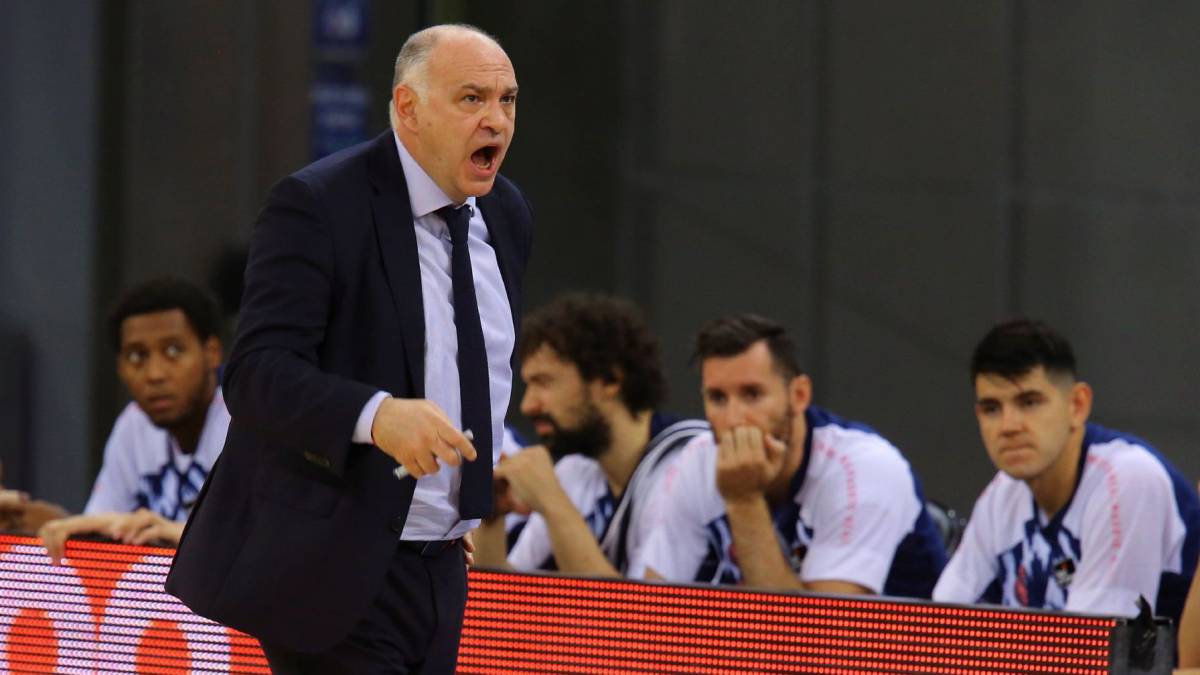 Real Madrid coach, Pablo Laso, was more than happy for his team's triumph in Gran Canaria against Herbalife Gran Canaria (65-90), ensuring that the third quarter was decisive, at which point he had the rhythm and control of the game, in which they were solid defensively and offensively: "It was a difficult game at the beginning, since we are doing very well defensively, but in attack we generated good shooting situations that, however, did not enter. Fortunately We have found a man who began to insert them, as Sergio Llull has in this case, "he said.
In his opinion, the team has been very focused, making fewer mistakes and giving a feeling of solidity: "In such long seasons, after a defeat what you want to do is play as soon as possible to get even," he explained. Despite the defeats suffered in the continental competition, Laso was restrictive: "It would be absurd to think that after the two defeats everything was wrong, or that everything was fine because of the previous victories. We are still in the construction phase," he analyzed.With regard to the debut of the youth squad Tristan Vukcevic (3 minutes and 2 points), a 17-year-old center with quadruple nationality, Swedish, Serbian, Greek and Italian to be born in Siena, Laso predicted a great future for him: "He is one of those players who he skips stages quickly. The boy is working very well and he deserved to debut, because he has a lot of future, "he concluded. Fisac: "We have much more character than we show on the pitch"
Herbalife Gran Canaria coach, Porfirio Fisac, took responsibility for the defeat against Real Madrid, although he insisted on the need for his team to be able to print more character and soul in the games: "We played 17 minutes at a good level, working very well defensive situations very well, playing with a certain joy. Then we entered a situation in which we let them play," he said.
The Segovian coach regretted that his team is unable to re-engage in games when they are behind: "We have a team that can play in a more blatant way on offense. We are not able to re-engage in games. We want to print more character to this team, "he stressed.
The former Zaragoza player assumed his responsibility but demanded that his players demonstrate their ability to know how to suffer during matches: "I assume my responsibility, but what worries the most is that the team strive and enjoy more on the court. I want more warriors, because basketball is made to suffer as professionals. In games, you have to suffer more, "he said.
Character, faith and soul were the three ingredients that Fisac assured that its players lack to be competitive: "We have to grow with the games and believe in ourselves. I am more concerned with character, faith and soul as a team than other issues I want that yellow blood to come out on the court. I have to see the formula of reaching them as it is to 'prick' them and that blood sprouts ", he added.

Photos from as.com