Beautiful and tense fourth game resolved by the exceptional defensive work of the Lakers, especially Anthony Davis.KCP, decisive.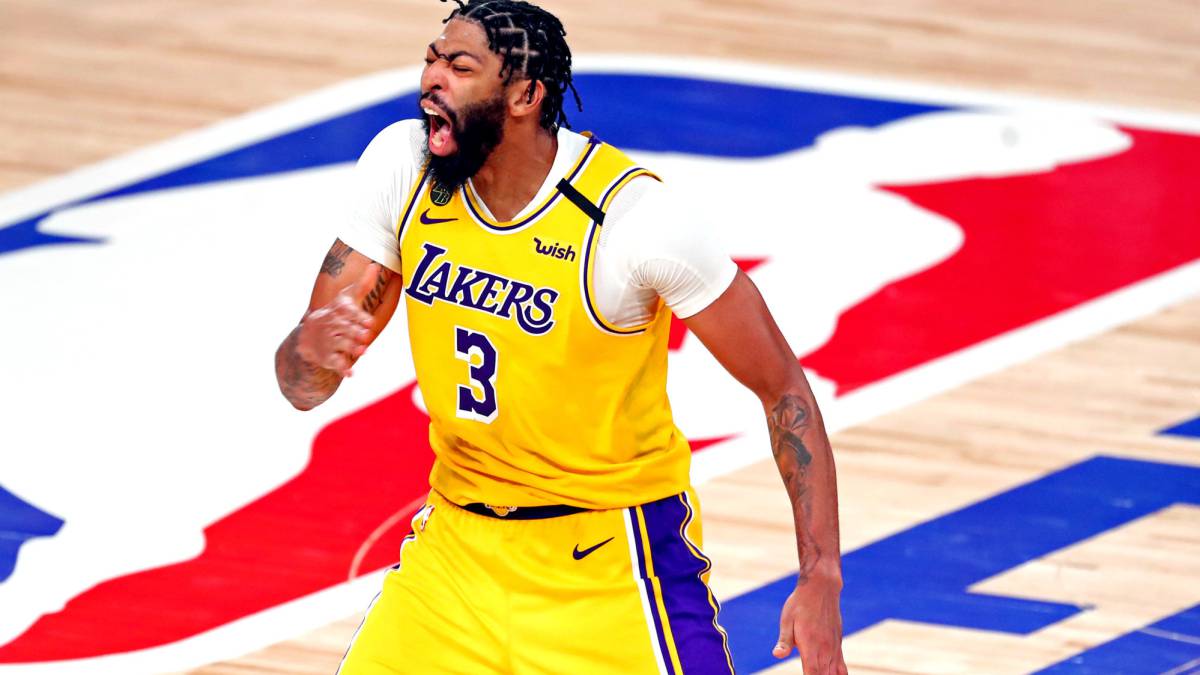 A a victory of the ring, ten years after the last. Four quarters, 48 minutes of basketball. A sigh, even more so in a season that began on October 22 and that has become a grueling marathon that will reward the best on land, sea and air. In traditional format and in the bubble, with an audience and without an audience: mentally and physically. To a victory after six years in a row without playing the playoffs, the historic collapse of a franchise that had only missed the playoffs before, until that fateful 2014, four times since moving to Los Angeles in 1960.
A victory of the 17th ring, completing a career of more than half a century to match the Boston Celtics, the eternal rival that in 1986 dominated the pulse by a resounding 16-9. To one of the glory and without further obligation since not losing three games in a row to close the season. In all the playoffs they have only conceded four (15-4), so even mathematics already sends flashes of purple and gold. The Lakers, after 67 victories between the Regular Season and the playoffs, with and without a bubble, just need one more, an almost insignificant little step ... but actually the most important of all. The one that would definitely return glory to a franchise that personified it, lost the north almost completely and is making a comeback in record time. After six years with a negative balance and no playoffs, his comeback is about to be not a first stone but, except for the Heat's miracle, the complete cathedral. There is no better way, right now, to explain what the Lakers are. And what they have always been and are becoming again. The old king about to be crowned. Also in a new era to which not so long ago it seemed or belonged.
A battle until the last minute
The Lakers have one step left ... but nothing indicates that they are going to take it for a walk. Miami Heat is not going to give up. You cannot bet that Spoelstra's team is going to break down or stare as they entertain a rival who squeezed every last drop of the energy reserve in a fourth game (96-102) that made it 3-1 after a colossal battle. This, neither more nor less, was an NBA Finals game. In all its glory, in all its rawness, in all its muddy beauty. Tension, defenses at the limit, attack rebounds that echoed like the movement of tectonic plates. Every triple seemed to be worth 8 points, every loss seemed crucial, every possession weighed like lead. After three games with an irregular sign but a light color (two from the Lakers, one from the Heat), the fourth was the great collision that everyone expected, the centerpiece (for now: we will see) of these 2020 Finals.
And the Lakers won. That they are 56-0 when they rule after three quarters (this time 70-75) and that, and this is the data that pushes them towards the title, they have not lost (4-0 after defeat) two games in a row in the playoffs. They always recompose, always adjust, always show at least the same need as their rival. In that sense, these four acts of the Finals have resembled the first four of the previous Lakers-Nuggets: an exhibition to begin with, a second more even game, a defeat in the third and an exercise of competitive responsibility, effort and will in the fourth. So crucial, we will see now. Only once has he come back 3-1 in the Finals. It was, no one will have forgotten, the miracle of the Cavaliers in 2016 against the Warriors of 73-9. The miracle of a LeBron who, if only for that happy memory, will not let his team lower its guard. A game, 48 minutes of basketball, separates him from his fourth ring with three different jerseys and always as a franchise player. Something that nobody has done. And it has three bullets. Does anyone dare to bet against him?
The Heat kept the plan that had worked two days earlier. And it largely worked again, at least in terms of a defense that continues to collapse the area, creating traffic jams near the rim and making life difficult for LeBron and, above all, Anthony Davis. The big problem for the Heat, who also got Adebayo back (not yet Dragic, who was tested during the warm-up), is that his attack pace dropped dramatically after scoring almost at ease in many stretches of the previous two games. In front of them they found some Lakers who radically changed their attitude, raised revolutions due to physicality and concentration and played a monstrous defensive game. Flawless, fearsome. The Heat stayed at 96 points despite Tyler Herro's 3-pointers in the fourth quarter (21 points, 7 rebounds). A tremendous effort to annoy shooters and a change of format in protection against penetrations by Jimmy Butler, who this time stayed at 22 points (with 10 rebounds and 9 assists: very good but not excellent), only nine in the second part. Frank Vogel threw Davis on him after blocks, and the power forward did a massive job, which could have been worth a good chunk of the ring. His defensive presence was the differentiating element, the key. As in so many and so many games.
Davis, who suffered a lot to score for two and a half quarters, finished with 22 points, 9 rebounds, 4 assists and 4 blocks. And he made the final triple 39 seconds from the end, for a 100-91 that gave the Lakers a finally reassuring +9. The biggest advantage for either team on a night of long knives and in which all the players who stepped on the court knew what was at stake. Especially LeBron, who for something is in his tenth Finals. After starting again with many losses for forcing passes into the paint, and playing a gray first half, he finished with one in the entire second half (6 total), 11 points in the last quarter and a 28 + 12 + 8 that He lifted him in a decisive stretch in which he was superior to Butler. Something that the Lakers also needed, even emotionally. LeBron, 35, averages 27.8 points, 11 rebounds and 8.5 assists in the series with 54% shooting. And he has six playoffs in his career exceeding 500 + 100 + 100. In all of history, only one more player has achieved something like this ... and only once: the unforgettable Larry Bird.
The Heat had their moment, especially in a second quarter in which the Lakers missed many shots. After the break, their nerves already on the surface, they survived point by point until reaching 88-90 in the last three minutes. There they received five points (a triple and a firm penetration) from Kentavious Caldwell-Pope, who in addition to killing himself in defense almost definitely inclined the game and finished with 15 points and 5 assists. The best of some secondary in which everyone (Rondo, Morris, Green, Caruso, Kuzma ...) contributed. No fireworks, but with concrete and barbed wire. This is how these 2019-20 Lakers are and this is how they won the game that restores the inertia of the Finals after two days of rebellion by the Heat, who now have almost 72 hours of rest until they play to try to save the first match ball (the Friday night, 03:00 Spanish time). They will hardly be able to do it if they score fewer triples again (11 for 14) and if they cannot live off the gross mistakes that the Lakers made in the third game and did not repeat this time: 15-15 in losses, 32-34 in points in the painting…
It was a tremendous battle, a great Finals match, a duel with a feeling of decisiveness from the initial jump. A brutal exercise of intensity of two teams that fell apart and crossed blows until the last minute. And there they prevailed, a matter of defense and will, the Lakers: 3-1 and the seventeenth in one step.
Photos from as.com