Kyle Kuric: Barça's 'artillery' returns
The American guard has returned to the slopes this week after recovering from a severe blow to the head that he suffered last August.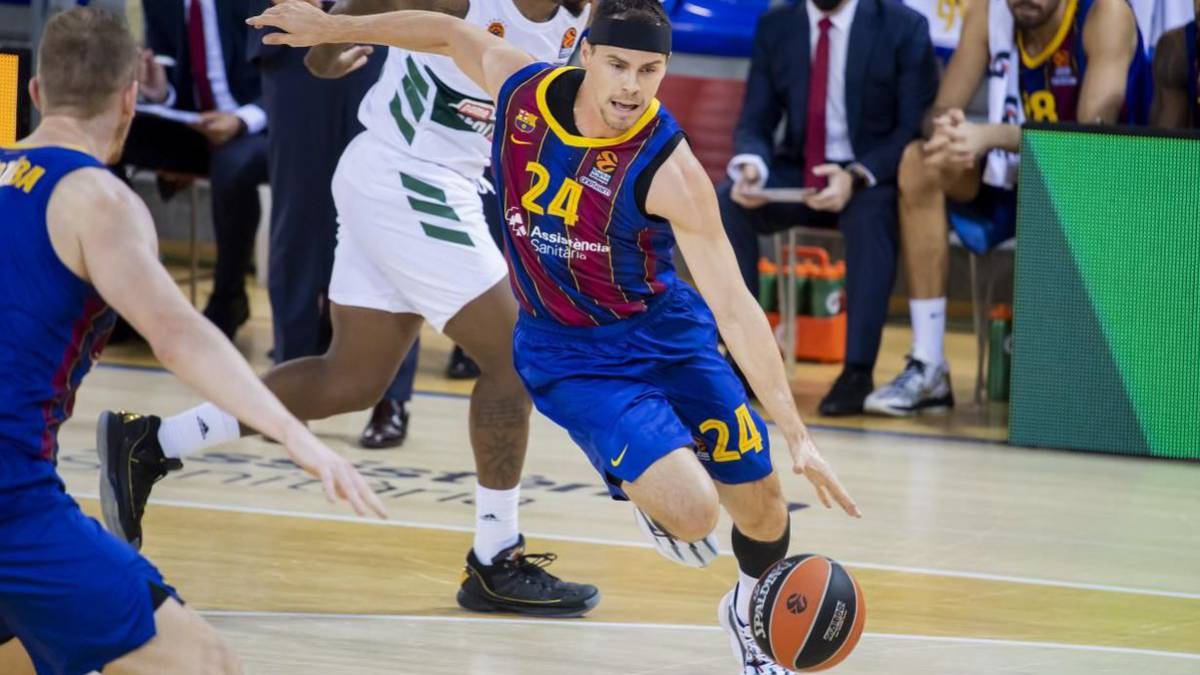 The American guard with a Slovak passport Kyle Kuric was one of Barça's key pieces to defeat Panathinaikos at the Palau on Thursday after an extension (97-89). It was their second meeting this season, after reappearing on Tuesday in Valencia, just five testimonial minutes.
Yesterday he jumped onto the track with 1:39 to go to the end of the first quarter when Alex Abrines was injured. He started in the first five of the second quarter and after receiving two fouls he scored his first triple (21-18, m.12), two minutes later he added two free throws and a new triple (29-24, m.14); eight points in four minutes.
Two minutes later he returned to the bench, two minutes before the break, relieved Calathes. He did not return to court until five minutes into the third quarter (41-47), relieving Heurtel and two minutes later he added his third triple (50-55, m.28) .
He entered the first five of the last quarter, but four minutes later Hanga took over from him, performing the reverse relay three minutes later. In extra time he jumped onto the track when two minutes (79-75) were taken and a minute later he scored his fourth triple (82-78) and 1:15 to the end (89-81) he was relieved by Roland Smits.
The balance was positive: 14 points (4/6 triples and 2/2 free throws), 4 rebounds, 1 assist and a PIR of 20, the third best of the team.
In the end, he acknowledged that, "We need to play together and that is the way to win games. Against Panathinakos we had to fight with all our energy against a very tough opponent."
"Personally I feel quite good, a little better every day, but I don't have more time to pick up the pace, because we have many games and I need to play," he pointed out.
And the thing is that Kuric has gone through a real ordeal since last August 24, in the team's first training session at the Andorra concentration camp, one day before his 31st birthday, he suffered a severe blow to the head that caused a head injury near the area where a film was placed after undergoing surgery in November 2015 to remove a meningioma (brain tumor), which was benign.
All the alarms went off because that area is especially sensitive. Absolute rest until last September 7, when he was subjected to a revision of the cranial plate at the Teknon medical center in Barcelona, which was damaged after the strong blow suffered, and it was changed.
In July 2018 he signed for Barça from Zenit Saint Petersburg and last July he renewed his contract until 2023. He met the expected recovery deadlines, with several training sessions and now wears a protective tape on the cranial perimeter, but his Gunner's sense of smell is still intact and on Sunday he will play in Vitoria against Baskonia his first Endesa League game of the season.
Photos from as.com