KCP: from memes and nights in jail to a Lakers hero
The guard played a great fourth game and appeared at the key moment with five points in a row. His place in the Lakers, always very questioned.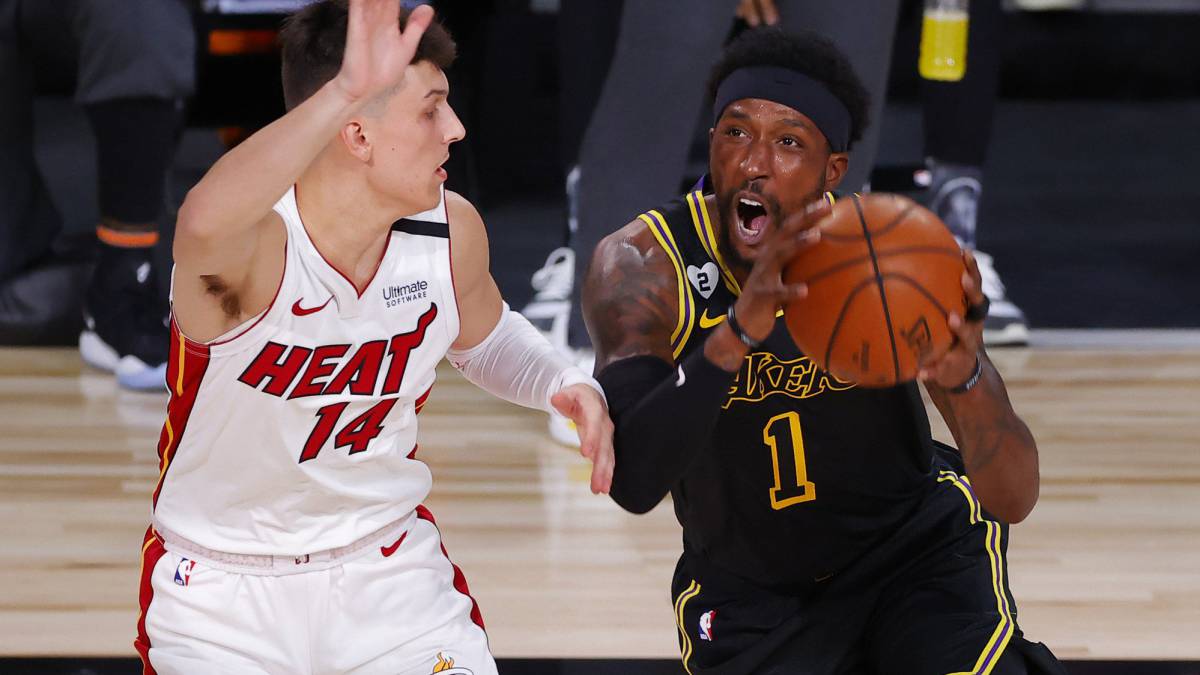 Not long ago, Kentavious Caldwell-Pope (1.96, 27 years old) was a bag of jokes and memes on social media. He had a terrible start to the season, the third for him with the Lakers: in the first nine games, 5.6 points, 2.1 rebounds, 1.6 assists with 25% shooting and 23.8% three-pointers. He was the player who had returned to the franchise for two summers (2018 and 2019) with contracts that seemed very high (12 million for one season and 16.4 for two with a player option for the second, the next) for his performance and that Many blamed him for being part of the Klutch team, the representation network led by Rich Paul, LeBron James' right-hand man. In fact, since he first signed in LA (summer 2017) after four disappointing seasons at the Pistons, a message to LeBron, who landed in the summer of 2018, has wanted to be seen in the Lakers' generosity: keep everyone happy. the people of Klutch.
Not only that: in January 2018, Caldwell-Pope made headlines for sleeping in prison and going out to train and play for 25 days ... and without leaving California, which made him unable to play home games if they were out of state ( missed three) and go to the Staples with a GPS locator. The conviction came for skipping a surprise test program to which he was subjected after being arrested, still as a Pistons player, for driving drunk. More jokes? More jokes. It got to such a point at the beginning of this season, when not a shot went through him and everyone wondered if the Lakers had a wardrobe fund to aspire for the title, no matter how much LeBron and Anthony Davis they wore, that when an account appeared On Twitter defending Kentavious Caldwell-Pope, KCP, it was assumed that he was himself trying to stop hits from anonymity. It is curious now to review some of the tweets from that account (@ tan50879294): "It is hard to see so much hatred towards someone who gives everything. KCP is going to continue playing, you can be with him or against him, but when he is an important part of the champion team, don't be surprised. "
Important part of the champion team: KCP set the course after a duel against the Kings (16 points). He has played as a starter and as a substitute, has contributed in defense and attack and has been on many nights the third best player for the Lakers. In Game 4 of the Finals, the great moment so far in his NBA career, he added 15 points and 5 assists. He started with 8 of the first 10 goals for the Lakers, and two triples much needed for the team to temper their nerves, and ended up being decisive: in 56 seconds and when there were less than three minutes left and the score was 88- 90, scored a triple from the corner and, in the next attack, a brave penetration: five points in a row, +7 for the Lakers. When he burned the ball the most and adding that contribution to an incessant work on defense so as not to let Duncan Robinson and Tyler Herro pitch comfortably.
This KCP worker was, in reality and although it is hard to remember now, a star project. A sensation in his native Georgia, first in Greenville High School and then in the NCAA with the Bulldogs. In his last year before high school he averaged 31 points and 8.2 rebounds. Scouts ranked him as the third best shooting guard and the twelfth best player of his generation. And after two years at the University of Georgia (18.5 points and 7.1 rebounds in the second) he entered the draft and was chosen number 8 by the Pistons. In Detroit he did not triumph, although he showed traces of 3 + D (defensive forward and shooter) without regularity or true specific weight. In the Lakers, especially this season, he has established himself as a defensive bulldog in Frank Vogel's physical system, has stabilized as a shooter and has greatly improved his vision of the game and his mobility off the ball. What he needed, neither more nor less, a team with LeBron and Davis. And he ran out of Avery Bradley for the bubble reset.
KCP has made 40 triples in these playoffs, the top for a Lakers player only behind Kobe Bryant's 49 in 2010. He has had bad games, erratic shooting, but has always worked hard, defended and played offered with personality. And he has scored, thanks to that character, important shots in moments in which the defenses were collapsing on the two megastars. In many games, in effect, the third best player on a team that is one victory away from the championship ring. Nobody makes memes or questions his relationship via Kltuch with a LeBron who helped him get out of the well in the worst moments of the beginning of the course: "My teammates have been there for me, this dressing room is a family." He has one victory left, one more day of passing blocks and aiming from the corners. And he will be, if he succeeds, NBA champion.
Photos from as.com