Javi Gracia: "Murthy called me to make sure that Kondogbia is still with us"
The Valencia coach addressed all the issues that have occurred at the club in the last 15 days, including his frustrated departure from the entity.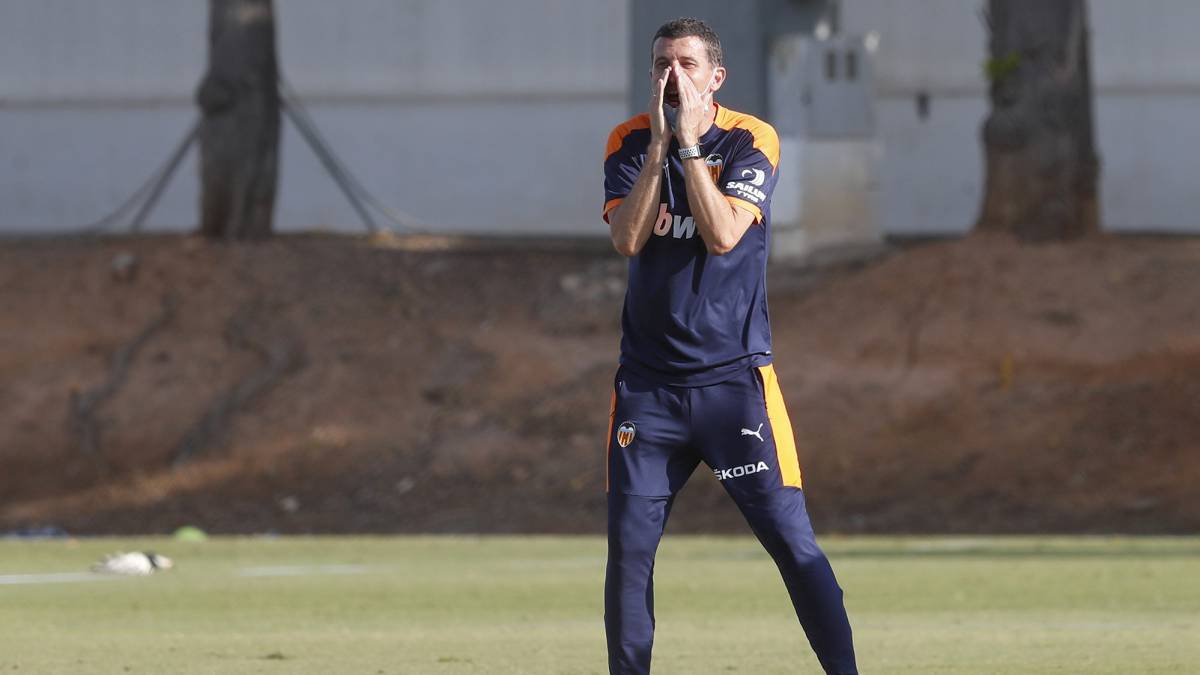 Javi Gracia, Valencia coach, analyzed all the issues that have occurred at the club in the last 15 days, as well as tomorrow's game, against Villarreal, at La Cerámica: 444 444
Kondogbia's words on social networks: "The players' manifestations are theirs, they are free. I don't follow networks a lot but I'm aware of this. They are personal evaluations. I understand that the one who has to value it is him. And also someone of the club, see how these words feel. What worries me is that we are not going to have him for this game, on that side I am sad to have a player of his importance outside the team ".
Have you felt deceived by the president as Kondogbia said ?: "It is not appropriate to explain my situation again. It does not help anyone and I will not do it. My obligation is to continue preparing the game against Villarreal and that is how it will be ".
Have you stayed at Valencia reluctantly ?: "A lot of days have passed. My situation is that of being where I want to be. Still the conditions are not as expected but I have been working for many years and I am proud and happy to be in this club We are going to start tomorrow's game. Against a Villarreal who will be a very demanding opponent but we are going to work to try to make a good game ".
Do you regret having signed with Valencia ?: "I have neither regretted nor will I ever regret signing for this club. I have no words to explain how happy and proud I am to be at this club. I think we have to differentiate between the two working conditions and what I can feel and I have expressed every day. And hopefully it will be for a long time. I want to talk more about the present and future than about the communiqué ".
Carlos Soler admitted that asking the team to finish in the Europa League is a utopia. Do you agree ?: "I think he explained it very well. The challenge for this team is to fight every game and every day. He has not said anything that the rest of the coaching staff and the rest of the players do not think. No It takes away an iota of ambition to achieve the objectives. We try to focus on doing our best. Tomorrow we have a great game and we are all focused on it. What he put in the statement was that the challenges were to live up to this club ".
Has anyone from the club told you that the goal is to finish in the top four ?: "I haven't specifically talked about it."
After the last meeting, on October 7, at the club, have you had contact with the president again ?: "He has come to see one or two training sessions and I have had a telephone conversation with him."
How is the dressing room ?: "I see the dressing room very well, very encouraged. Those who have left have performed very well with their national teams. We are very encouraged. With options to play a good game in Vila-real."
Villarreal: "A rivalry game, with former players in both teams, that extra reason for enthusiasm in our fans. The team has worked well this week and also those who have come from their national teams, tired, but have returned well. I see well, a little higher in the table of us. They have a level squad, which last year was in fifth position. He is a candidate for Champions positions. We have to try to maintain the line of the Real party, and try add out too ".
Did the president guarantee you in that telephone conversation that he would keep the same staff until January 1 ?: "I suppose the question is about Kondogbia. The reason for the call was to inform me about the situation in Kondogbia. He assured me that he was going to continue with us. That I did not worry that he was a player who was going to continue with us ".
Message for the fans: "What excites the fans the most is to see their team compete well and win. That little by little the team is transmitting the best feelings and being more reliable. This is the only thing within our reach" .
Photos from as.com