"Now I am another player"
Vinicius speaks on RMTV about his evolution and his style: "I am not afraid of losing the ball and I will continue like this, go ahead." "I want the triplet," he confesses.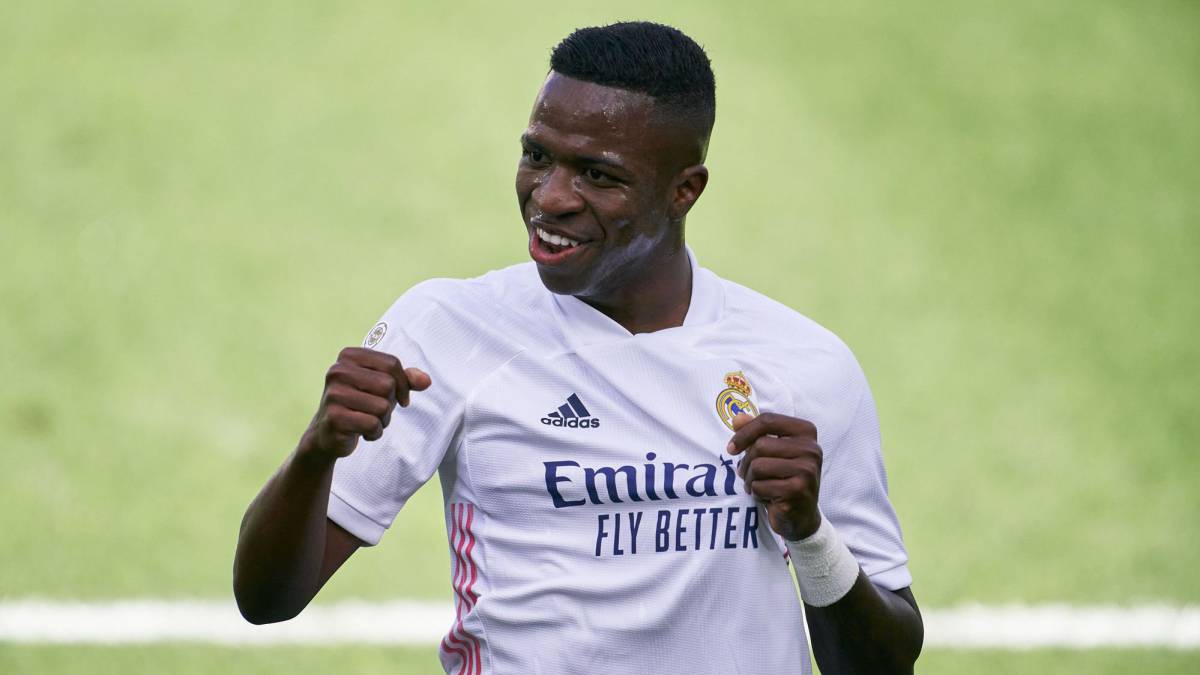 Vinicius (20 years old), since this season Vini Jr., is, together with Courtois, the proper name of Madrid since the beginning of the course. With several lapses still to work on, he has been showing more maturity in his decisions. Also a better aim: he has two goals in the last two games, both decisive for the white leadership. "I'm very good, very happy with my moment. Also with the team, which is leading. We have to continue like this, improving the things that we are not doing in this different season because we only had a friendly and it is difficult to start," he explained this Tuesday on RMTV, ensuring that "when we return from the break, we will be better to put Madrid on the top" .
Much commented has been in the last hours his goal against Levante, a goal that the Brazilian explained as follows: "I controlled very well, so I had time to think and see where I could put the ball. I put Madrid 0-1 and then we managed to win the party, which is the most important thing. " That execution is a good example of his evolution since 2018: "I arrived at the age of 18 and having played only one in Brazil, so everything was new for me. I was learning and I continue to do so to help Madrid. Now I am another player. The people. del Madrid helps me so that I can help now and in the future. "
There is a key figure for Vinicius in this whole process, Benzema: "Karim is an idol, it is an honor to play with him. We always talk about what I can improve, also how he can help me. When I arrived he did not know me and he already it helped, and now he continues, he tells me to be calm and helps me choose the best play. " And he extended his gratitude to his teammates: "It's a dream to play with Karim and with all the players who are here. I make the most of every moment with everyone and I listen a lot because they help. They know that I listen a lot and I learn with them." The Carioca also highlighted another Frenchman, Zidane: "It is an honor to work with him, he talks a lot with us, he makes things very clear and gives minutes to all the players, which is the most important thing, to have the entire squad calm."
Vinicius: "I work long hours, not only at the club, but at home"
Vinicius also claimed his style. "I am not afraid of losing the ball and I will continue like this, go ahead, so that all people believe in me more and more. This daring helps a lot when we are losing and drawing," analyzed the former Flamengo. To that spark we must add the effort, being one of the Madrid footballers with the most kilometers per game: "There is a lot of work behind it. I work long hours, not only at the club, but at home, with food, sleeping very well. and resting to be at my best to help the team. I will continue to improve a lot in all aspects ".
After looking at the Clásico on October 25 ("Everything will be very strange without an audience, but we will have to be more concentrated and attentive because it can define, like last season, the championship"), finally, when asked about his greatest desire , brought out his ambition: "Without a doubt, to win the treble, to win all possible titles. We are going to put our heads and our hearts to achieve it" .
Photos from as.com