Hesitated from Álex Márquez to his brother Marc after his podium
"Calm Marc, I'm already here," said the second of Le Mans in Dazn laughing at the end of his appearance. The champion posted his joy on instagram.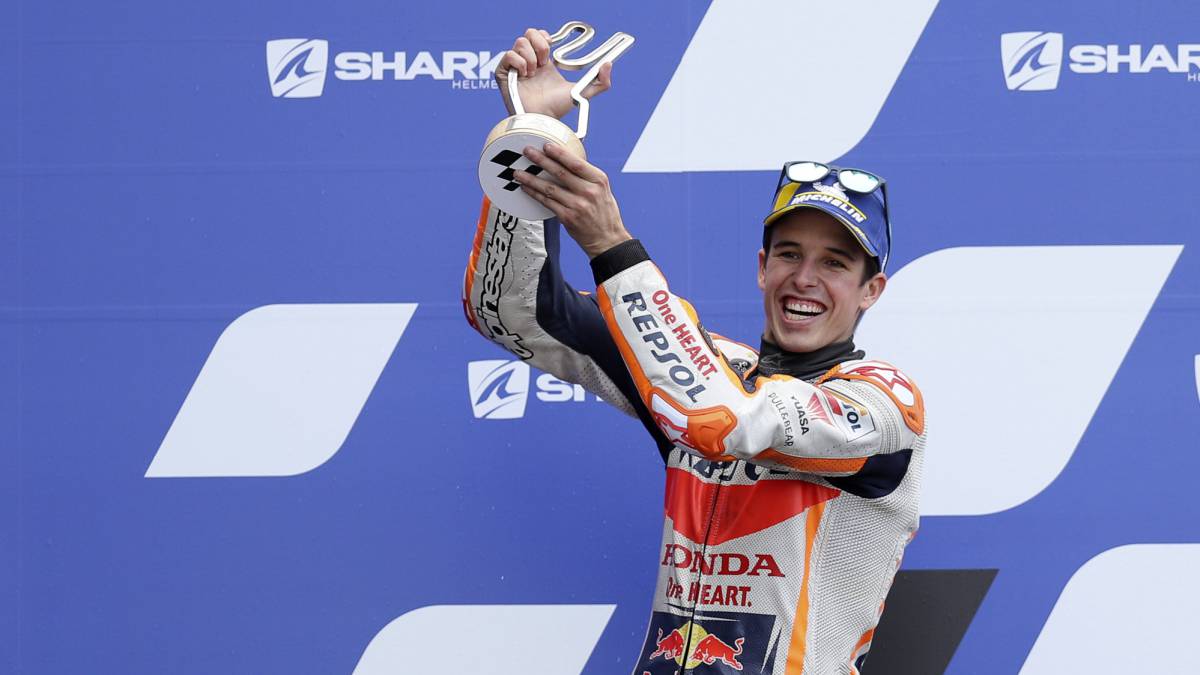 Vacilada from Álex Márquez to his brother Marc, who had to follow one more race from home, after his second place in the MotoGP French GP. He arrived at the end of his statements on Dazn's microphone. "Calm Marc, I'm here," he released by surprise and laughing, perfectly aware of the nerves that the oldest of the Márquez will have spent watching his comeback from eighteenth place to second at Le Mans. The 93, meanwhile, published a video on Instagram of how happy he was after the race for his brother's first podium in the queen class.
Hesitant on the sidelines, Álex was very happy with his performance: "Since November I hadn't been running in water. In Austria a bit, but nothing. Today I felt very good, I had very good traction and we were right to put the intermediate tire in front, because That way I could push myself a little more when braking. I had a bit more support in front, because with the Honda the forward is very critical and I think we were right. There was a moment of tension inside the box because I also wanted to start with the intermediate behind. but it would have been a wrong decision because, as seen with Johann Zarco, in the end he was very fast but he suffered a lot up to that point. I am very happy because I think it was a very good day for the Repsol Honda team and now It was playing. We needed it. Now we have to replicate this dry. Every day I feel better and I think we have done a good warm up and I think we are seeing flashes but we have to balance the weekend ".About the patience that has been seen, he says: "Honestly, at all times I looked good, but especially when I got behind Cal, who was difficult to overtake. At that moment I thought: Why not? I saw that the Ducati had started very fast, but that they were slowing down a lot and at that point I thought I had to attack and play a bit, be aggressive. I lost time with Cal and, above all, with Dovizioso. It has escaped a bit. Otherwise, perhaps we could have reached the end together and risked it, but it is a first podium and for that I am very, very happy. "
From the outside it was very clear that Dovizioso plugged him: "Dovi is a great braker, he accelerates the Ducati very well and runs a lot on the straight and the system they have for the straights I think gives them an extra. Later, in curves, with the mid-front I was a little stronger, but inside the curve, not at the braking point, and that's why it cost me time. It is also an old cat and when I passed it it wanted to stir, but I endured good and the Repsol Honda held up very well today and could do the interiors very well. It had a lot of traction so the pack today was very good ".
Más de Álex: "The year is very strange, to put it in some way. One day one gets on the podium, one day the other and I knew that opportunities like those of today had to be taken advantage of. I had not shot in water, but I knew that The Repsol Honda almost always behaves quite well with Marc, it is a bike that gives confidence and that on days like this you have to do the rest. I almost messed it up in turn one with Oliveira, which I touched, but I was able to position myself quite a bit OK and I took it easy in the first three or four laps, but then I started to overtake and I thought when I was behind Cal that there were very few laps left and that I would not have time to get there, but when I saw that there were eleven or twelve I thought there was a lot of career left and that we had to go for it ".
And what the little one of the Márquez did not want to do is pass bill to those who have criticized that he is in MotoGP. When asked if he feels vindicated, he replied: "No. Not at all. In the end, a podium in water does not mean much, but it does give motivation to continue believing since I have never lost hope. I think I made the leap to MotoGP at the right time and that this is going to go ahead so I'm happy to be here and to move on. "
Already at a press conference, Álex answered all these questions:
-How was the double overtaking of Quartararo to Oliveira?
-There have been many overtakings that I don't remember, because starting the race so far back you pass so many people that I don't remember the entire race. When I was behind Crutchlow I thought there were a lot fewer laps left and that's when I saw the Ducati start to go back a bit. But there were still 12 laps to go and I thought there were still things to do in the race.
-Where does this MotoGP podium place on your list of hits?
-I would be only behind the two podiums that gave me the title. Valencia 2014 and Malaysia 2019, but this one is very close because the high has been very good. You always have that inside that we could have fought for victory because we finished close. I've wasted too much time with Dovi, but I'm celebrating.
-Have you not settled for the podium and were looking for victory?
-At the end of my degree I knew that people would go fast. At that moment and seeing how those from behind were coming, it was clear to him that Dovi did not finish on the podium, because people were coming from behind who were going faster. So I knew it had to happen to him and keep pulling. More than going for Petrucci, to secure the second position. Maybe I could have squeezed a little more and played it, but then I did settle and I was only focused on Pol not fucking me.
-What did Marc tell you?
-I called you. I was at home with my mother and they were both super happy. He asked me how I was doing in the water, because he knows that when you have this feeling in the water that you go back and you can make nice overtakings your adrenaline rises a lot. Especially it has raised me with the one of Dovi, because it had many laps and could not.
-Can this podium click?
-For motivation it is very important, not only for me, but for my entire team. It is clear that I prefer a thousand times a dry podium, and then the click would be real. But I already said it at the beginning of the year, races where the opportunity arises, where there are strange conditions, you had to take advantage of them. And today was the first race in the rain and we made the best use of it. I am very happy and I hope it will also be a dry click, because the bike has potential and you just have to understand the strengths of the bike. Little by little we are arriving and it is a matter of being a little more constant and always being in the top 10 - 12.
-Can you imagine a duel in Valencia with Marc in these conditions?
-Today if Marc had been here, surely there would have been a fight. Because he is very fast in the wet and today we could have had a battle like flat track or something similar. Hopefully he comes back soon and we have some battle in the race. But we know Marc's level and hopefully he will come back soon after we have a race like this.
Photos from as.com