"Quartararo has no fracture, but the contusion is strong"
Doctor Ángel Charte on the leader: "We are going to treat him with ice and anti-inflammatories in his rehabilitation. I do not rule out doing new tests."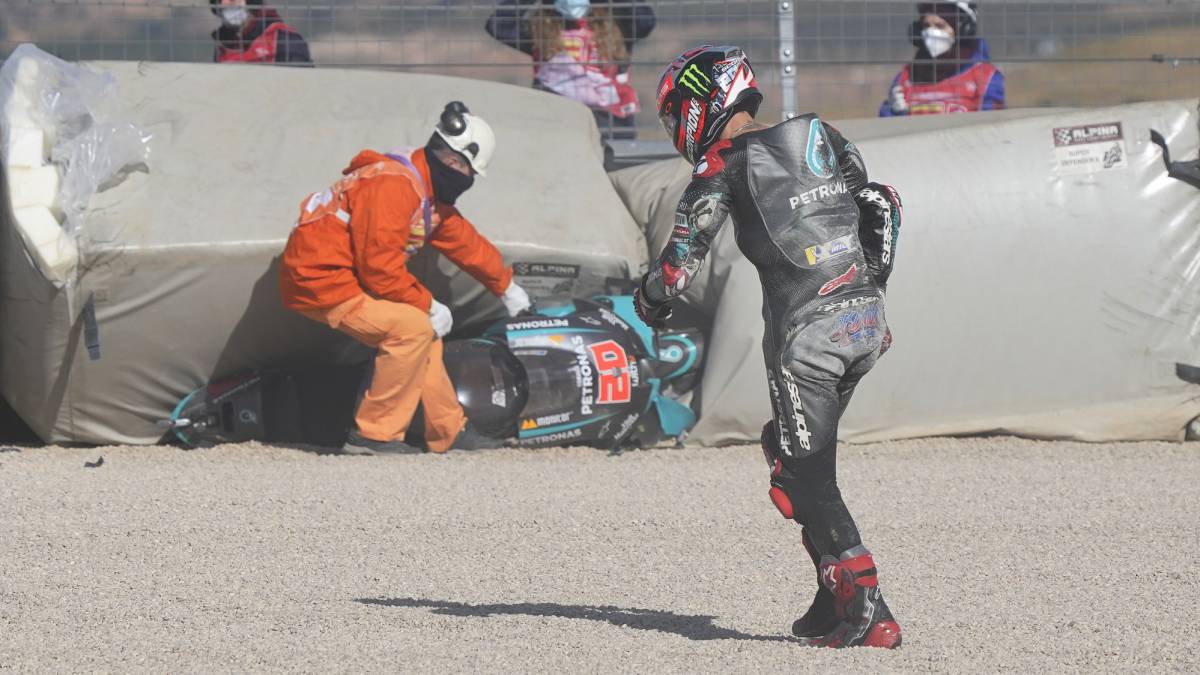 Fabio Quatararo has been saved from a serious injury in his second crash of the weekend in Alcañiz. It was in FP3, nine minutes from the end and with an ugly fly when the steering of his Yamaha closed in the braking of Turn 14 when he was traveling at 140 km / h. As confirmed by Dr. Ángel Charte in 'Dazn', everything has resulted in a "major contusion" on the hip, but they do not rule out doing new tests depending on how the hematoma he is expecting evolves.
"Quartararo has had a strong fall. In the circuit medical center we have done some plates with the traumatologists here and in principle they are normal, but the contusion is important. He had another fall yesterday just in the right hip and now he has affected on the left. The problem is that, from the impact, it is likely that there is a large bruise and we will see its evolution. We are going to treat him with ice, mainly, and anti-inflammatories in his rehabilitation. I do not rule out doing new tests. It depends on how he evolves We still do a new test later, but in principle the diagnosis seems clear, "said the doctor.
On whether he will be able to go out on the track when the turn of FP4 and Q2 arrives, Charte does not see his presence in danger at the moment: "There is no fracture, with which we will treat the soft tissues and the blow with cryotherapy, anti-inflammatories and pain relievers. Let's go. Let's see how it evolves and in principle you don't have to go to FP4, unless it gets more complicated with the hematoma. We will see it minute by minute ".
The general leader has left the circuit medical center in the direction of the mobile clinic, helped to walk on a crutch on the right side. There he is already treating with the treatment that has been explained by the chief medical officer of the championship.
It should be remembered that last week, at Le Mans, Marini suffered a horrifying glitch and, although nothing broke, then he was severely depleted for the rest of the weekend and in the race he could not even score, after finishing 17th, although that did not prevent him from maintaining the Moto2 lead.
Photos from as.com