Geraint Thomas leaves the Giro with a broken pelvis
The British Ineos-Grenadiers cyclist will not start the fourth stage of the Giro d'Italia due to the injury that occurred after his fall on Monday.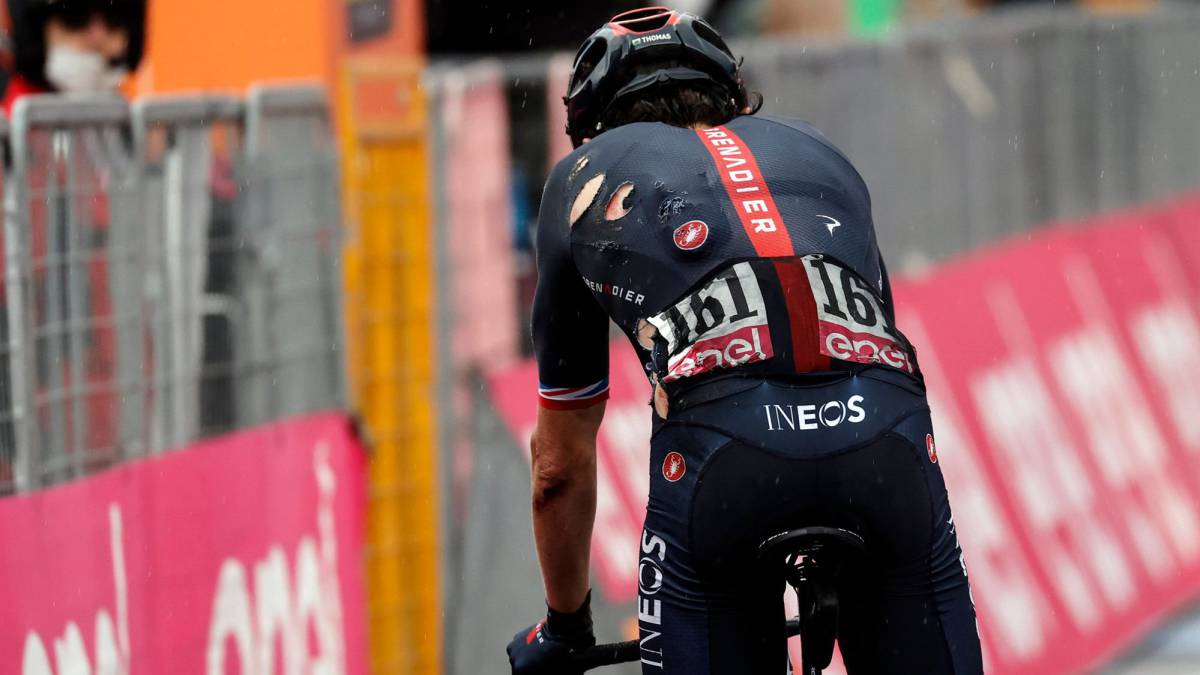 Giro d'Italia is over for Geraint Thomas. The British Ineos-Grenadiers cyclist will not start this Tuesday in Catania to face the fourth stage of the Italian round after detecting a small fracture in his pelvis after the fall he suffered this Monday.
Thomas was involved in a fall during the neutralized section of the third stage when he was unable to avoid a drum on the road in a downhill area. Despite multiple abrasions on the left side of his body, the Welshman got back on the bike to continue the stage.
However, Thomas began to lose ground with the group of favorites before the final ascent of Etna, possibly due to injuries. Despite this, the Welshman reached the finish line at 12:19 of Jonathan Caicedo's time, thus saying goodbye to his options to the general.
Phil Riley, team physician, confirmed the worst prognosis: Thomas fractured his pelvis after the fall. "Geraint underwent scans this morning which revealed a small non-displaced fracture in the lower part of his pelvis that was not shown by X-rays yesterday. As a precautionary measure, he will drop out of the race because it is an injury that can be easily aggravated. .
Thomas himself regretted the abandonment in statements released by the team. "It's very frustrating. I had worked a lot for this race. I did everything I could and felt like I was arriving in good shape or even better than when I won the Tour. I felt very good and to finish like this is very painful. I was ready to take the race. I started out today. I woke up and wanted to be with the boys and help them in the stages of the next few days but I knew that something was not right and that is why I had more tests. It was an easy decision to leave when I learned that I had a fracture, because obviously I don't want to get worse ".
It is the second time that Thomas has left the Giro d'Italia when he started as one of the favorites in the general classification since in 2017 the Welshman had collided with a motorcycle badly placed on the road in the ninth stage of the Giro before the final climb to the Blockhaus, leaving a few days later.
Photos from as.com