Fear of the King? This he does when he loses a Finals match
Dominant performances, triple-doubles, records ... The story goes that LeBron improves after losing a Finals game. Will it happen again?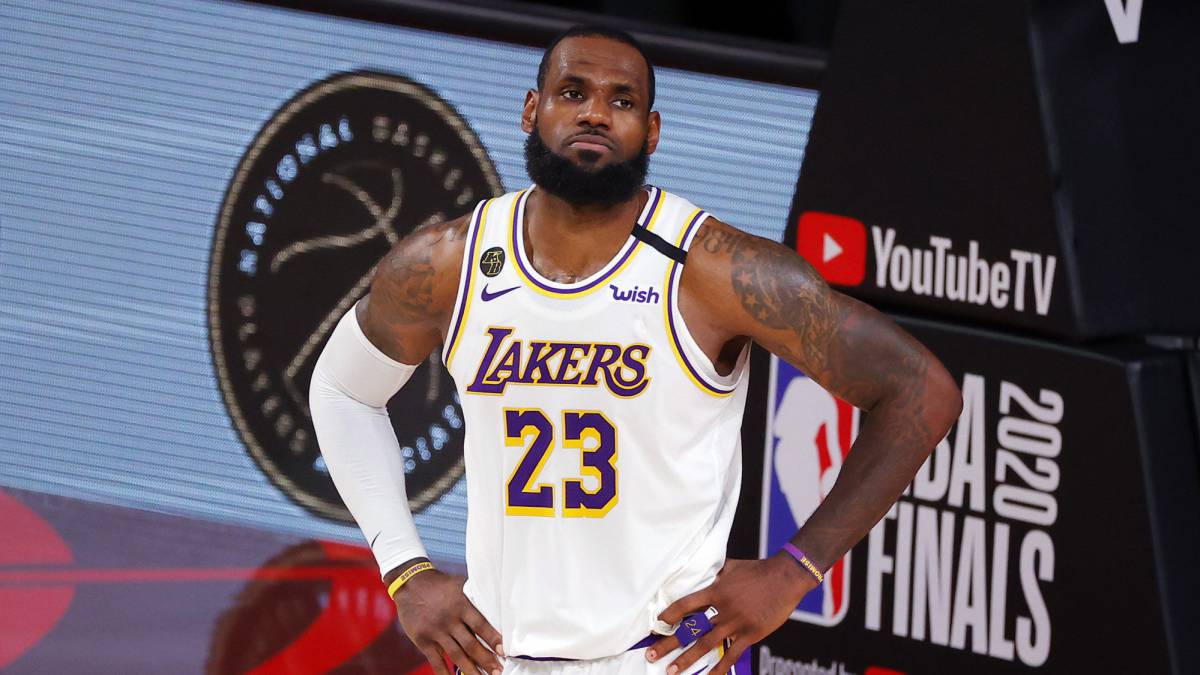 LeBron James has played 10 Finals, so he has been seen in all of them. Or in almost all of them, since never, until this year, had he started winning 2-0. One way or another, the King's message at the conclusion of Game 3, which ended with a victory for the Heat and an embarrassing image of the Lakers, was clear: "I'm not worried." In the same way that after the first meeting he tried to lower the spirits of his own, now he shows indifference after a result that the normal thing, in a series of seven games, is that he gives. You can't win every time or everything, and setbacks within a single tie are perfectly normal and mean simple bumps on the road to the ring, one for which the Lakers remain favorites. Of course, they will have to do long video sessions and change their tactics to beat a team that has been net and completely superior to them. At least much more than what an infinitely shorter result indicates than the sensations shown on the track.
The loss of the Lakers causes LeBron to find himself in a situation familiar to him: losing a Finals game. The forward has fallen in six of the nine that he has played before this 2020, and has a record of 18-29 in this round, 20-30 if we count the three that he has carried this season. And traditionally, he has had an innate ability to improve after a loss, performing at times historic and at other times simply brilliant. The star averages 28.2 points, 10.1 rebounds and 7.8 assists, with 1.7 steals and 0.9 blocks in the Finals, with 47.3% shooting from the field, 34.5% three-pointers. and 74% in free throws. And, in the 10 he has played, he has played up to 25 games just after losing, with a 10-15 record in them. In this case, we are talking about his performance in the match immediately after a loss, regardless of whether it is won or lost, and always to take into account LeBron's reaction each time he loses a match in this round.
In the nine Finals played, LeBron averaged 28.9 points, 9.7 rebounds and 7.9 assists in this type of game, statistics that increase if we ignore his first two Finals. In 2007 against the Spurs (4-0) and in 2011 against the Mavericks (4-2) in one of the worst performances of his career. In the last seven alone, LeBron averages 31.3 points, 10.8 rebounds and 7.8 assists when losing. In this aspect we have found performances for history, especially in his second stage in the Cavaliers: 39 + 16 + 11 in the second game of the 2015 Finals against the Warriors; 40 + 14 + 11 in the fifth, also after defeat. And 32 + 18 + 9 in the sixth, in which they were eliminated. The following year, his display in the fifth game is still famous, the one that started the historic comeback against the Warriors themselves, who arrived after achieving 73 victories in the regular season: 41 points, 16 rebounds and 7 assists, in the first of the three consecutive games they won to turn around a 3-1 against, the first and only time it has been done in the Finals. And the following year, in 2017, he almost never got off the triple-double in this type of duel: 29 + 11 + 14 in game 2, 39 + 11 + 9 in the third and 31 + 10 + 11 in the fourth, only the Cavs won.
Of course, the Heat have reason to be concerned, especially when you consider that LeBron has not reached his best numbers in Game 3 (25 + 10 + 8, 1 of 5 on 3s). In fact, it was the first time in his career that a rival or teammate surpassed him in points, rebounds and assists within the same Finals game with a legendary performance by Jimmy Butler (40 + 11 + 13, watch those numbers) . Of course, El Rey has never been in a situation similar to that of now; almost always (especially with the Cavs) he has been in tow in the title-deciding tie, with a need and a desperation for victory that forced him to give it his all. Now, he is still ahead in the tie, although he cannot relax if he does not want a 2-2 that starts a new round to the best of five games, with a Heat whose physique is going up and some Lakers in decreasing dynamics to whom doubts may assail. LeBron will play again after a loss. What we do not know is what will happen this time. After all, if anyone knows him well, it's Erik Spoelstra. And he knows that, in these situations, he can be a very, very dangerous man.
Photos from as.com