Evenepoel had no doping substances in his jersey after his fall at the Giro de Lombardia
The Anti-Doping in Cycling Foundation closed on Monday the investigation into the controversial object that Davide Bramati extracted from the runner's pocket, which raised many suspicions.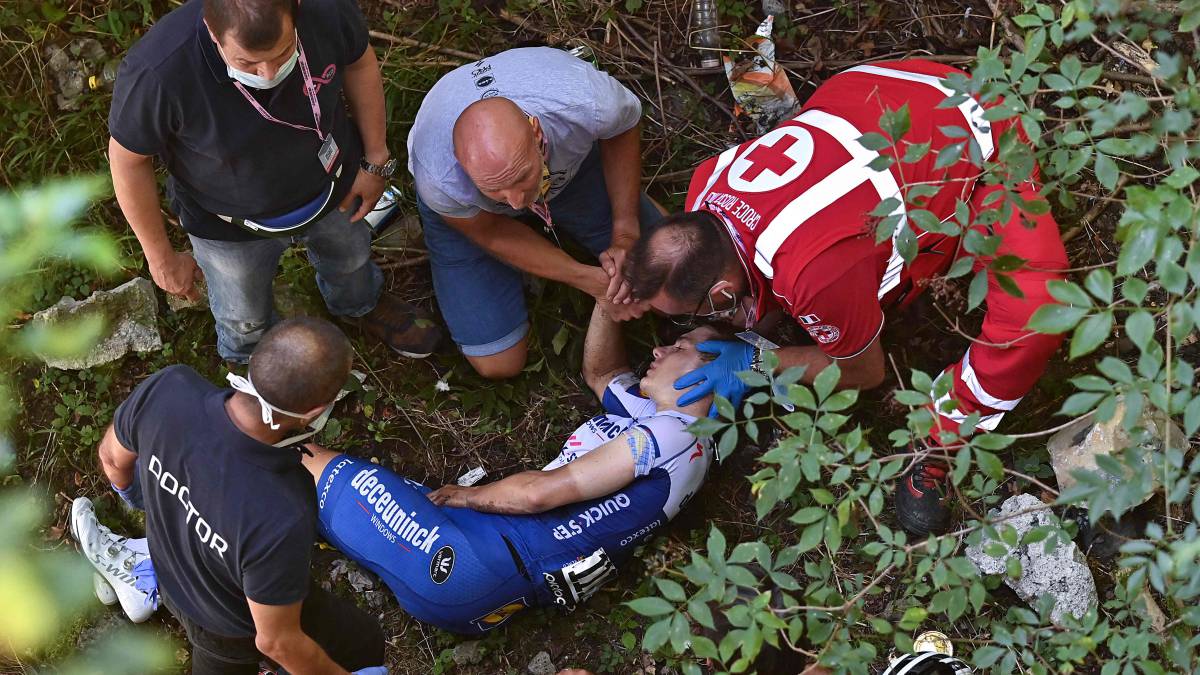 Remco Evenepoel received good news on Monday as he continues to advance by leaps and bounds in his recovery after the severe fall he suffered in the Giro de Lombardia, to which must be added the pressure to which he has been exposed in recent weeks as a result of A video in which his sports director Davide Bramati appears extracting a small object from his jersey pocket, which raised many suspicions about what that object was.
The Cycling Anti-Doping Foundation (CADF) has published a statement on Monday stating that the object in question is not an anti-doping substance, so it has decided to close the investigation on this issue.In this way Evenepoel sees how an ordeal ends parallel to the rehabilitation he has been carrying out after the pelvic fracture that occurred in Lombardy. In fact, as soon as the video appeared, Evenepoel himself acknowledged that he began to cry at the suspicions of doping towards him. "I'll be honest. This morning I was crying in the hospital bed in my father's arms. I felt like shit. I was fighting for my life at the time. And my team did the best for me!" Evenepoel lamented on August 29,
The Belgian cyclist, who has already started riding on the road to complete the final stretch of his rehabilitation, has not yet reacted on his networks to the publication of the CADF statement, which we reproduce in full below for his interest:
"The Anti-Doping in Cycling Foundation (CADF) has completed the investigation started after the fall of Remco Evenepoel at the Giro de Lombardia on August 15 and the video recording in which the sports director of Deceuninck Quick-Step is seen taking an object out of the runner pocket before putting it in his own pocket.
After hearing from all those involved, including the runner and team representatives, the CADF has concluded that there was no anti-doping code violation and considers the case closed, unless new elements emerge for its investigation.
The CADF would like to thank Mr. Evenepoel, Mr. Bramati and the Deceuninck Quick-Step team for their collaboration during the investigation.
CADF will not comment further on the matter ".
This puts an end to this controversial episode that could give Evenepoel even more motivation to face his return to competition in 2021 after a great 2020 season (nine victories between stages and general classifications) that could only stop that fall in the descent of the Wall of Sormano.
Photos from as.com