The Montenegrin pivot takes Tavares out of place with his 6 triples and 24 points. Great victory for Valencia, who danced to an unknown Madrid in the second half: 55-80, minute 33.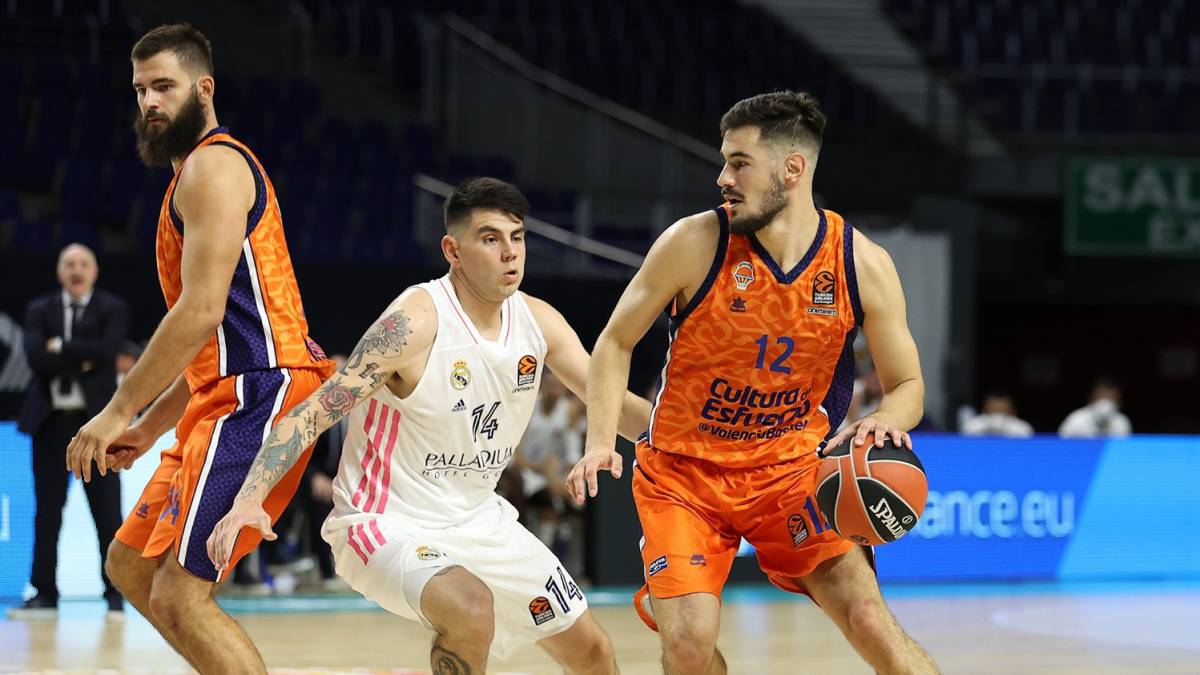 Without its people in the Palace, Madrid does not broadcast as before, so much so that this Thursday it offered one of its worst images in recent years. Without the public against it, Valencia Basket better remembered Ponsarnau's plan. He was good and his team traced him for concentration and, above all, talent to embrace a prestigious victory that catapults him into the start of the Euroleague. He has the wickers, accumulates a good job maintained over time and has more and more faith in his options.
The tactic, five open players to extend the court to the extreme and punish Tavares, was done by Dubljevic ... Blocking the ball handler and a couple of steps towards the line of three, to show off a hand. 'La Roca' was a fine shooting stylist: 20 points as soon as the third quarter started with 6 of 8 in triples (24 points in just 18:58 on the court). Edy couldn't beat him, Dubi couldn't beat Tavares on the other ring. There Madrid had their only good moments: he moved the ball and found his giant (11 points and 18 PIR at half-time) .
A the whites, before the general collapse, were weighed down by the 9 losses in two quarters and the little contribution of Thompkins and Randolph. The latter had one of those days of the 'earth swallow me'. Three attack fouls, as shown. Despite its good initial percentages (29-22), the pace was taronja. Campazzo accumulated points more easily than assists, his team did not flow and the worst was still missing.
The visiting beating began to take shape before passing through the changing rooms and materialized in the second half, with a Real in free fall, in one of their hardest defeats at home in this century. Unable to stop the rival and suffocated by the solidarity Valencian defense and by his own ineffectiveness in the triple. Valencia remembered the one who walked before his adversary this Thursday at La Fonteta in the fourth game of the 2017 final to celebrate his first league. And Madrid, too, with a very worrying start in Europe: 0-2, like Efes, but the perception is worse. Leave a bad hunch. In part, there is an impression of an incomplete team, with the squad in the air by Campazzo and the absence of a substitute center that leaves loose ends and accentuates the mental disconnection after winning the Super Cup. Let's see.
The best thing about Valencia, with the sweetness still on the lips of the shake of one of the competition's potentates, is that it has a great margin for improvement. He has yet to get Marinkovic back, and Sastre in about two or three months, and engage Prepelic and Derrick Williams. Of course, he already has Kalinic full lung. What a reinforced concrete player! Of those who make a group great. This time he punished the post and nullified the Deck effect. It's just October, but beware… For both. And if not, pay attention to Laso's message: "If anyone wants to wage war on their own, they won't play with me."

Photos from as.com