De Gendt's lesson to Rubio at the Giro: "You don't deserve to win if you don't do any work"
The Belgian regretted the tactics of the Colombian from Movistar, who did not help him in the relays on the last climb and that allowed Ganna to take the fifth stage of the Giro.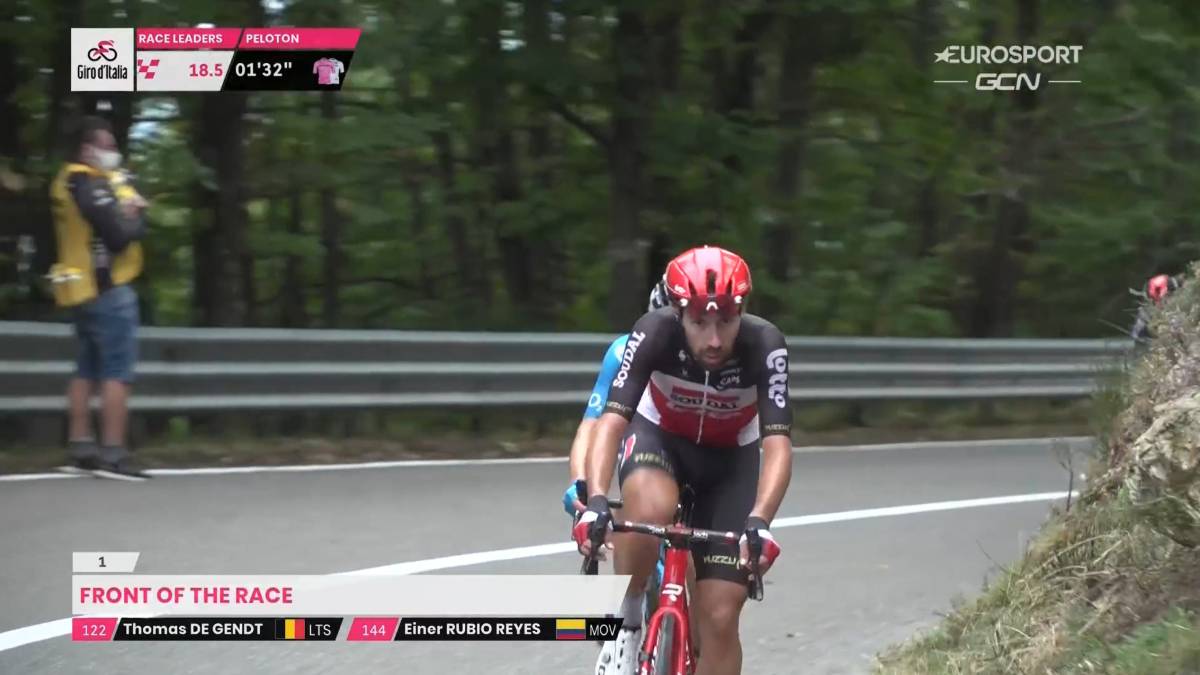 Thomas de Gendt was one of the great protagonists of the fifth stage of the Giro d'Italia ending in Camigliatello Silano. The Belgian from Lotto-Soudal jumped out of the peloton with Colombian Movistar Einer Rubio to his wheel on the last climb to Valico di Montescuro to hunt down the escape and, despite achieving it, they did not manage to get into the fight for stage victory after Filippo Ganna's attack on the final ramps of the port that made the Italian reach the finish line alone to win his second stage in this Giro.
However, part of Ganna's success was due to the lack of collaboration between De Gendt and Rubio for hunting down the Italian, something that the Belgian thus justified on social networks. "Yes, I was teaching him. You don't deserve to win if you don't do any work. It was not my turn to close all the differences," De Gendt said in the absence of Rubio's relays.
De Gendt understood that Rubio did not relieve him after the attack of the Movistar rider Héctor Carretero, but after the hunt for the Spanish cyclist and after he was off the hook he regretted the Colombian's lack of cooperation. "His not working on the chase was not a problem. I knew he had a teammate. So I tried to close the gap as soon as possible. Once we connected he should have started to collaborate. It was his choice not to."
A De Gendt was also asked about the possibility that Rubio did not relieve him because he was going to the limit, something that the Belgian denied. "When we got to half-time, he attacked, so he wasn't on the edge. If he didn't want to shoot, it's more of a mentality problem. He wasn't going to take him to the finish for free."
De Gendt also went through The Cycling Podcast to analyze what happened during the stage with Rubio. "I think I had legs to beat Ganna, but I had someone at my wheel who didn't want to work ... During the chase on the run Rubio had a partner in front of him, so he could understand it but once we passed him he still didn't want to do it. nothing from work and then he started attacking, so I made it my goal not to let him win. "
In statements collected by the Movistar Rubio team also made analysis of the stage. "In the last climb those attacks have been formed and I saw the opportunity to leave and I was able to follow De Gendt's start. Today I did notice more confidence in the lot and better legs after a few days in which it had cost me a little more and I was not completely well. It was a little while before I could follow that final attack from Ganna, but as I say, we are already finding better feelings and taking that confidence in ourselves. We are going to keep trying; We will surely test it in the days to come. "

Photos from as.com