Davies and Higgins decide in extra time for Barça
Despite the casualties, Jasikevicius's tactics giving minutes to the entire squad make Barça a solid block.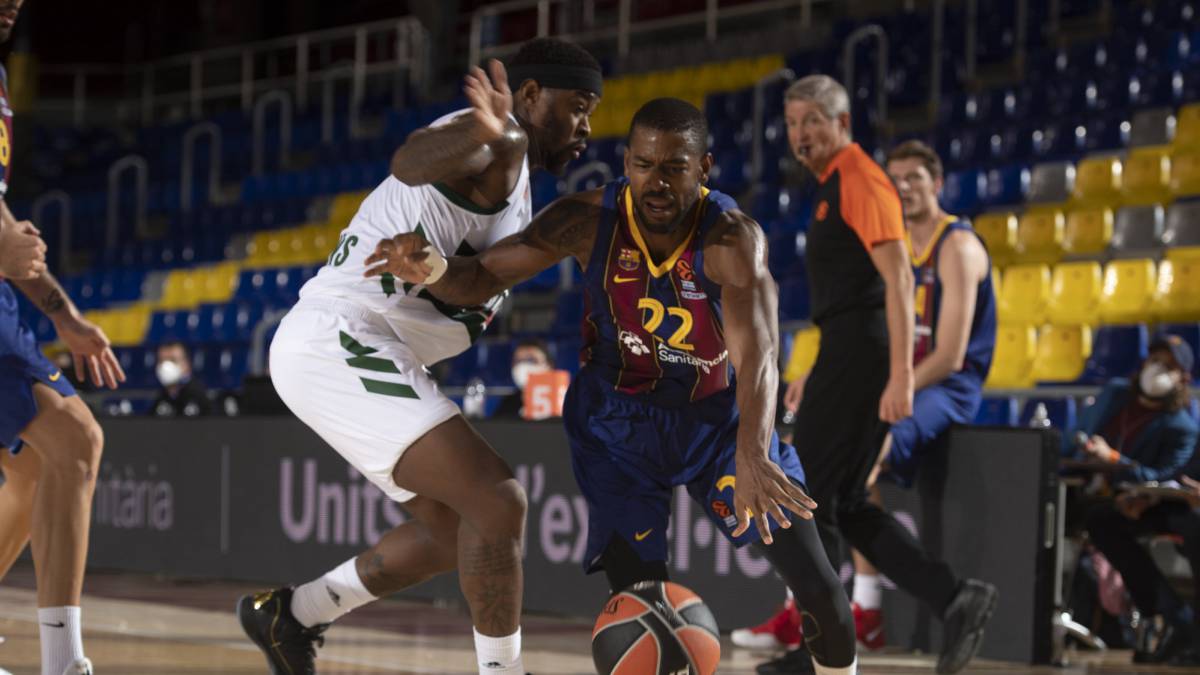 In a clash that has been a real roller coaster, with constant alternatives on the scoreboard and that has had to be resolved with an extension, Barça beat Panthinaikos Athens 97-89. Cory Higgnis, with 24 points (20 in the second half), 7 rebounds and 5 assists, along with Brandon Davies (20 and 5) and Nick Calathes (14, 6 rebounds and 6 assists) have been key for Barça where Kyle Kuric , who reappeared testimonially on Tuesday in Valencia, with 14 points (4 out of 6 triples) has already proven to be on his line. Marcus Foster (24 points), Mitoglou (16 points and 12 rebounds) and Howard Sant-Roos (17 and 5 triples) showed the potential of the Greek team.
Barça, without Mirotic, or Claver, came down at the last minute with moletias in the plantar fascia of the right foot and with Abrines who only spent eight minutes on the track due to a sprained right ankle, it was difficult for him to start since Jasikevicius' initial disposition with Hanga, Higgins, Abrines, Smits and Davis it did not work and the Panathinaikos, hand in hand with an inspired Marcus Foster went up (4-15, m.6). A time-out for the Barça coach stopped the visiting streak and Calathes, who had entered two minutes earlier, along with Smits and Oriola, managed to cut back at the end of the opening quarter (13-18), where the young Sergi Martínez had his chance.
If Kyle Kuric's debut was testimonial in Valencia, today it has been key in the second quarter and two triples from Calathes and two triples from the American shooting guard, together with two free throws for eight of his points in four minutes turned the scoreboard (29- 24, m.14). The Athenians closed well in the zone and in attack they were more incisive in the paint and with a 0-7 they recovered the initiative (29-31m.18), although five points from Heurtel regained control for Barça at halftime (36 -35), although the losses (9) tied the Catalans 444 444
Foster's effectiveness had been slowed (16 points in the first 12 minutes), but Konstantinos Mitoglou took over at the beginning of the third quarter (36-42, m.22) and Saras chose to return a limping Abrines, who There was nothing he could do as Higgins began to awaken from his slumber, with 10 points in this quarter. Panathinaikos took advantage of Barça's mistakes in attack and after a triple by Foster, which woke up, and Nedovic again gave the Hellenes the maximum advantage (44-55, m.27). Kuric was back on track and a triple from Calathes and another from him opened Barça's hope again (50-55, m.28). Davies tightened the scoreboard (54-55) and Oriola advanced to the Catalans (56-55) after a 12-0 run, although they reached the last quarter in a draw (58-58) .
Heurtel, Kuric, Hanga, Sergi Martínez and Oriola began the last period on the court for Barça, which was advancing in the electronic (62-58), and Mitoglou together with a triple by Nedovic returned the initiative to the visitors (62-63 , m.33). Higgins advanced to Barça (64-63) and Jasikevicius made a quadruple change entering Calathes, Smits, Hanga and Davies. In addition, the PAO captain and his top scorer, although today well off, Ioannis Papapetrou, committed the fifth foul (m.35) .
Pivot Konstantin Mitoglou and Serbian point guard Nemanja Nedovic held their team well (67-68, m.37) and it was Davies who with four points in a row advanced again to Barça (71-68, m.38). They entered the last minute with 73-70 after two free throws by Cory Higgins and Panathinaikos cut after a Jasikevicius time-out (73-72 at 38 "to go). Heurtel missed a triple and Calathes recovered the ball in the Rebound. There was a foul on Davies that transformed the free throws (75-72) to 17 seconds to go. With only 8 seconds left, Sergi Martínez fouled on a triple by Leonidas Kaselakis that transformed all three shots (75-75) .
On the next play, Higgins missed the last triple and it was extra time. Putovyi came in alongside Davies to help on defense. With triples from Hanga and Kuric and a free kick from the Ukrainian center the score went to 82-78 (m.43). A triple by Hanga and a basket by Davies materially sentenced the game (89-81) to 1:18 by the end of extra time. Nedovic's fifth triple cut (89-84). Barça, with Davies unstoppable, did not yield, although the Athenians approached again (93-89) less than 30 seconds away. And four final points from Higgins sentenced (97-89) .
Photos from as.com