Clevin Hannah dismantles a Manresa without continuity
Those of Pedro Martínez have not yet won at the Nou Congost. This Saturday they have not taken advantage of the Andorran casualties in the inside game either.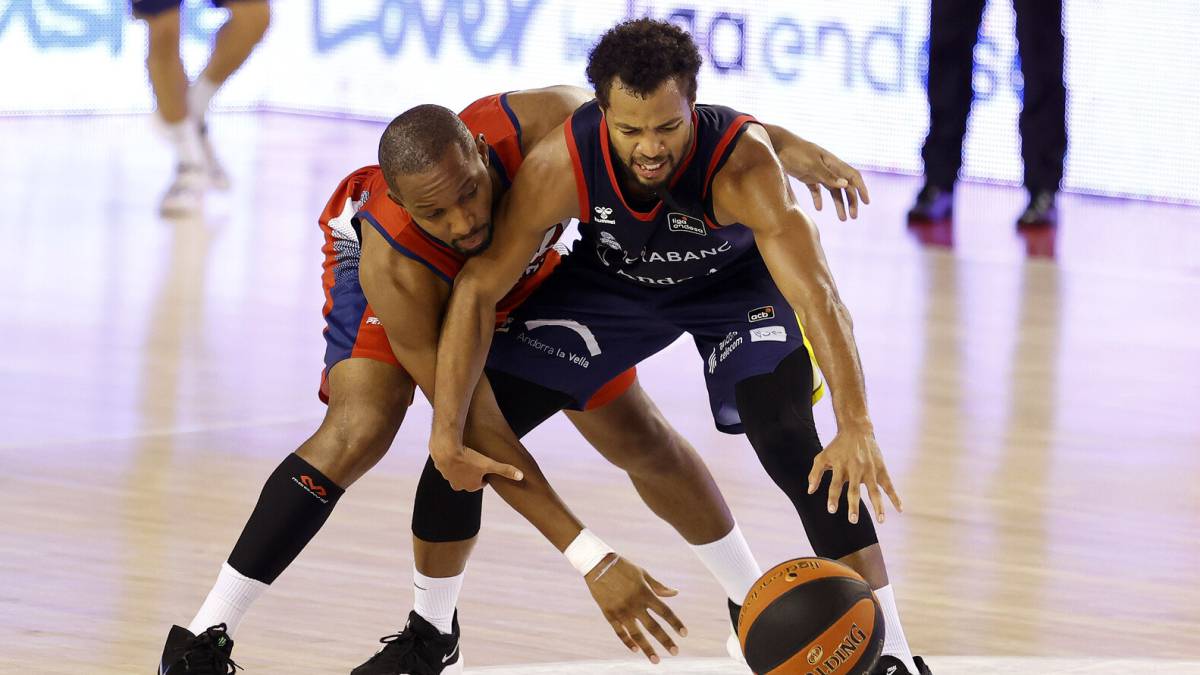 Baxi Manresa has suffered its third defeat at the Nou Congost, where it remains without a win, against MoraBanc Andorra, which ended its streak of three consecutive defeats, winning 64-69 after a recital by Clevin Hannah (23 points, 5 rebounds and 7 assists) .
Pedro Martínez's team has not known how to take advantage of its initial superiority in the paint, although later Andorra has equaled him in the rebound, and has crashed in the triple (9 of 30) against a rival who has gone from less to more and who has punished him with 5 triples in the last quarter.
Only Hinrichs (13 points) and Vaulet (10) have been effective in attack against Hannah and her support today in defense and attack, Jeremy Senglin (13 + 8) .
Baxi Manresa came from winning last day at Unicaja in Malaga (86-90) and Andorra from adding their third consecutive defeat and joining the losses of Bandja Sy, Moussa Diagné and Haukur Palsson, that of their best scorer, the Spanish-Dominican José Miguel 'Tyson' Pérez with adductor problems.
This forced Andorran coach Ibon Navarro to make multiple rotations to achieve balance in his inner game. For its part, Pedro Martínez's team initially rushed into attack, with many losses and the visitors went up (2-7), but Manresa responded well (10-9, m.6) taking advantage of the rebound.
After a time-out by Navarro, a new visitor pull came with a partial to 2-11, thanks to Hannah, Jelink and Senglin (14-20, m.10) .
The Andorrans continued to maintain their advantage (24-29, m.18) and now it was the locals who, with a partial 8-0) advanced to the break (32-29). The dominance of the local rebound (23 with 8 offensive) against 13 of the Andorran team and the errors in attack had allowed the local reaction, although they had lost 12 balls.
With only 9 points in the second quarter, MoraBanc Andorra had to react because only Hannah and Senglin (17 points between the two at halftime) were right, while Eatherton (12 rebounds) and Vaulet (7) dominated the rebound against Tunde and Tell me (41-33, m.25) .
MoraBanc was entrusted to its exteriors and Kloof, Hanna and Paulí turned the game around (41-42, m.27) although a triple by Makai Mason returned the initiative to the Manresa at the end of the quarter (48-46) .
And Clevin Hannah, with two trebles in a row, advanced again to those of the Principality (50-52, m.33) and with Sergi García at the base, the New Yorker was freer and his team noticed him endorsing a partial of 0-10 ( 53-62, m.36) because Manresa crashed from the 6.75 line and no longer dominated the rebound because Jeremy Senglin (8 rebounds) supported the rotation of his pivots.
The third triple of the base Sergi García in this quarter placed the 55-65 (m.38) on the scoreboard, the maximum visitor advantage and the sentence of the crash.Farewell to a great journalist
MoraBanc Andorra wore black crepes and a special training shirt with his image in memory of the Barcelona journalist, Álex Lliteras, who practiced his profession in Andorra. He was passionate about basketball and that marked a historic stage in the basketball information of this country, died last Wednesday at the age of 59 (RIP) .
Photos from as.com