Chris Paul, the Lakers dream
The Lakers are already thinking about their defense of the title and it is believed that they want to reunite LeBron and his intimate, a Chris Paul who was already on the verge of playing with Kobe.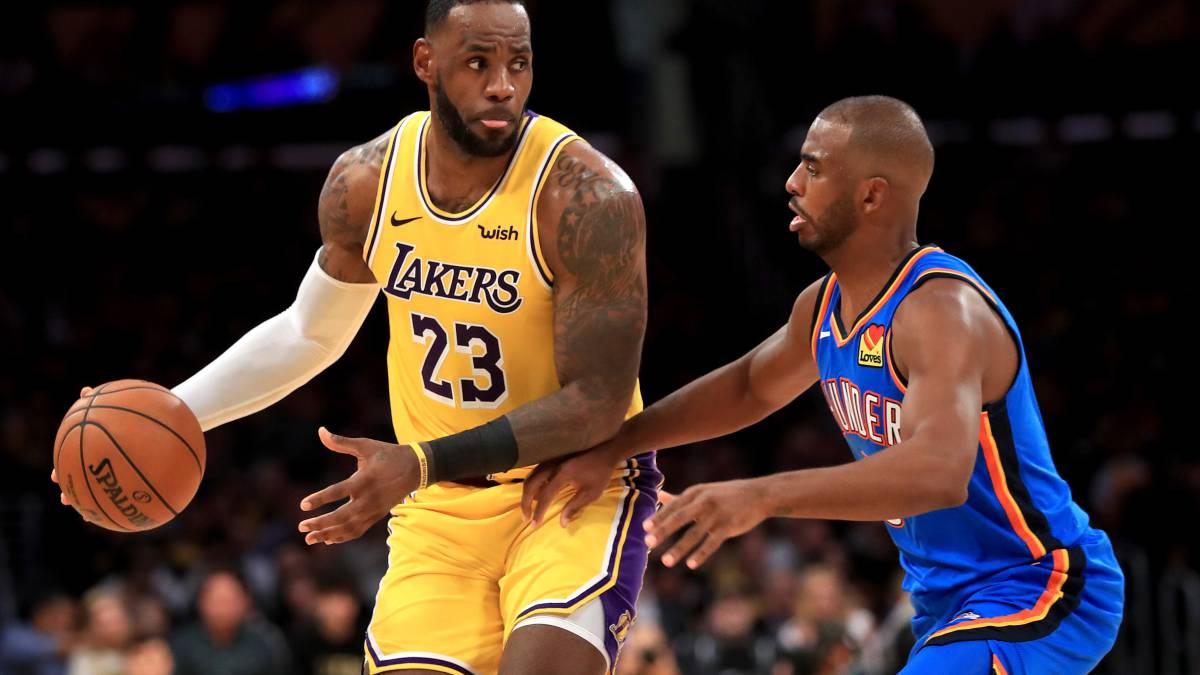 Six years without playoffs ... to the championship ring. The Lakers are back the only way they know how to do things: big. Now is the time to celebrate ... and to think about the 2020-21 season, where they will be the rival to beat because they are the new king of the League and because they will continue to have LeBron James (who will turn 36 in December) and, except unforeseen hecatomb, to Anthony Davis, who will not execute his player option but has no intention of going anywhere: he will sign a new contract with the Lakers. For the maximum amount of money ... and the years he wants, from the shortest option (1 + 1) to the five seasons.
From there, the Lakers have office duties: maintaining the block of a champion team is always difficult because the ring greatly revalues its protagonists. Kentavious Caldwell-Pope and Rajon Rondo will not execute their player options either, Avery Bradley could follow the same path and Markieff Morris and Dwight Howard will be in the market. The Lakers will try to retain as many as they can and will move to the hunt for secondaries to complement LeBron and Davis. With, if you get within range, the option of taking a great blow that makes them even more fearsome. By accounts and for what they would need to give in return, they are very complex options. But in the NBA you never know. There is talk of Kevin Love, Bradley Beal ... and in the last hours, Chris Paul as well.
Paul is on his way to 36, like LeBron. After his ugly departure from the Houston Rockets, he has shown in OKC Thunder that he is still on gas and wanting to win. And he has no ring on his record. For him, obviously, it would be the culmination of an exceptional career, one of the best point guards in history. In the Lakers they could try to win it, in addition, with his close friend LeBron James and with the team in which he was going to form a formidable tandem with Kobe Bryant before the famous veto on his transfer from the Hornets to the Lakers that ended up sending him to the Clippers . The problem, it is obvious, is Paul's super contract: 41.3 million next season, 44.2 from player option in 2021-22, which will end with 37 years. The Lakers don't have much to make a very powerful offer either (they gave a lot in return for Anthony Davis), but the Thunder may not be as demanding as they usually are as a reward to an illustrious veteran who performed exceptionally last season, with maximum commitment. on a team that seemed destined to lose a lot and that surprised everyone by making the playoffs despite the transfers of Russell Westbrook and Paul George.
The fact is that the rumor is there: the Lakers will continue looking for stars (last year they tried with Kawhi Leonard, Kemba Walker, Jimmy Butler ...) and, according to Eric Pincus (Bleacher Report), there are executives from other franchises who believe that Chris Paul is the icing on the cake for next season: "Chris would love to play in Los Angeles again. I know it would be a dream for him. And I know that LeBron loves him and that they would be a great fit on the court, "says anonymously the executive of an Eastern Conference team.
Those 85.8 million are a huge obstacle, of course, no matter how much the Thunder agree to negotiate in their spirit to continue rebuilding optimally. The Lakers would have to send at least 33 million in salaries to square an offer, which would force them to drop practically everything except LeBron and Davis: Danny Green, Avery Bradley, Kyle Kuzma, Quinn Cook, JaVale McGee, Alex Caruso ... and of course his first round this year, which is very low (28). These accounts could include a sign and trade for Kentavious Caldwell-Pope, and already include Bradley and McGee, who have to execute their contract options. Something that makes the cabal even more difficult because, in any case, that is not a great offer in sports, so the Lakers would need too much understanding from the Thunder towards Chris Paul's desire because that proposal has little specific weight beyond a weak first-round pick, Kuzma's potential (not to fire) and the always interesting option of parting with a 35-year-old player's tremendous contract. Further, the Lakers can transfer their first round of 2027 and the second of 2023, 2024, 2025, 2026 and 2027. Difficult, very difficult ... but the rumor is already there.
Photos from as.com