Casemiro: "Mbappé? When I play here, I'll talk about him"
The midfielder, in full concentration with Brazil, attended the Vamos channel live. "When Bale is focused, for me he is the top 5 in the world," he said.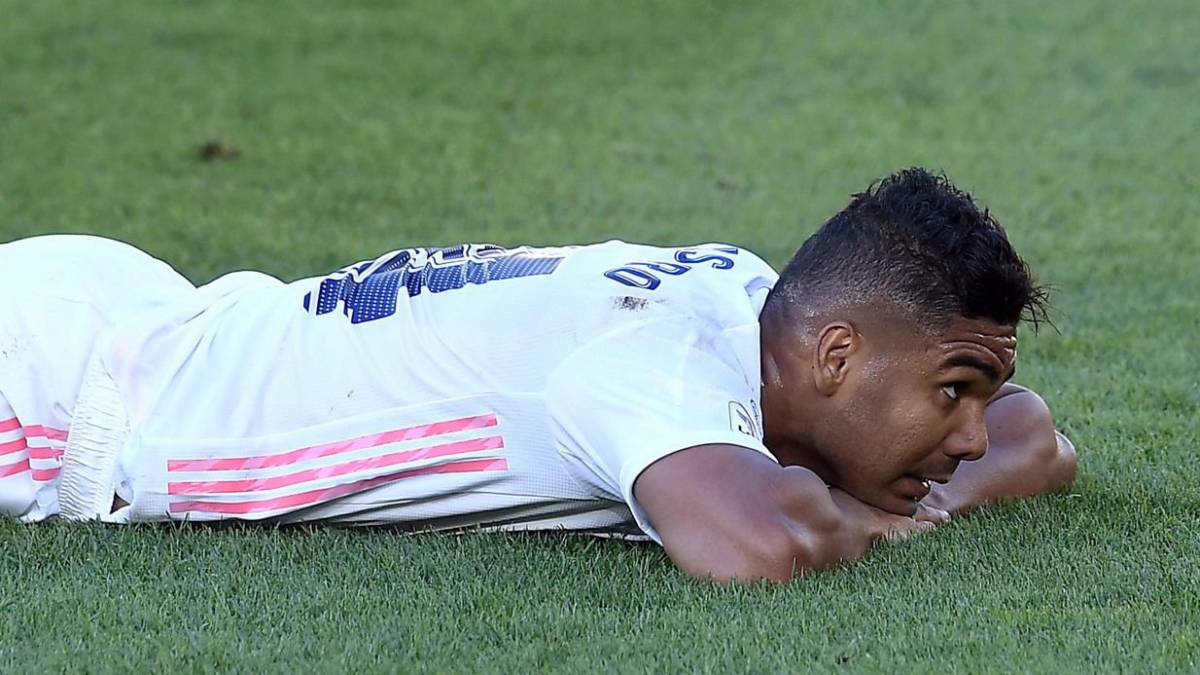 How strange it is to see a world-class footballer giving a live interview to a television program. And how natural it makes Casemiro (Sao Paulo, 28 years old) look like. Staying at the hotel, in full concentration with Brazil and just a few hours after flying to Peru, the midfielder attended Vamos to talk about the current situation around him.
His real name: "Few people know that my name is actually Casimiro, because my mother's last name is with i: Casimiro. When I was playing in Brazil, there was a game in Sao Paulo in which people started calling me Casemiro. That day I played a great game and decided to continue calling me like that, with e. And until today ".
Dorsal: "When I returned after being in Porto they told me to choose between 21 or 14. I did not hesitate, I took the 14 for Xabi Alonso and Guti. They were two references with whom I learned and grew."
Real Madrid: "We are leaders ... The feelings are great! I hope that people continue to speak and we continue to be leaders. The preseason? It has been short, but as you say in Spain, 'it is what there is.' form and we lack a bit, but the dynamics are good ".
Missing goal: "How can a goal be missed! Benzema is probably the best nine in the world and you have to have a minimum of respect for him. Since last year we have been a very solid team with players like Hazard, Rodrygo, Vinicius ... No We can score five goals in every game, but there is no lack of a goal either ".
Finings: "We have the same team that won the League last year. Obviously the more quality players can come, the better, but with this team we have shown that titles can be won and last year we raised two (League and Super Cup). we know that the current squad is strong. Were signings needed? That's a question for the president. "
Hazard: "He knows he is struggling, but in training you can see that he is a great player. When he starts to have a rhythm and chains 3-4 games he will be the same as always. Last year he was injured at his best, only needs regularity ".
Bale: "He got along very well with everyone. When he plays, if he is focused, he is one of the best in the world, top 5 without a doubt. For me it is a pleasure to have shared a dressing room with someone like him. I hope everything goes great for him At this stage at Tottenham. I thank him for the 'chirlos' he made in the finals, when I think of Gareth it is to remember those good moments ".
Mbappé: "He is a great player and in this club they talk about many names. If Madrid signed all those who leave, we would have more than 100 players in the squad. Mbappé is not our player and I will talk about him when he is, if he is that one day it will be. I like him, but also Neymar, Coutinho ... They are footballers of extreme quality and everyone loves it ".
Youth: "They must have mirrors, references to follow, because in 4-5 years they (Rodrygo, Vinicius, Valverde ...) will be the leaders of Madrid. We, the veterans, try to set the line to follow for lads. The policy of signing young players from the club is a huge success. "
Champions: "Madrid are obliged to push themselves to the maximum. The group (Mönchengladbach, Inter and Shakhtar) is difficult. We will have to come out strong. Very strong" .
Fame of a tough player: "The defensive midfielder has to be aggressive. Careful? Yes, but it is a complicated position. I always try to keep situations under control."
Future: "I love watching football, to the point that my wife sometimes gets upset because I spend my days watching games. Being a coach? Hopefully not, because it's a very complicated position. No matter how things go, the coach always ends up being the culprit ".
Brazil: "The road to lifting a World Cup is very long (Brazil has not lifted a World Cup for 20 years). We have a good pool of young people who push hard. We are creating a new identity and this is the way. We want the World Cup, but first we have to qualify and we are focused on that ".
Rafa Nadal: "He continues to make history. He is one of the best of all time and for me it is an honor that he is also from Madrid. I wish him all the luck in the world in the future and I congratulate him on what he achieved in Paris. What you are doing is not normal and you have to enjoy it ".
Arrival in eSports: "I have created a Counter Strike team by signing Brazilian players. The coaching staff is entirely Spanish. Soon I will give more news, but the goal is for it to be the best team" .
Ambassador of Save The Children: "We are many players, we try to help with our image, because with our influence we can save many people. Even if it is a little, a minimum, we should all contribute" .
Peru, next rival
Brazil will close its round of matches in this break with a visit to the National Stadium in Lima. The game will be at dawn from October 13 to 14 and will be played at 02:00 (Spanish peninsular time). Brazil began their way to the World Cup with a crushing win (5-0) in Sao Paulo against Bolivia. Marquinhos, Firmino and Coutinho were the scorers; Casemiro, indisputable for Tite, played all 90 minutes.
Photos from as.com