Butler: the star his mother cast for his look
In his fourth team in four years he has found his place. A fan of country music and Neymar, he sells coffees in the bubble for $ 20 a cup.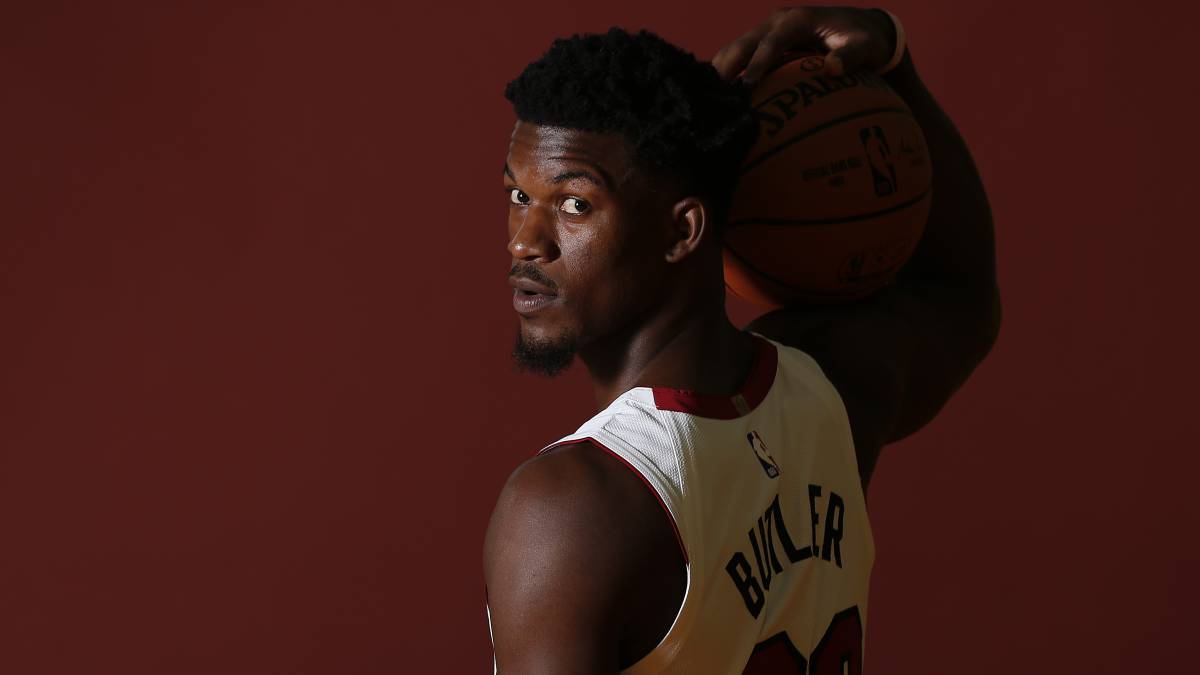 "They're in trouble!" The cry of Jimmy Butler, after scoring his last basket and freezing any threat of reaction from the Lakers, was received with joy by the bench of some grown Heat, who in the third game of the Finals went from prey to hunter, they avoided the 3 -0 against and gave a tremendous roll to a rival who lost an incredibly important opportunity given the absences of Goran Dragic and Bam Adebayo.
Butler was making fun of what LeBron James had told him before the break, when the Heat's double-digit leads had vanished and it looked like the Florida team would fall short again whatever it did. Not this time, and despite the fact that the Lakers, undeservedly, took the lead with nine minutes remaining. But Butler scored 10 points in that final quarter and finished with 40, 11 rebounds and 13 assists. A game for the history of the NBA Finals: the only one with Jerry West and LeBron James with a triple-double of 40 points, the only one since Shaquille O'Neal in 2002 with such a score without throwing a single triple and a 73-point effort, between baskets and assists, which in the history of the fight for the title only surpasses the 74 accumulated by Walt Frazier. Nothing else, no one else.
In his 10th Finals, LeBron saw a player score, rebound and assist more than him for the first time: Butler not only did that, but also went huge in a fourth quarter (with more than 90 minutes on the court in 48 hours) in which LeBron had four losses. Butler was already a star, it is obvious: five times all star, three in the Third Best Quintet, gold with the United States in Rio 2016. But those who defend that he is a megastar, one of the best players in the NBA when you have to play true beans, you can use this match as proof. No jury will take away their reason.
The Rise of an Unexpected Winner
Butler is a peculiar type, of a complicated nature, and a player who sometimes does not seem to fit in these times. Although in reality that is surely what makes him so dangerous. The Florida bubble, where no one was counting on the Heat in the Finals when the season reopened, has become a perfect ecosystem for someone like him, an obsessive competitor, capable of blocking any distractions and infinite resistance. He did not want visitors when family members were able to enter Walt Disney World because it was "a business trip." No pleasure. There, in that bubble that has his Heat three wins away from the ring, he has spent his thirty-first birthday and his daughter's first. He loves country music, something in which almost no other African-American star in the NBA matches, he is friends with Mark Wahlberg and in Rio 2016 he fell in love with football for Neymar. So later, when he visited France with Wahlberg and saw Neymar play again, he became a fan of Paris Saint Germain.
When the bubble began, his French coffee maker sneaked into all NBA information portals. At hotels with a walk-in coffee, Butler set up a business in his room: $ 20 a cup ("This is full of NBA stars, you can afford it; in fact, I could charge 30 cups") and a name (Big Face Coffee) that you have already registered and which many believe may be the start of a prosperous business venture. Meanwhile, he has led a splendid Heat to the NBA Finals after passing over the Pacers and, with many bets against, Bucks and Celtics. Now, also without the faith of almost anyone, they are trying to overcome the Lakers 2-0. In the Finals, it has only been achieved four times. One, Dwyane Wade's Heat in 2006. Wade and Butler are both products of Marquette University. Anyone who wants to find signs of optimism in Miami has one.
But if Wade was a college star and No. 5 in one of the best drafts ever (2003, LeBron James), Butler's path to Marquette and a $ 142 million contract with the Heat was much steeper. In fact, he came to the NBA from the last place (number 30) of the first round of the draft in 2011. And after five years of stability in the Chicago Bulls, the Heat are his fourth team in four years (he has also gone through Timberwolves and Sixers). Never satisfied, always outsider airs until he has fitted like a glove into Heat culture and Erik Spoelstra's script. An idea, the move to Florida, that nested in his head when he heard, in the 2016-17 season, speak wonders of the Heat to a Wade who for the first time was playing outside of Florida and hallucinated with the structural disarray of the Bulls. Wade only lived a year in his hometown, Chicago, before returning after refueling in Cleveland to Miami, the team of his life and to whom he did one last great favor, this is how history is written in the NBA, with those stories to Butler . From plane to plane and from locker room to locker room, the option fell on a Butler in search of lace: why not Miami Heat?
Butler grew up in Tomball, a Houston suburb where he stumbled from house to friend's house after his mother kicked him out of their home because he didn't like her look. Now reconciled with her and with her father, who had abandoned them years before, the story of his life has been that of someone dedicated to breaking odds, overcoming trances, surviving: "in all my years of profession I have not seen a life like that. hers. He has always had everything against him, he has seemed on the verge of failure many times ... but you talk to him and you see that he is called to do something great, "said the executive of a franchise before the 2011 draft. He arrived at the great university showcase afterwards year-long at modest Tyler Junior College, where he earned Marquette's call. At Wisconsin he jumped from 5.6 points and 3.9 rebounds in his first season to 15.7 and 6.1 in the third. In the Bulls he also broke through and forged by the very tough Tom Thibodeau, who went from barely having him as a rookie to making him the player with the most minutes (38.7 on average) in his third season, 2013-14 . In the following, 2014-15, he was all star and Most Improved Player (20 points, 5.8 rebounds, 3.3 assists per game). In the summer of 2015 it was extended for five years and $ 95 million. Already a star. Unlikely, but star.
No connection to Towns, Wiggins, Simmons ...
Since then, and from the end of the Thibodeau era in the Bulls until his arrival in the Heat, Butler has been something of a test of cotton on the teams he has been for. . His character, difficult and very frontal, collided with Fred Hoiberg in Chicago as the Bulls abandoned the path of respectability (they have been out of the playoffs for three years). In Minnesota, he gave the Wolves their only season in the playoffs in 16 years. But he came away scared by the lack of competitive spirit of two young stars, Karl-Anthony Towns and Andrew Wiggins, whom he tried to lead and motivate, again with Thibodeau as coach. The divorce was famous. With the intention of forcing a transfer that Thibs resisted, he called ESPN for an interview at the Wolves training camp and took advantage of the previous training to beat Towns and Wiggins well, shout his discontent ... and win a starting team playing with the last of the bench. He asked to go to the Nets, Clippers, Knicks or a Heat to which Thibodeau asked Bam Adebayo. But it ended up in the Sixers.
In Philadelphia, he fitted in well with Joel Embiid but never trusted Ben Simmons' weaker character. He complained about the franchise's structural problems and leadership gaps not covered by coach Brett Brown. Still, the team fell within a miraculous basket (from Kawhi on the horn of Game 7 of the Eastern semifinals) from eventual NBA champion Toronto Raptors. But Butler, while the Sixers wondered if he was a character they could temper and renewed Tobias Harris with his checkbook, finally found his way to Miami; the Heat and Pat Riley and Erik Spoelstra. With a complex sign and trade that involved four teams and a four-year, 172 million contract. The Heat have been, as I had suspected for a long time, the perfect destination for him, a warrior who never tires and who does not show off anything other than the hotel wake-up calls for training at midnight or his training at 3:00. mid-morning at Heat training camp. He has always been like that, a rock in search of the perfect culture, the ideal coach, the team to serve to the limit of his strength. And he has found it. For that reason, nothing more and nothing less, Miami Heat is three victories away from being NBA champion.
Photos from as.com