Benzema: "I don't consider myself a 9, but a complete player"
The Frenchman gave an interview to the Universo Valdano program in which he discussed different topics. His arrival in Madrid, his origins, his scoring nose ...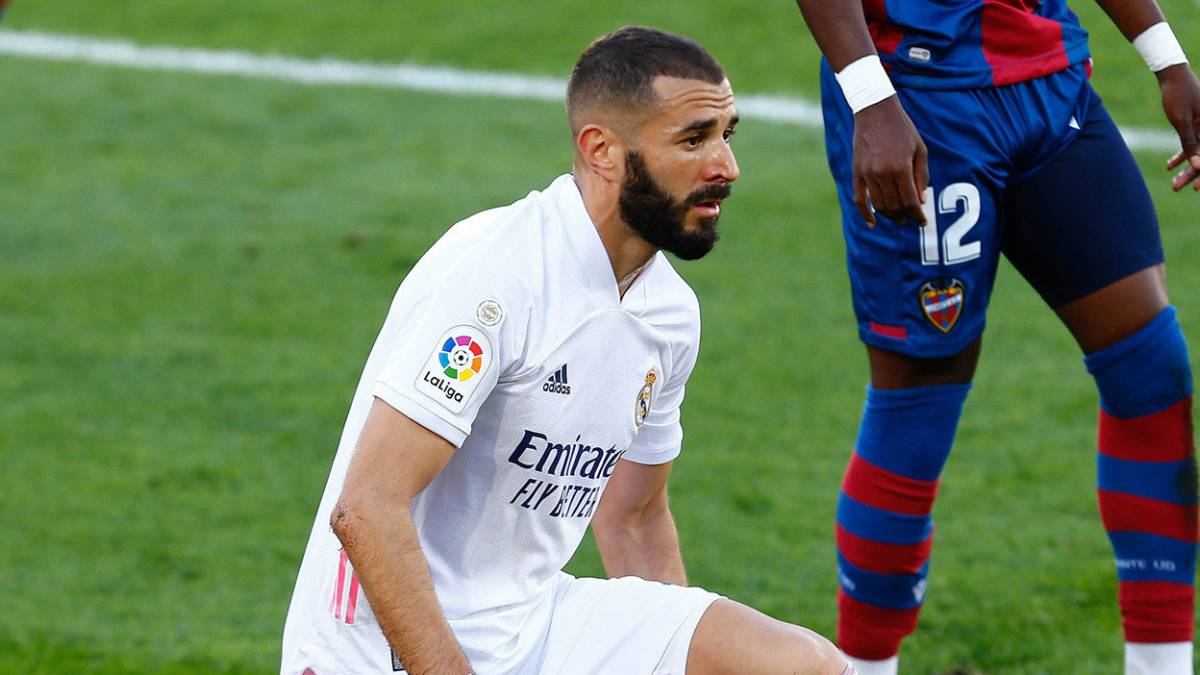 On July 9, 2009, the new Real Madrid striker was introduced: Karim Benzema. The Frenchman, then with 11 on his back, was going to turn 22 and came from Lyon for 35 million. That same day he posed before his new hobby in a crowded Bernabéu, but he also spoke for the media in the press room ... Along with Valdano. The Argentine was the sports director of the club and accompanied him in that trance. Now, 11 years later, both have sat down to chat on the Universo Valdano program without taboos or buts.
You give very few interviews. More than before, I've been in Madrid for a long time, but for me the important thing is the field.
Its beginnings. In my town I was like everyone else, I have had an ordinary life. I played soccer with many children in the street, there I gave my first touches. You learn a lot in this area, because there are many people and only one ball.
Your family. I have nine brothers, four men and five women. There are several who tried to be footballers and they tried, but there is a lot of sacrifice to get here and they did not want this. They were both forwards, a little different from me. Until I was 14 or 15 years old, I played soccer without thinking that I was going to be a professional. From that age I had a coach who motivated me a lot, a lot, gave me confidence and made me grow. He told me "he's talented, but you also have to run." And I was learning. From that coach I made the leap and at 17 I got to professional football.
Your culture. My parents taught me to always respect people. If there is an older man or woman, you shut up and listen. I learned that authority. I have not changed from the life I had before, I am still Karim and when I can go to France, I return.
Signed for Lyon. I was eight years old ... At that age I entered and I was already training three or four days a week. I even played with my mother, told her to get in goal and shot. And that she does not like football very much, but she was with me. I am very proud of my family. My mother was always on my side and my father on the contrary, not against me to hurt me, but he demanded me to reach the maximum. He always wanted me to score goals, for him football was goals, but now I can talk about him about this sport, because he understands what I do on the field. Everyone has talent, some more, some less ... But what makes the difference in the end are the sacrifices. I was focused. Sometimes I was a substitute, other times I was called off, but I kept working. I thought "they are very good", but not Ronaldo. I worked, worked, worked and in the end one got injured, they gave me the opportunity and I settled.
The criticism for his football. This sport has changed a lot. People think that a forward has to score goals and yes, okay, but if one day the forward doesn't fit in ... That's a problem. It is better to know how to do more things, to have more records. I look at Ronaldo, people think that he only scored goals but no, he knew how to do everything. For me he is a model, as is Zidane. If I score a goal but I don't touch the ball in 90 minutes ... I'm not going to say I'm useless but I like to come home happy with my game and I want to show other things about the forwards with my game. It is difficult, but little by little I am working on it.
Position in the field. What is a 9? What is a 10? Tell me. I think I am a player who has a bit of everything. I like fast play, touches, movement ...
Ronaldo Nazario. I started watching football for him. I tried to imitate him, but it is impossible because there is no one like him. His way of haggling, of shooting ...
Photos from as.com