"To beat Madrid you have to be 40 minutes at the best level"
"It's always good," recalls Porfi Fisac, the Herbalife Gran Canaria coach, before welcoming Pablo Laso's team.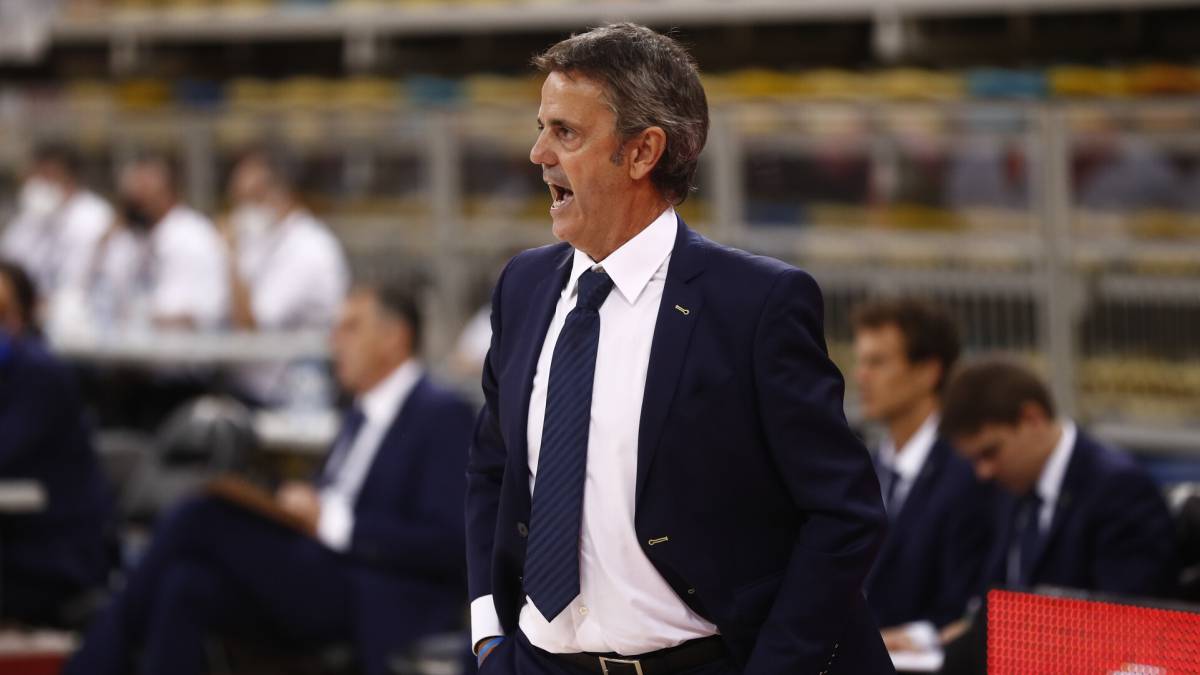 A week later than expected, things from COVID-19, Herbalife Gran Canaria and Real Madrid face off this Sunday in the island capital. "To win against Madrid, you must play the 40 minutes at the highest level," insists the local coach, Porfirio Fisac, before his pupils receive Pablo Laso's.
It seems to be clear to Fisac where the chances of success for his team lie. Thus, he insists: "We must improve the 40 minutes at the defensive level. Our degree of concentration behind must be higher, and our degree of individual demand much higher than we could have had." "We are only going to have two days of training, but those little details that we already had prepared should serve us," he insists.
It also touches on improving psychological work. "We lack mental strength," he reveals. Likewise, the lack of training sessions, and all the work that they entail, must be made up for in the middle of the competition: "That level of demand from the player is very important, which is maximum during the 40 minutes. Right now we must progress tactically by playing matches, and that is something fundamental. I want a degree of confidence in the highest player, he must feel more secure, proud of what he does daily and on the court. It is what we need to reach that 100% to which it is clear that we have not reached ".
The Gran Canaria coach is wary, in any case, of the bad moment that Real Madrid may be going through, which lands on the island after two consecutive defeats. "Real Madrid has a roster with which they work the seasons to win titles," Fisac warned this morning, the current state of the formation led by Pablo Laso is nothing unusual: "Throughout the season they have better moments, worse. Madrid is always good, but at certain times the rivals, due to adjustments, change that dynamic. Neither they nor the others give importance to those two defeats in a row ".
Merit
Herbalife faces this game with a significant decrease in its workload, perhaps affected by the recent positive for COVID-19 of a team member. "In these situations, no physical activity is allowed, not even at home. It is harming us, but like any team. What we notice most is that we cannot train," recalled Fisac, who also stressed that "the game against Nanterre has an extraordinary merit for the players. You have to know how to have that high level of demand ". Far from looking for excuses, he speaks of "challenge": "It is a new fact for coaches, and a challenge for me at a particular level: how to improve without having training schedules. I take it as such, not to cry" .
Both Granca and Real Madrid face two tournaments of maximum demand. "The sporting situation entails many risks for teams with double competition," recalls Fisac, who highlights the excess of matches in a short period of time: "Changing a match means that now we have five in a week, or thirteen in a month. The percentage of victories away from home is increasing from 30% to 60%. The teams that travel may be losing more games than the logical ones ".
Photos from as.com