Alaphilippe celebrated again before his time ... but won
The Frenchman achieved his first triumph as world champion by beating Van der Poel on a tight sprint. He celebrated before crossing the finish line, as in Liège.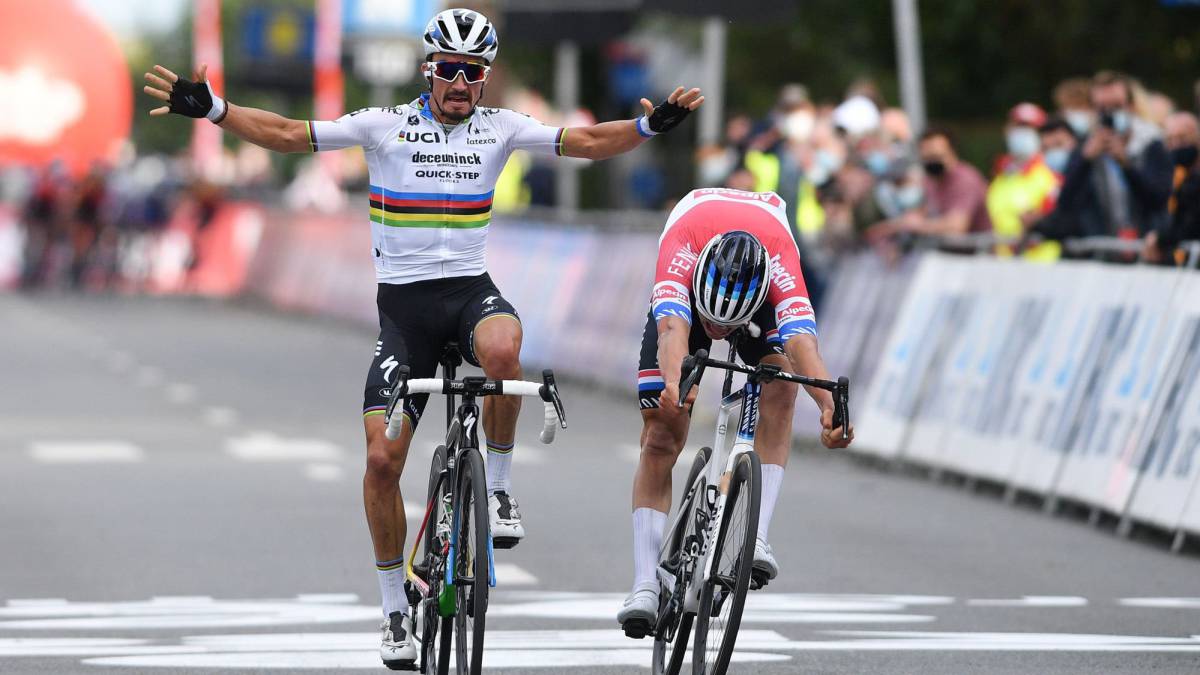 Julian Alaphilippe achieved his first victory as world champion 10 days after winning the rainbow jersey at Imola. However, it is not the first time that he raises his arms with this precious garment, since he did it last Sunday in Liège-Bastoña-Liège ... but he did not win. He celebrated before his time and Roglic managed to take one last shot of the kidney to achieve his first Monument. In addition, Alaphilippe was finally penalized for a lurch on the sprint and relegated to fifth place. Anyone may think that he had learned his lesson, but just three days later on the Brabant Arrow he repeated the same gesture.
After an intense day, with 197 kilometers between Leuven and Overijse, three players played the victory with a narrow margin with the peloton: Alaphilippe, Van der Poel and Cosnefroy. A high level trio, especially the first two. Conesfroy, who was second a week ago in the Walloon Arrow, was the first to sprint. Van der Poel followed his wheel while Alaphilippe started hard from behind. He came back with great ease and the Dutchman came out for the world champion, although somewhat late. Alaphilippe raised his arms before entering the finish line (again) and quickly turned his head to his left: Van der Poel was very close ... although this time the Deceuninck could claim victory. For very little, but he won.
"I made a mistake that I never make. I waited too long to launch the sprint, and did not dare to go when Cosnefroy started. I am very disappointed in myself, I will not sleep much tonight," said a disappointed Van der Poel at the finish line.
Photos from as.com