A WhatsApp for insomnia and the King's "most important game"
"I felt it was one of the most important games of my career." LeBron, with sleep problems, kept his people focused on WhatsApp.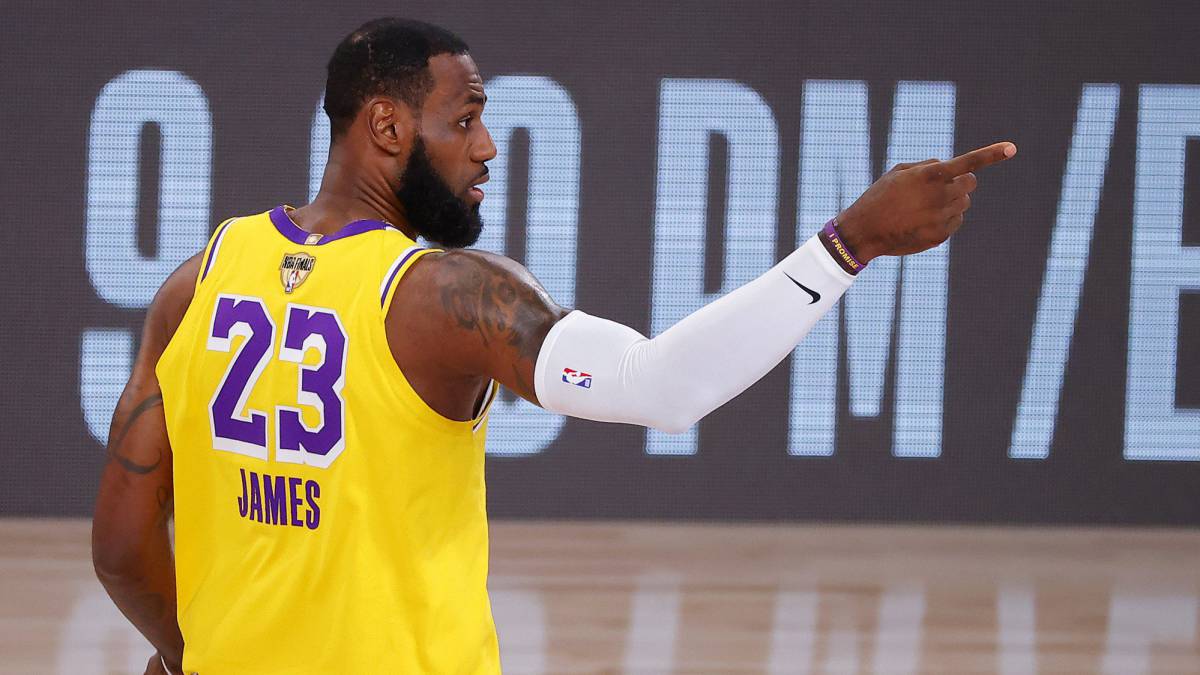 LeBron isn't getting much sleep these days. Being in full Finals fighting against the titanic effort of the Heat and on the verge of achieving the fourth ring of his career has caused him some nervousness. It is seen that even the most powerful auras and the longest shadows succumb, from time to time, to that tension inherent in competition and that often allows you to play more concentrated. After the defeat in the third game, LeBron was not happy at all and knew that his team needed to react as soon as possible to win a new victory and not waste a 2-0 lead to see how the tie was drawn before a fifth game that the Heat would face in an upward dynamic and with one more day of rest with which they could recover the best version of Adebayo and a Dragic on the way to recovery.
Ever since the Lakers' rival was known in the series, or even before it, LeBron knew that the Finals had to be finished as soon as possible. Celtics or Heat were going to be teams, a priori, inferior in terms of talent but younger and more vigorous, with legs that seem not to faint and bodies that endure a mountain of minutes without showing signs of fatigue. In the end, it was the Heat who reached the dream round and have shown precisely that resilience and capacity for suffering that they were presupposed. LeBron knows that a long series does not benefit an older group such as the Lakers, and that this must be solved quickly so as not to have unnecessary surprises and be forced to play a sixth or seventh game always in which the pulse begins to tremble and doubts lurk, especially when you have in front of a group of young talents who are in an early sentence of the project and who have nothing to lose and a lot to gain.
Lack of sleep does not worry LeBron, who is getting to bed at 04:30 in the morning watching series. His level of jokes has dropped dramatically with the arrival of the playoffs and he is constantly concentrating. Of course, he recognizes that at this point he is not so obsessed with rest, although he is for victories, as he well demonstrated before the fourth game. As Markieff Morris revealed after it, LeBron wrote them a whatsapp just after nap time to tell them about the importance of the match, which he said they should win at all costs. The star himself acknowledged such action after the game, which ended with a victory for the Lakers and 28 points (11 in the fourth quarter), 12 rebounds and 8 assists from the King, who recovered from a bad start with up to five losses and put the direct in the last minutes, putting 3-1 and touching what would be the fourth ring of his long professional career.
LeBron also acknowledged that he felt he was facing "one of the most important games of my career." And, after a triple in the last quarter by Davis, we have seen him scream and gesticulate as if it were. In addition, the forward has been in charge of ensuring that his teammate has made a match worthy of the best defender of the year, giving a clear nod to the award that was not awarded in favor of Giannis Antetokounmpo. And, of course, reaffirming his leadership in a group that leads to perfection less than three months after his 36th birthday. Almost nothing for El Rey, who continues to take steps towards glory and reconquering the throne, something that can help him find his definitive place in NBA history. A site is already insured ... we just need to know which one. And maybe, just maybe, if he wins this ring, we'll know.
Photos from as.com