A historic Butler (40 + 11 + 13) restores faith to Miami Heat
Colossal game of the guard and exhibition of the Heat, who surpass some horrible Lakers and get hooked to the Finals (2-1). Bad ending for LeBron and horrible Davis.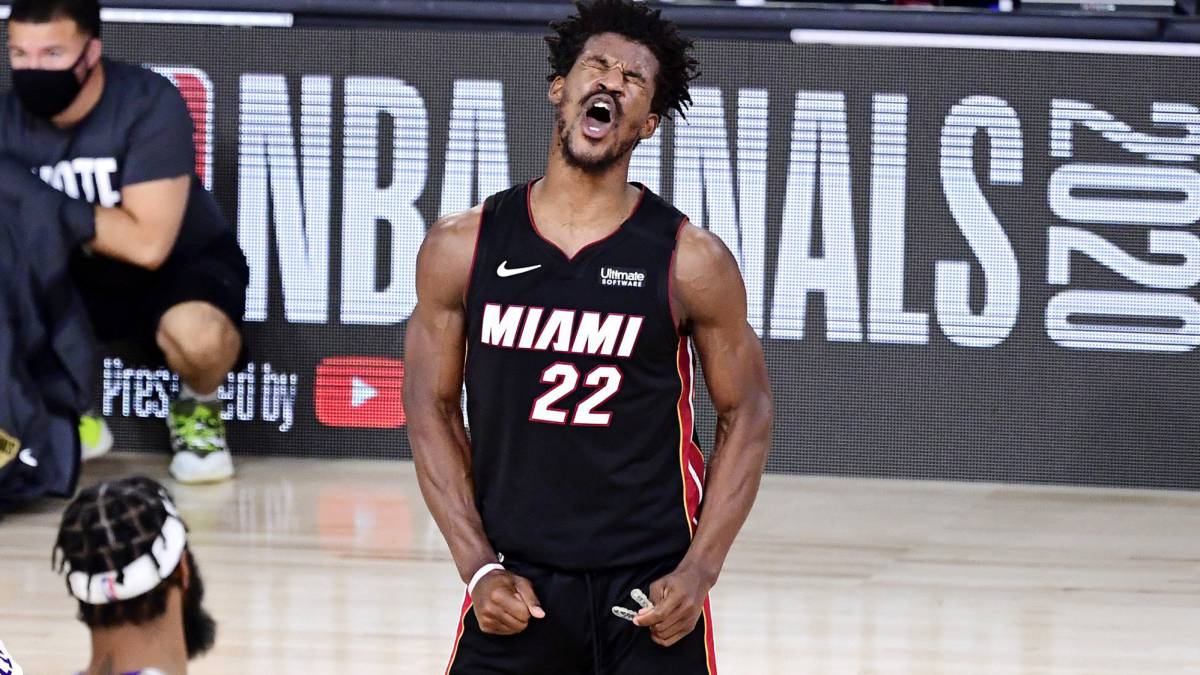 Too many people, too many, insisted on writing off the Heat. Many people closed the Final with the injuries of Goran Dragic and Bam Adebayo, who did not play the third match either. Let's not say when the Lakers dodged without much effort the resistance of a very diminished rival to make it 2-0 last Friday. But this is the NBA Finals and you have to play. You always have to play. This is the NBA and this is sport: if all the scripts were fulfilled, we would not spend our lives watching. Game 3 (115-104) of the 2020 NBA Finals, a gigantic Jimmy Butler night, is a good reminder for everyone in a hurry to decree champion and draw conclusions: you always have to play. Forever. To the finish line
Perhaps the Lakers needed a reminder, too. Tomorrow (03:00 Spanish time) we will see how much there was of lack of concentration and intensity and how much of real difficulties against a Heat that have done the first miracle they needed to stay alive: steal a victory still without Dragic and without an Adebayo who said that I would play this third game but, finally, it was low again. The Lakers, in frank superiority of troops and theoretically of forces, let slip the 3-0 in a horrifying game. If it was just that, a bad night, we will find out in the room: either balm or nervous breakdown. Now the pressure is on both sides. There are Finals.
Because the Heat have earned the right to think anything is possible. Let's not say if Adebayo returns, the one who seems closest, or if Goran Dragic returns with the pivot. Those from Florida gave a lesson in physical and mental endurance, survival and, this is important, basketball as well. They were, from top to bottom, the best team on the track. The most energetic, the most desperate… but also the best in almost any game concept. Not everything, and the Lakers better look in that mirror, is explained by a matter of enthusiasm. On the contrary: the Heat were perfectly superior from a tactical recital by Erik Spoelstra, an extraordinary coach who has been giving a clinic for two games that has paralyzed a Frank Vogel who needs answers. Your rival is taking away resources, useful players, and weapons as the Finals progress. Little by little, blow by blow ... we will see how far.
Butler and a game that is history of the Finals
The fact is that the security of 2-0 has disappeared and the fluffy dream of 3-0 has melted. We'll see if it turns into a nightmare. The Heat closed the zone tightly with an extraordinary exercise of collective effort in defense (they have no intimidation without Adebayo) and took out of the game an Anthony Davis who helped by charging fouls for looking for spaces where there were not in the pasty attack of his team. The game, like the second, was an invitation for the Lakers to shoot themselves in the foot for their irregularity from the line of three. What the Heat surely did not have was a lamentable display of a rival that rarely seems so out of the game, so fragile, so despondent: in the 8th minute the Lakers had already lost 9 balls and fell 22-9, so many points like losses that were 10 at the end of the first quarter and 14 at halftime. With that cushion of points in their favor, the Miami Heat grew strong in their ball circulation, their location of wide shooters and the spartan leadership of Jimmy Butler, one of the best equipped players in the world when it comes to playing against the elements. Against the same logic.
Jimmy Butler has always been an outlier star. A tough guy who has been through four teams and who, never satisfied, has spent his career looking for precisely what these Spoelstra Heat offer in which he fits like a glove: constant preparation, energy, commitment, unity. Herd. Butler played an exciting, colossal game, difficult to explain if you start from how short his team is without two starters and how hard the Lakers' hyper-muscular defense tends to be for all opponents. Two days after playing for more than 45 minutes and losing, he did not show a single sign of discouragement and struck non-stop, without looking back and without any fear. He always plays like that and of course he played like that on the day his team needed him most. That he now has the only thing he could get out of tonight: a chance.
The defense of the Lakers, and this is a bad sign for a team that lives on it, has been two games behind the diabolical movement (with and without the ball) of the Heat. And without any antidote against a heroic Jimmy Butler who in three days has played more than 90 minutes and finished this third game, a performance that will be remembered forever if the Heat destroy the Final, with 40 points, 11 rebounds, 13 assists, a 14/20 shooting, 2 steals and 2 blocks. He contributed, between touchdown and basket passes, to 73 points for his team, the second highest figure in history since Walt Frazier's 74. And he became the third player (alongside LeBron James and Jerry West) with a triple-double of at least 40 points in the Finals. And the only one in 40 years with Shaquille O'neal and Kareem Abdul-Jabbar to reach that score without shooting a single time out of three. And the first, and it is a tremendous fact, that ends a Finals game with more points, rebounds and assists than LeBron in the already ten title fights that the Lakers have accumulated on 23rd.
In the history of the fight for the ring, it has only come back from 2-0 four times. But one was played by the Heat to take their first title (2006), with four wins in a row and thanks to an almost superhuman display of Dwyane Wade. This Jimmy Butler match reminded those of the Flash fourteen years ago. The two, Wade and Butler, are products of Marquette University. For those who want to take superstition for a walk.
The battle of the last minutes
Butler played a colossal, superlative game. And in which he was able to find, little by little, partners with whom to stay the course: with difficulty Jae Crowder and Duncan Robinson, from less to more a Tyler Herro who appeared at the end and again and as in the third game , Olynyk, an unexpected guest who has become (17 + 7 this time) as important as Adebayo's absence forced him. He has fulfilled, like his team, that he signed an admirable exercise of faith because, and it may be the most amazing thing of all, he won a thousand times and never collapsed. Without fear, without nerves, without symptoms of fatigue. Every time he deserved to amass a wide lead, he found the Lakers within one foot (26-23 at the end of the first quarter, 58-54 at halftime). And already in the last quarter, suddenly, he was behind (89-91) but linked in the last nine minutes a partial of 26-13. When the normal thing was to wait for the appearance of LeBron James and Anthony Davis, the physical collapse or the mental decline of the team that seemed not enough to do everything right. But the Heat also won the battle in the last minutes and come out of this game very strong. Much, absolutely resurrected. Let's see what happens tomorrow.
The Lakers are expected to have long video sessions today and tomorrow. As minimum. They win 2-1, have only lost one game and are still two wins from the ring and ahead. But this is the NBA Finals and it wasn't going to be that easy, no matter what everyone said. Beyond the defeat, Vogel should reflect on what has happened in the last two games: Dwight Howard without a place against an opponent who opens the court a lot and a suicide at the line of three every time the ball reaches Danny Green ( 0/4 this time) and Caldwell-Pope. The two players who make the Lakers unattainable just by signing decent percentages on free throws accumulate in the last two games at 4/26 in triples. Bad passes, attacking fouls, possessions wasted without judgment, little circulation, symptoms of mistrust and, to top it all, a bad game from the megastars. Even that failed: Anthony Davis, blinded by Spoelstra's adjustments, stayed at 15 points, not one in the fourth quarter. LeBron finished with 25 points, 10 rebounds and 8 assists but in the fourth quarter he had five points… and four losses. His mistakes when the resolution was up in the air were rude and, outscored by Butler on both sides of the court, he finished with 8 losses two days after conceding none. That's how the Finals are and he, who is playing the tenths, knows it better than anyone. Will respond.
The bench kept the Lakers afloat. And not even Rondo shone this time: a bit of Caruso (in the first half), and 19 points per head for Kyle Kuzma and Marikieff Morris, who made 9 triples (9/19) and provided the only rays of light to some Lakers whose game was unpresentable for many minutes and who ended up earning a defeat whose consequences are unpredictable. If it is just a scratch on the bodywork or the first warning of an engine that is seizing, we will know tomorrow, in a fourth game that has suddenly been filled with questions. And that will give us many answers, sure.
Photos from as.com