A fence moved by the wind from the helicopter caused a fall
In the final meters of the fourth stage, a fence moved into the course, causing Wackermann and Van Empel to go to the ground.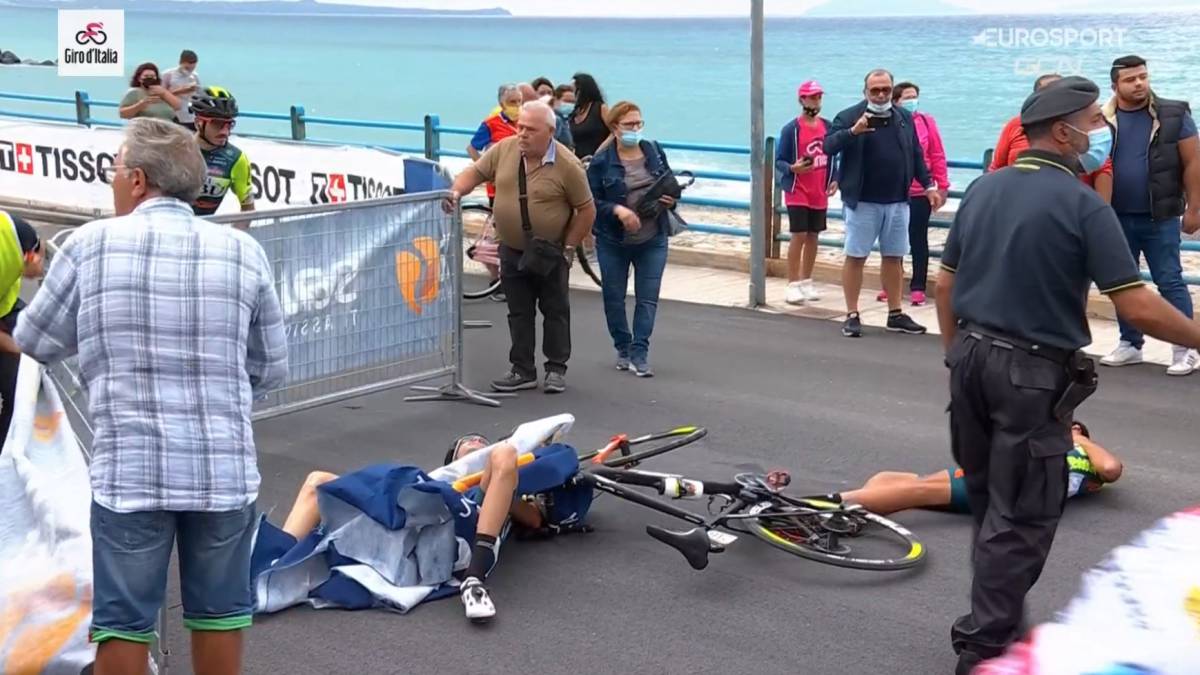 New episode in which the safety of cyclists is compromised. In the final meters of the fourth stage of the Giro, already on fenced terrain, a protection bar moved by the wind generated by the helicopter caused the fall of two riders from the Vini Zabú-Brado-KTM team who arrived with lost time: Luca Wackermann and Etienne Van Empel.
The second of them was the best stopped, since after being on the ground for a while, he got up and was able to cross the finish line in 171st position. Wackermann, meanwhile, was rushed to the hospital, and will be examined for a possible fracture of the pelvis or femur. In addition, the Italian has several cuts on his face. Despite this, having fallen within the protected area, he has not yet left the Giro, given that he has been placed as the last classified of the day.
The apparent reason for the incident was the strong wind blowing through the Rai helicopter and dislodging the fences. "The helicopter was flying very low, and the strong air moved the barriers. Wackermann has gone to the hospital, he was barely conscious. We do not know if his pelvis or femur is broken. The barriers were not tied as they should," said Citracca, director del Vini in Rai 2, which minutes later updated the status of its corridor. "Wackermann has broken a cheekbone and has a cut below the chin. He is conscious but does not remember falling or being in the Giro. He will now have an X-ray," he added.
For his part, the director of the Giro, Mauro Vegni, denied these accusations in the same chain. "The barriers were placed appropriately," he sentenced.
Photos from as.com