The British team transmits a sense of deconcentration and has Bernal in 13th position (8:25 behind Roglic) and Carapaz, in 16th (32:55).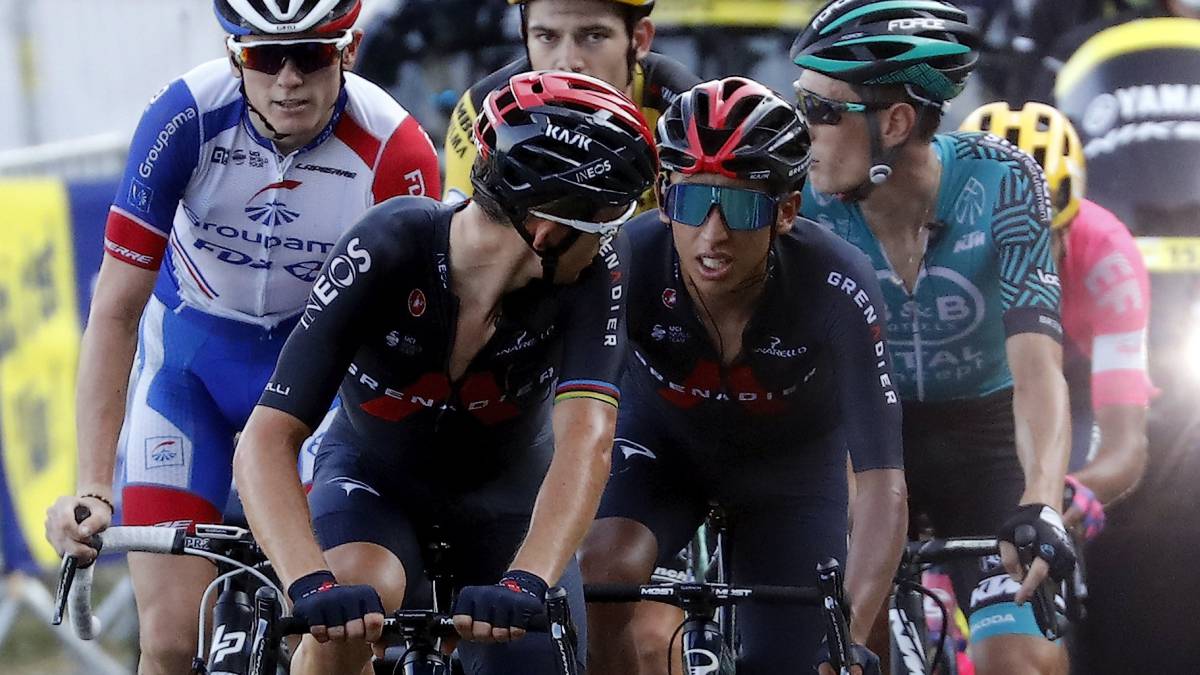 Since 2010, the year that Sky played its first Tour, the British team, now Ineos, has won all the titles except its debut (Andy Schleck, after Alberto Contador was dispossessed due to his positive with clenbuterol), 2011 ( Cadel Evans) and 2014 (Vincenzo Nibali). After the explosion of Egan Bernal at the Grand Colombier, 2020 will not appear on his record either: "I was very empty, without strength. I lost three years of life, but I tried to minimize the defeat because of the respect I have for my teammates, the race and the rivals. "
Until this edition, a British rider always led the squad or started as an alternative to victory: Bradley Wiggins (winner in 2012), Chris Froome (quadruple champion, 2013, 2015, 2016 and 2017, and third in 2018) or Geraint Thomas ( winner in 2018 and second in 2019). Colombian Egan Bernal, defender of the crowned conquered in 2019, came out as sole boss, with Ecuadorian Richard Carapaz (who signed up for the Giro last year) as second option and luxury squire. Both were shipwrecked in the completed two weeks of competition, for some reasons (Bernal's lack of energy) or for others (fans, falls and support for their captain, in the case of Carapaz). They march 13th, at 8:25 behind Primoz Roglic, and 16th, at 32:55. Bernal maybe overtrained and landed in Nice with back pain. Carapaz was originally programmed for the Giro.
Because manager David Brailsford left Geraint Thomas and Chris Froome out of the Tour's eight due to poor form. Understandable as for Froome, back after his serious injuries at Dauphiné in 2019 and with a contract with Israel since 2021, despite the fact that it spoiled that decision: "Although I focus all my attention on the Vuelta, I think I would have played a role. of responsibility within the alignment ". Thomas did not sit well with exclusion. Meanwhile, and in preparation for the Giro, he finished second in the Tirreno (only Simon Yates beat him): "He deserved a chance on the Tour". Since the victory of the Welshman in the Alpe d'Huez stage in 2018, Ineos have not won a partial in any major. Even so, economically it is at a distance from the rest: 46 million euros per year in budget.
It is also surprising that the structure that invented the bubble in cycling before the coronavirus arrived (with motorhomes, daily disinfection, kitchen truck, ban on high-fives ...) was tested positive by an assistant on the first day of rest. Brailsford blamed the spread of the pandemic in France as an oversight, his own or someone else's, falls within the possible. However, the structure conveys a subdued image in this atypical season (eight wins so far, 27 in 2019), with a feeling of deconcentration and of handing over the dominating block to the Jumbo with hardly any resistance. Last week is missing.
Photos from as.com