Valencia Basket honors Nolla ceramics on its shirt
The club presents its kits for next season. The second and third have blue tones.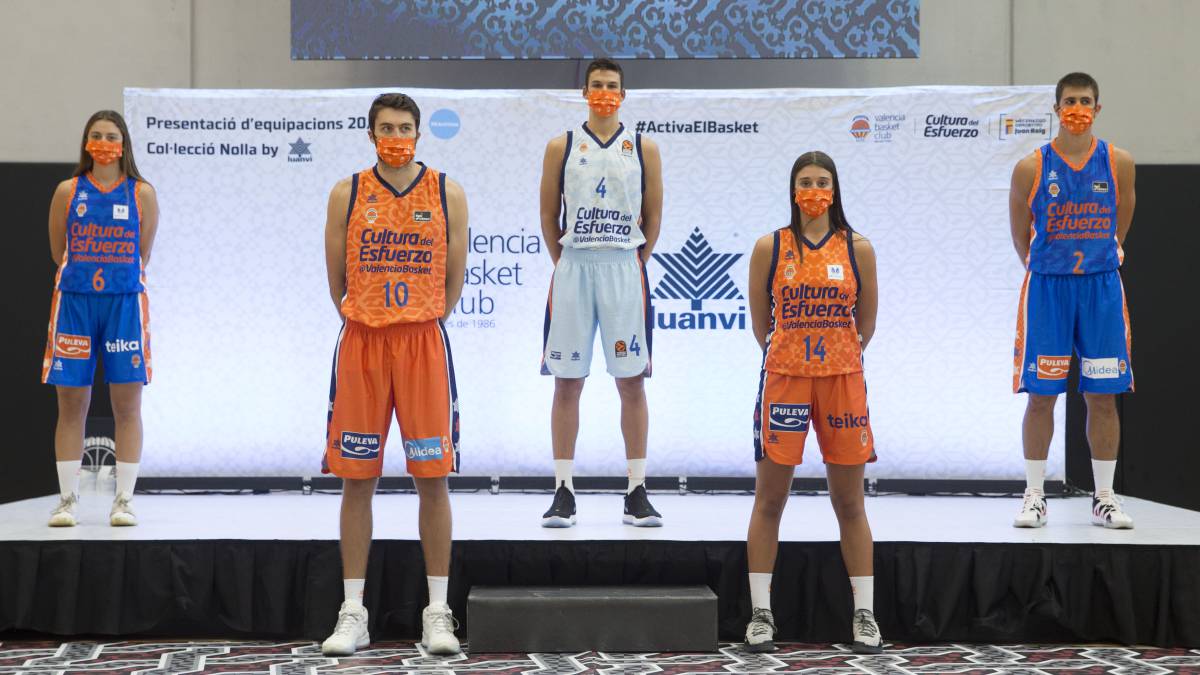 Valencia Basket will pay tribute to the historic 'Nolla ceramic' in their kits for next season in which the mosaics of this historic factory in the Valencian town of Meliana and whose patterns will appear stamped on the teams' shirts for this 2020-21 exercise of the entire club, from the first teams to the quarry.
The color of the first kit will be, as usual, orange with blue piping and the second kit will swap colors with a predominance of blue and orange details. The third shirt of the men's team will be in very light blue tones and will also have printed the details of one of those four frames of these 'Nolla ceramics'.
Five players from the first teams, Mike Tobey, Jaime Pradilla and Vanja Marinkovic from the male and Lorena Segura and Raquel Carrera from the female, as well as two young players from L'Alqueria del Basket acted as models on the center court of this facility.
The president of the club, Vicente Solá, assured that "the club we currently enjoy is the result of many years of effort" and explained that with this design "we wanted to look back because pride is the feeling that best defines the path traveled ". "The growth of the club has been parallel to that of the city and we have wanted to bet on valuing our origins," he said.
Vicente Tarancón, general manager of Luanvi, the company that has once again been in charge of the kits, admitted that it sounded "strange" to them when the club proposed it but at the same time "suggestive and innovative". "We believe that it has been frankly good and innovative. We elevate the drawings that are seen on the ground to the t-shirts and contribute to the recognition of a Valencian heritage element," he said.
In addition, he stressed that the kits have the latest technological advances and that they have gathered the experience and demands of the players in their technical design. Xavier Laumain, an expert in this type of mosaics, highlighted the "revolution" that they represented at the time and that it is "a very valuable heritage that has fallen into complete oblivion" for which he thanked the "momentum" that this election will entail. by Valencia Basket.
Photos from as.com