Urbas Fuenlabrada opens with triumph against Iberostar
The Fuenlabreño club released its new sponsor with the first victory of the preseason (89-84) against Vidorreta's. Emegano, with 22 points, was the top scorer of the duel.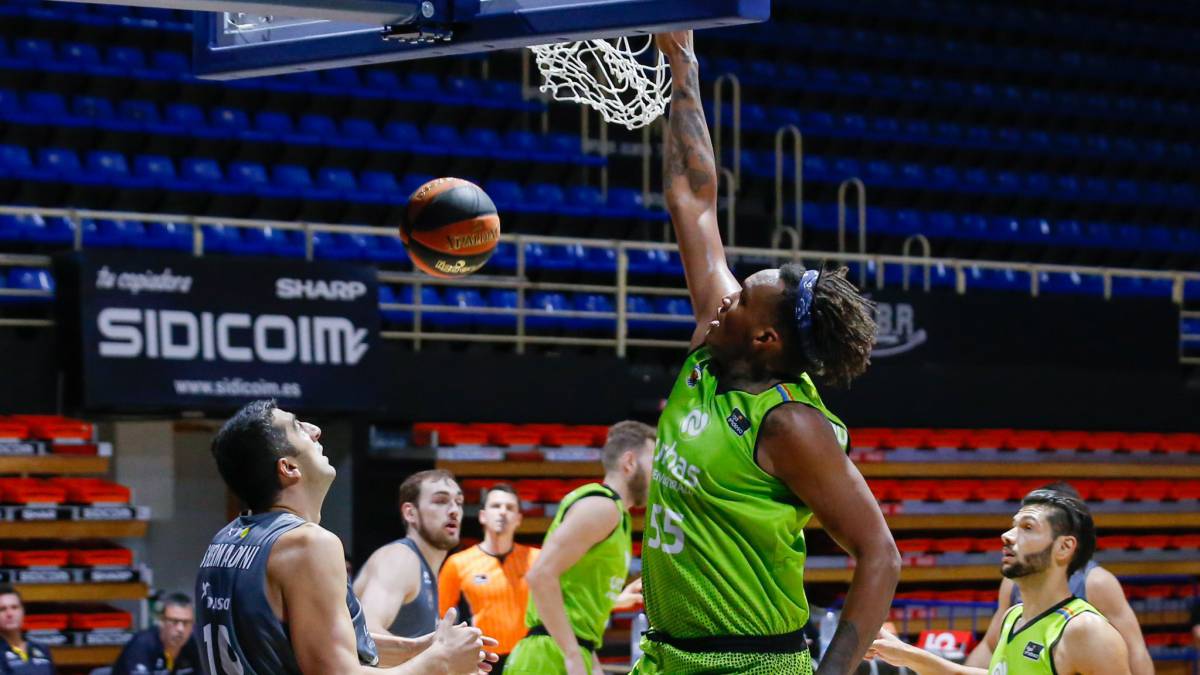 Urbas Fuenlabrada released its new name, sponsor and uniform this Friday with a competitive first victory against Iberostar Tenerife (89-84), in a highly disputed match in which the locals gained an advantage in the last quarter and knew how to defend it against the triple Laguneros .
Green hope, like the color of his new clothing, was the premiere of Urbas Fuenlabrada, with a solid defense throughout the match and Nigerian guard Obi Emegano as the main attacking protagonist with his 22 points and 3 rebounds, supported by good actions from the pivot American Robert Upshaw (12 and 5) and American point guard Melo Trimble (9 points, 6 assists and 5 rebounds) .
A preseason duel that did not seem such because of the intensity offered by both teams, with Georgian center Giorgi Shermadin in stellar mode (20 points and 4 rebounds) and a good debut by Serbian Dejan Todorovic, who hours after being presented he started and contributed 12 points and two captures. Escort Álex López did not travel to Madrid, suffering from gastrointestinal discomfort.
Melo Trimble and Robert Upshaw started an Urbas Fuenlabrada that did not have the Ukrainian Vyacheslav Bobrov, the Congolese Christian Eyenga and Chema González due to the rotations established by the coaching staff, and accumulated his first advantage (16-10, min. 7 ), quickly aborted by triples by Finn Sasu Salin and Dani Díez for a 22-21 end of the first quarter.
The dynamics were repeated in the second quarter, with Upshaw again propelling the local starters and Brazilian point guard Marcelinho Huertas responding, either with his own shots, or yielding to a beautiful 'alley-oop' by rookie Todorovic. What was being a very even second quarter (35-37, min.16), was unbalanced by a partial 0-8 of the La Laguna team (35-45), but a reaction from Fuenlabrada led by a solid Obi Emegano, who already By then he accumulated 11 of his 22 points, they left their difference in almost nothing with the 45-47 that remained at halftime.
The passage through the changing rooms gave way to an intense third set, in which the defenses were tightened and only Shermadini with his intimidating ability undermined the strength of Paco García's men. Emegano held his own in a practically mirror partial, which left everything to be resolved for the last quarter: 65-65.
There Fuenlabrada took off, with a partial 10-0 in four minutes (75-65, min. 33) that Txus Vidorreta tried to stop with a time-out and only stopped with a few free throws from Shermadini. The defense of the locals was good and Marc García rounded it off from the triple, while the Lagunero team only added from free throws, but they were still there (80-74, min. 37) .
Tenerife played it to the effectiveness of its shooters, especially with Huertas and Salin, who with a successful launch from 6.75 meters put the duel in a fist (84-82) with 25.4 seconds remaining, but his second attempt did not enter. The game went to the free throw carousel and from there Marc García and Leo Meindl channeled a competitive victory for the new Urbas Fuenlabrada, who will play tomorrow against Herbalife Gran Canaria. Tenerife, for its part, will visit Movistar Estudiantes on Sunday.
Photos from as.com