Unicaja scorches Betis with triples and is crowned champion of Andalusia
Luis Casimiro's team unbalanced the game with a great success from the perimeter (17/29 in shots of three). The Verdiblancos only resisted the first two quarters.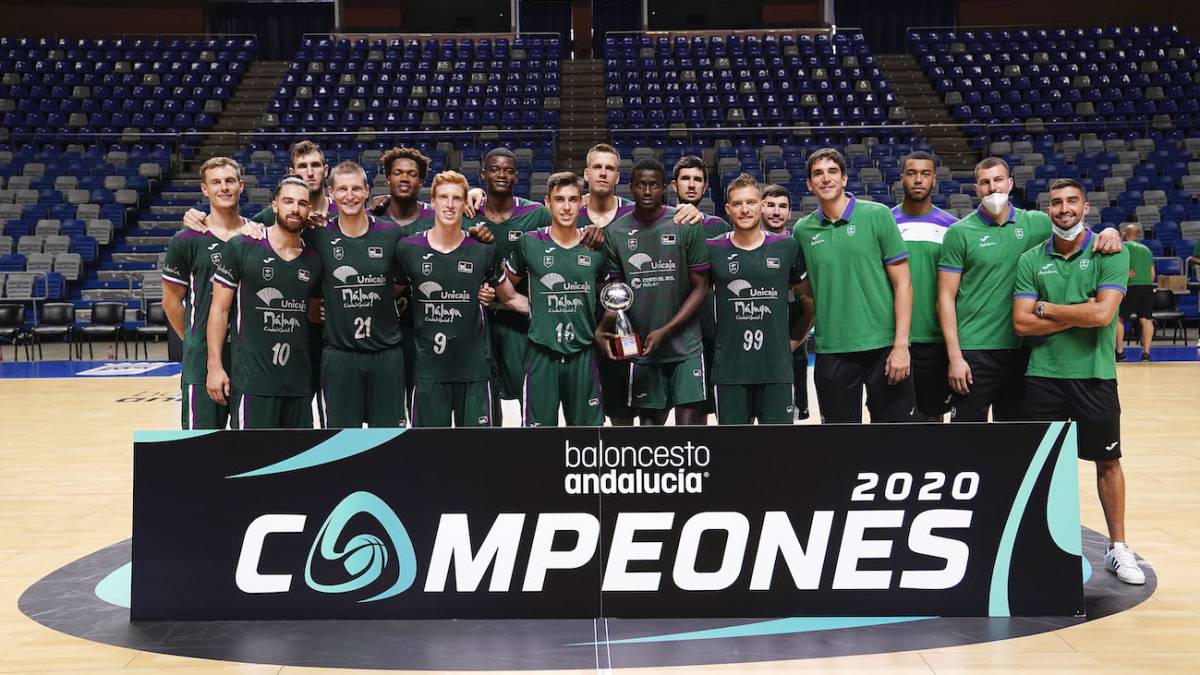 Unicaja took the Andalusian Cup with some comfort against Betis that remained in the game until the third quarter. Unicaja based its comfortable victory in the last preseason test, again, on the outside success, from where it liquidated its rival. There they shone above the rest Axel Bouteille (three triples and 21 points), Francis Alonso (6/7 in shots of three), who added another 20 points to close a very good preseason, and Alberto Díaz (4/5 from the perimeter ) .
It is much more forceful and reliable on the outside than on the inside Luis Casimiro's team. And that has Jaime Fernández and Brizuela in the infirmary, as well as Carlos Suárez. With the Endesa League debut in Badalona just around the corner (Saturday 19, 6:00 pm), Unicaja closes the preparation with the defense as the main aspect to improve. The team must also get more out of the inner game, clearly below in performance so far.
Betis, riding Nick Kay (21 points), kept the rate until the second quarter. But Unicaja squeezed in the final minutes of the second act and went to the dressing room with an income of seven points (45-38). The third period was the one that finished defining the final. The malagueños offered their best minutes at a defensive level. Betis got stuck, Unicaja was able to run and the game went into the final quarter with everything decided (69-54, minute 30) .
The last ten minutes were a continuation of the third act, although with a somewhat less intense Unicaja in defense. Casimiro's triples recital (17/29) continued until the end. The Coosur Real Betis, beyond the good minutes of Kay and Feldeine, will face the last days of preparation with an extensive list of duties. For this, the Sevillians will have an extra week, since their debut in ACB will not take place until the second day also against Joventut (Friday 25, 7:00 p.m.). Unicaja closes its set-up as champion of Andalusia and with some more certainties than the Verdiblancos, the only rival to have been imposed this preseason, yes, twice.
Data sheet:
Unicaja 99 (25 + 20 + 24 + 30): Thompson (2), Alonso (20), Abromaitis (18), Bouteille (21), Mekel (4) -starting five- Sene (0), Díaz (13), Sánchez (0), Waczynski (6), Guerrero (2), Nzosa (0) and Gerun (13) .
Coosur Real Betis 82 (20 + 18 + 16 + 28): Kay (21), Niang (8), Almazan (7), Feldeine (16), Campbell (6), -Five starting- Enechionya (0), Borg ( 4), Narrow (0), Spiers (7), Ouattara (7), Torres (4) and Ndoye (2) .
Incidents: Match corresponding to the 23rd Andalusian Basketball Cup played, behind closed doors, at the José María Martín Carpena pavilion.
Referees: García, Hierrezuelo and Conde.
Photos from as.com