Brilliant double for Athletic's midfielder against Eibar, who opened and closed the scoring. By means, a goal from Kike García after a corner.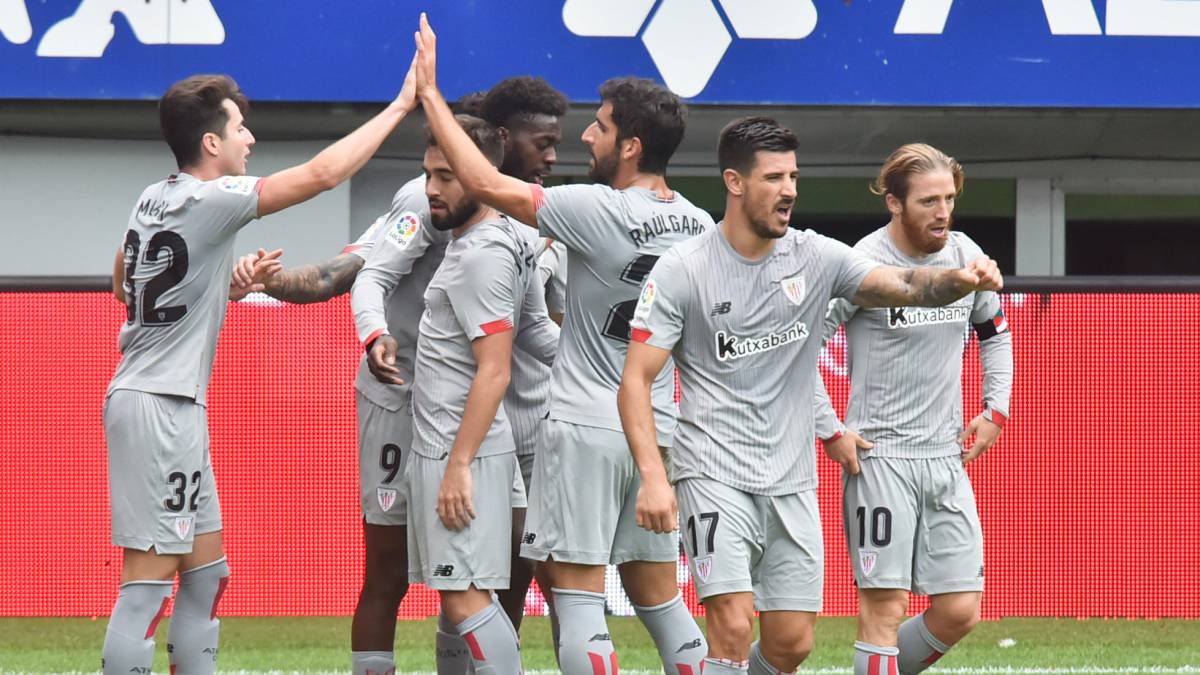 The game that should have been played on Friday in Ipurua turns out that it was still delayed beyond Sunday at noon. He did not get up very early, of course, because Eibar and Athletic spent half an hour well positioned, more concerned with being armed behind than launching offensive fireworks. When everything seemed to be under control, a couple of strategic moves unleashed the revolution. Capa had a great chance in an avoidable counter after an error due to lack of force by Kike García and in a subsequent action, Unai López hooked her from the front. Shortly after the start of the second half, the Manchego striker of the gunsmith team tied for a header in a corner. Unai signed a double to sentence. In a closed pulse, the Biscayan victory was the most fair, due to the accumulated merits.
The derby was not passionate in its dawn. Two teams more attentive to protecting the herd than going out into the mountains. Athletic was more dispersed in the midfield, going from area to area, and for that reason they left corridors that Yuri took advantage of, among others, in the 18th minute. Kike García had two actions, which by not attacking the ball well, failed. Meanwhile, Williams was looking for his back to the Barça rear with his supersonic speed. The gunsmiths turned to the left and the party was encouraged. Inui even touched a head ball, something almost for posterity.
Mendilibar despaired because his pilots were not in command of the ship. When the rival filtered the first pass and mocked the starting line, they were already in trouble. Exposito barely came into play and the proof is that after half an hour he had 5 good passes out of nine billed and Unai López, his rojiblanco enemy, 9 out of 18.
Both began to go higher and the thing was balanced. In one of these, Capa cut and threw a shoe that forced Dmitrovic to show off. In one of these, Morcillo started play as a side, waited for the precise moment for the pass and Williams in a gesture of "give it to me now" ran for a transfer behind Unai López, who after stopping her and raising her head, had time to even read a novel and place it next to the stick. Iñaki's position was reviewed, very fair, and was approved by VAR.
Eibar exploits strategy like nobody else. A corner allowed Kike to remove his thorn. He exposed Núñez, slow on the mark, and Unai Simón, who is not at his best, nor did he throw himself to the ground. So far, the La Mancha striker is Mendilibar's life insurance for the goal. New derby from there. Garitano put Villalibre and formed with two references above, as he joined Williams on the offensive, with Muniain and Raúl García on the wings. The clash was once again from Bilbao, with a prodigious pass from Raúl to Villalibre on the right flank and a crack assist from this to Williams in the center. He dialed this and rubbed his eyes, since it's been dry since March. But he was watched by the VAR and was canceled for offside. The lace came again with Unai López. Sancet changed orientation towards Capa, who found a definitive pass among many people. Kevin was examined for possible lack of Raúl García when he tried to seal him, but it was very slight. The Japanese Muto finally had the opportunity to debut in LaLiga, but his departure did not serve to alter anything.Garitano: "We're not bad now, nor when we win so good"
Athletic Bilbao's coach, Gaizka Garitano, was satisfied with the result and with the performance of his team and, after the criticism received after the defeat in Granada, he said : "Not when we lose we are bad, nor when we win so good" .
"We are a more than competitive team but we have to keep improving. We have had 60% possession, dominance ... in other matches that we did not win we also had a lot of possession and that means that things are done well," Garitano said in the Ipurua press room.
Garitano spoke of his approach to the match against Eibar, a different rival that also requires another type of strategy, with less brilliance, to achieve a good result, something that in his opinion his team did.
"The creation of football is good, but on this field it was a practical game, second plays ... Our goalkeeper hardly touched a ball," summarized the Biscayan coach.
The tie that Kike García achieved did not disturb Garitano, who framed him in an "isolated throw", he saw his squad "always well on the pitch" and underlined the contribution of bench players like Villalibre who "is one of those who always goes out hungry and gives you something ",
The work of Unai López, author of the two goals against Eibar, also stood out. He valued the midfielder that "he was with covid, he did little preseason, he was not in Granada and today he played again." "He has to have more commitment to the goal, because he is an 8 that has to score goals since we do not have great scorers and that dribbling begins with players in his position," Garitano concluded.
Photos from as.com