Tyler Herro explodes and leaves the Celtics on the edge of the abyss
The youngest player in the Conference finals leaves some Celtics shivering, who lost 19 balls and did not manage the last minutes well.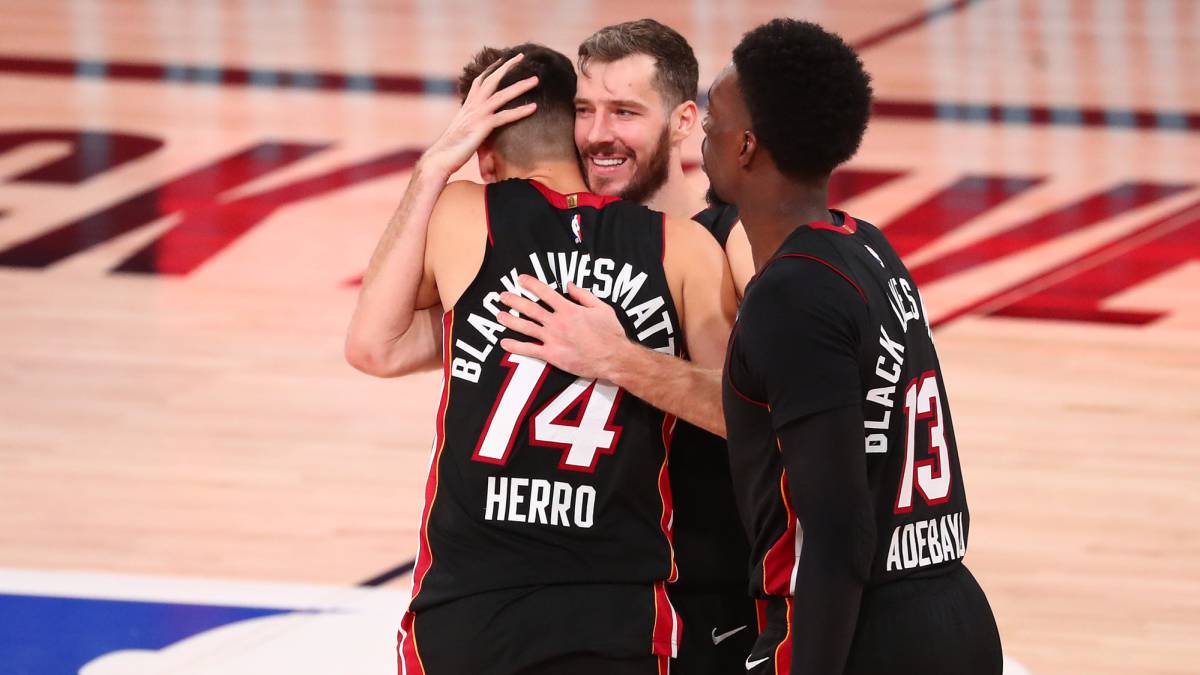 It is not wise to take things for granted. Nor try to predict the future. But it seems unlikely to impossible that the Celtics are going to make the Finals this year. First, because a 3-1 has come back only 13 times in history, two of them in the present playoffs and from the hand of some Nuggets that are still alive and in the middle of a new attempt at machado, one that would already exceed the term historical. And second, because Boston can't. It is a superficial assessment, almost abstract, but it is an objective reality after watching the first four games of the tie. They shot with pride to get the third game and they knew how to manage their already traditional slump to manage their advantage in the last minutes, but they have again stumbled with their short rotation and their inexplicable moments of disconnection to fall before an opponent who, simply, has been best. Today he has not started from behind nor has he let his rivals take an advantage in the hope that they would lose it; Spoelstra knows that at this point you don't have to play with fire and he changed what he had to change to take the lead, leave the Celtics in tow and take the game like this until the end, when the greens collapse going behind and give in to the push of a more constant and regular team. Worse, surely, due to individual talent, but with an infinitely longer rotation and, therefore, a greater ability to adapt to whoever he faces and know how to exploit his qualities to the fullest while enhancing, at the same time, the opponent's defects .
It's also not fair to say that the Celtics can't in the strictest sense of the word. It is simply that there are times when they are left behind, do not know how to put the appropriate basket at the right time and fall prey to their own demons. The rest since last Saturday has not been entirely good for them, and they started behind on the scoreboard while Spoelstra was already changing the starting tactic. He sent Butler to the post and sent him to be more aggressive, scoring the forward 6 points in the first quarter, his highest score since the opening game against the Bucks. In addition, he left Olynyk out of the rotation, reduced Nunn's minutes to zero, removed Duncan Robinson as soon as it became clear that he was not for parties (3 points with 0 of 5 in field goals and 0 of 4 in triples) and he maximized Iguodala's time on the court to give him 27 minutes, also contesting the final moments with him and seating a Crowder (another 3 points) also denied facing the basket. With all this, he left his particular big three on track: Goran Dragic (22 + 5 + 3), Bam Adebayo (20 + 12 + 4 and the first heat since Shaq to make at least six games of 20 points and 10 rebounds in about playoffs) and pulled Butler as usual (24 + 9 + 3) after there were rumors that he was going to take him off the bench. With that and doing the right things, without much fanfare and, of course, Riley watching everything from the stands, the Heat took the game.
Well, with that and with Tyler Herro, of course. The differentiator, the guest of honor at a party to which he was not invited. The 20-year-old was not content this time with ending the never-ending streak of more games by scoring at least 10 playoff points for a rookie. He also became the youngest ever to score 37 or more points in a game, taking that honor away from ... Magic Johnson, wow. And with 14 of 21 in field goals and 5 of 10 in triples, perfect from the personal (4 of 4), with 6 rebounds, 3 assists and only one loss. 17 of those points came in the fourth quarter, 5 of them in the 7-0 run that the Heat led after a Spoelstra timeout and after the Celtics had taken the lead (84-85) throughout the second half. with almost 9 minutes to go. When there were 4 left, he scored another triple that left Florida 8 up, and still had time to put a layup that gave a +9 and two free throws that tied the game with a handful of seconds to go. A supreme game from a player out of Kentucky (like Anthony Davis, Jamal Murray, Devon Booker ...) and who is on the rise within a team that, in the umpteenth problem for the Celtics, anyone can be the hero. One day Butler scores 40 points (to the Bucks), another day Duncan Robinson 6 triples (the Celtics know it) and, if not they, Adebayo does not stop hurting and Dragic continues slowly but without pause in a playoffs in which he is crowning and in which he averages more than 21 points per game in 13 games. All starters, by the way, after having started only three times in 59 regular season games. Another tactical adjustment from the magician Spoelstra, who does not stop doing tricks in his umpteenth demonstration as one of the best coaches in the competition. Or the best, wow.
The Celtics are there ... but they are not
And the green tide has wished to be a tsunami and has ended up being a small wave that has less and less force and is thinning to leave behind more than calm waters. A perhaps somewhat unfair metaphor for a team that has been defeated by 3, 5 and 3 points in the first, second and fourth games of this series, something that can be seen as something positive (they are always there) but it is clearly a symptom of its dysfunction in the tight ends. Against the Raptors they fell in three games by differences of 1 (the triple of Anunoby), 7 and 3 (with two overtime) points. They manage their weapons badly when they go behind and not quite well when they have to go ahead. In the first round they had an advantage of more than 12 points in the last quarter, something that the franchise had never wasted (156-0) ... until that day (now they are 157-1, after the victory in the third game) . Again, in the second game, they wasted a double-digit difference that came before the last period but was short-lived. And when it seemed that they woke up and managed to manage those differences, they had to go behind. And they have come back going 12 down, they have rowed, rowed and rowed ... and they died on the shore. With constant foul problems, always hitches and incomprehensible moments of downturn that allow the Heat to always be in the game.
Jayson Tatum, hero in the third game, finished with 28 + 9 + 4 after running out of scoring in the entire first half (0 of 6 in shots), Jaylen Brown went to 21 + 9 and was the most constant, while Kemba Walker reached 20 + 4 + 5, but was erratic in the final moments and still does not find regularity in a playoffs in which he increasingly has, like his teammates, more anxiety and less time. Marcus Smart went to 10 points and distributed 11 assists while still half the world wonders why Stevens does not put him to defend Herro the whole game (today perhaps due to fouls). Of course, he was 3 of 12 in field goals and 1 of 8 in triples, in addition to losing 3 balls in the fourth quarter. Today, of course, he is not there to shout at anyone in the locker room. And Gordon Hayward (whose son, for whom he has not finally left the bubble, has already been born) began to carbure (almost 30 minutes) with 14 points (7 rebounds and 3 assists) and has been far from being the problem, although neither the solution within Stevens' magic quintet, one that he has wanted and could not.
Y, of course, Boston has finished with 19 losses, 7 in the last 12 minutes of the game. A drama and an embarrassing image and something incompatible with winning, especially when many of them come at a time when you can put yourself ahead and end up increasing a difference that had been difficult for you to cut. The lack of depth on the bench is something that Danny Ainge will have to solve in the not too distant future and it is shown by the fact that the Celtics' substitutes have scored 22 points combined, 15 less than Herro alone. Robert Williams III and Grant Williams come and go to replace a Theis that is diluted with the passage of games (8 + 9 today) and Wanamaker produces a lot (not today, 4 points) for what little he plays. The tie is not over and there are battles to be fought, but the Heat are touching their first Finals since 2014 and Boston sees its return to them more and more distant. And the problem is not that history is not on their side (which it is not). Is that the rest, either. The Celtics have been in this situation 12 times, and have been successful in two of them (1968 and 1981, both against the Sixers). We have already said that things cannot be taken for granted and that green pride is there, crouching, waiting to come out. And, after all, if there is one thing that the bubble has made clear to us, it is that anything is possible. Or not. We'll see.
Photos from as.com