Torres: "I will return to the place that allows me to help Atlético more"
The forward presented the Amazon Prime documentary: 'Fernando Torres: The Last Symbol' which will premiere next Friday and will review his entire career.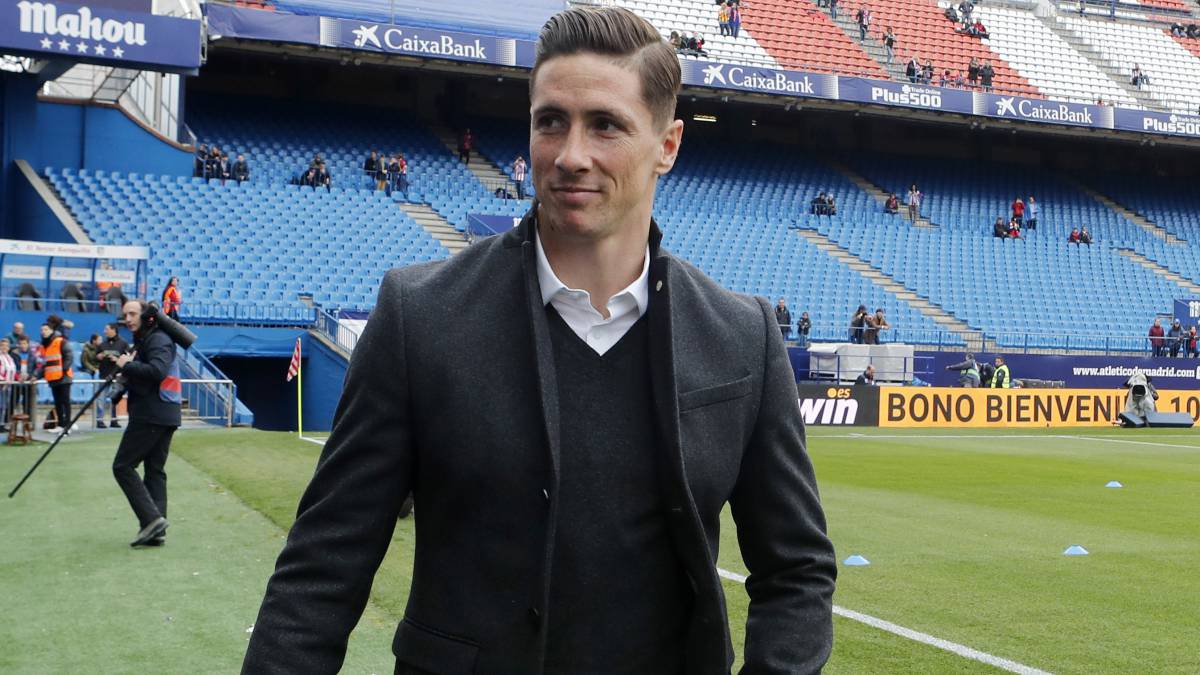 Next Friday the documentary will be released: Fernando Torres: The Last Symbol. Prepared by Amazon Prime, it will review the entire career of the former striker, from his beginnings at Atlético to his retirement in Japan, a final stage after which he has begun to train for the future, although he clarifies that it will be long-term, since "it does I retired for just over a year and now I want to enjoy my time and my family. "
Ricardo Cabornero, Head of Prime Video Content and Ignacio Corrales, CEO of Buendía Estudios, accompanied Fernando Torres in the presentation held at the Wanda Metropolitano, indicating that during the documentary you will be able to see "a very thoughtful Fernando who has opened up to He reviews his departure from the club giving some key resources for the evolution of Atlético, his time at Liverpool, the Champions League at Chelsea, his return to the club of his heart and the last years in Japan. " After the event, El Niño spoke to the media and spoke about both his past and his future. "In this film are all the reasons for the decisions I have made. I have not played as many games here (at the Metropolitano) as at the Calderón, but I have experienced very beautiful moments such as my farewell. It is the perfect setting. I have been able to express myself and reflect on all that I have lived and Atlético is an important part of my life ".
A future that for Torres involves "preparing for the coaching course and working on sports management for what may come in the future. What comes is not going to be in the short term, I need time to prepare and the future will tell that I can return to football. I will return to the place that allows me to help Atlético more, not myself. I don't know yet what that position is, if it exists, if I will be able to have it in the future. " Of course, he makes it clear that for the moment his first objective "as soon as possible is to return here as a fan, which is what I most like. I watch football without an audience in the stands and it doesn't make much sense. Football is to convey emotions and I hope we can come back as soon as possible. That is seen in the short term as an amateur, if an opportunity comes to accept it, but my plans do not happen in the short term. I need time to be well prepared and to be able to take responsibility ".
Fernando Torres also reviewed his debut at Atlético and what it meant for the fans. "I think that for the stands it was a light, a hope when I arrived and went out onto the pitch when I was just 17 years old. Whenever a youth squad makes his debut, you see hope, a light and hope that everything will be like in the best years. Those were times of assuming an enormous responsibility and then came one of the hardest moments. Separating from the club was one of the most complicated moments and I think that today, after my return and farewell, Atleti is the only thing in the world that can control my illusions apart from my family and there will be a future ".
A debut that meant "fulfilling my dreams. Stepping on the Calderón, the following week scoring a goal and giving hope of promotion, was living in a cloud from the moment I got up until I went to bed. I was only aware of what I lived, like playing with the friends, be with those who are still your idols and watch the call to see if you are in. When you are playing matches and you are one of them, there is greater responsibility and the circle that surrounds you begins to be more important, your mental strength ... it was a dream. I had never dreamed of winning the World Cup, but I did make my debut with the first team and score. I achieved those goals very soon and then I had to look for others ".
The teachings of Luis Aragonés
Regarding the coaches who have most marked his career, Torres has no doubt in highlighting one above the rest. "The ability to learn a little from each coach is a virtue. If I had to choose one, it would undoubtedly be Luis Aragonés. But I have learned from the coaches I have had, management, day by day, training ... there are many parts that You can see the difficulty he has and when he is a footballer it is not taken into account.
If one day I consider that I have to be a coach, I am clear that it will occupy me all day, it is a tremendous strain and I have experienced it in my coaches. I would take a little of the many I have had, but without a doubt if I had to choose one it would be Luis. My first stage with him came to me very young, without the necessary maturity to understand everything he said to me and I lost many lessons. In the National Team he was more mature and I could understand him better. He was the person who prepared me for what football brought behind. The media, rest, the relationship with colleagues and things that I did not understand. There were things that I understood seven or eight years later. "
Memories of Liverpool
Torres left Atlético to wear the Liverpool shirt where perhaps he gave his best sporting performance, finishing as a Bronze Ball in 2008. El Niño also explained his arrival at the English club: "For Liverpool perhaps he was a stranger and I was also a hope to return to being the team that ruled in the United Kingdom. We always stayed at the gates, hence the decision to leave. It was a short period, three and a half years and at first the fans felt anger and rejection against me , but when you can listen to my version and how the process was, we can say that we have made peace, we are left with the good moments because there were no bad ones.
It was a departure taken out of context by the British media, but I think the fans have understood that it was the departure of a footballer to advance his career. It hurt me that they booed me, because I couldn't stop loving the Liverpool fans. Of course, I would have liked to always be at Atleti, to be one club man, but the years at Liverpool were tremendously happy. My memories of Anfield and the Liverpool fans are only good. If I had seen and read what the media said, I would also have booed as a spectator, now they have my version ".
Withdrawal in Japan
The former footballer took his last steps in football in Japan. "We looked for something different and that would serve us as a family on a personal level. It was an incredibly enriching personal experience, also because of the privacy and respect for the people. Being able to go to a shopping center, walk down the street, ride a bike so quietly, something that cannot be done here. It was a football for which I was not prepared, I don't know how to play football if it is not to compete against the best. That is why I only stayed for a year, my thing was to compete and not play football, but it was a fantastic year ".
Lastly, Torres also sent a message to young people who dream of becoming like him. "My dream was to play for the Calderón, to be able to play in the first team for a game and everything that has come after has been a gift. That's why I tell the children to dream big. I never dreamed of the World Cup because I didn't I had seen, but we can also, once you set the dream you have to help them. I did it the other way around, I set a step that I achieved when I was 17 years old and I was well surrounded to set goals and continue. To the players who are promoted they I would say that they always listen to the elders, surely those that I did not understand and with whom I spent less time. Also that it is self-critical, something that is learned reaching the end of the career. At the beginning there is ego and there is little self-criticism and I believe It is a necessary tool to evolve. Luis told me so and I didn't understand it at first. "
Photos from as.com