Tomic: "Now I have to drive a little more to go to training"
After eight seasons at Barça, the Croatian center has signed for Joventut. Despite the change, he affirms that "my life continues the same as before."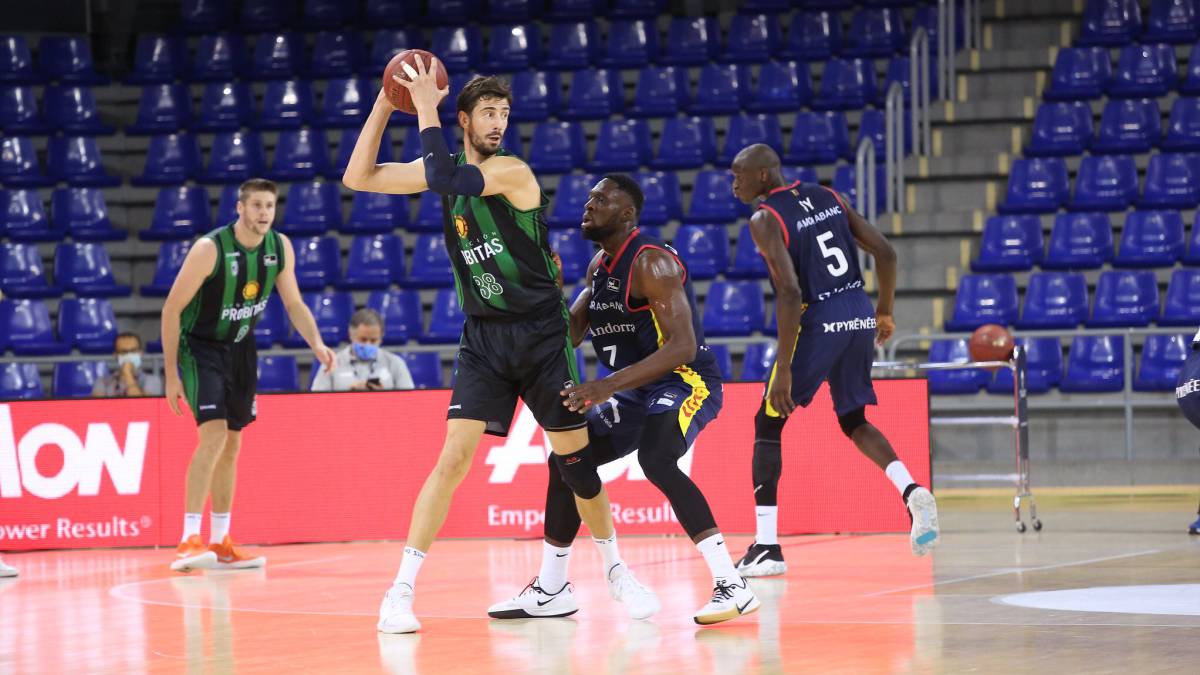 After eight seasons at Barça, where he was the first foreign player captain of the team, the Croatian center Ante Tomic (33 years and 2.18 meters), begins a new stage at Joventut and on Saturday (16:00) he will debut against Unicaja at the Palau Olímpic de Badalona in an Endesa League match for the first time wearing the green-black shirt.
Tomic has always been a calm man and he considers in statements to PenyaTV that the only change from playing for Barça to playing for Joventut, "is that now I have to drive a little more to go to the other side of the city to train."
"I still live in the same house. My eldest daughter goes to the same school she went to and I lead the same normal life that she did in previous years and the rest are still the same," he says.
In the two months that he has been at La Penya, he does not hide that he feels very comfortable in the team and is satisfied to be part of the squad because "I am very positively surprised by how well they have received me and I hope we have a year with many successes ".
He is very grateful for the support he has received from coach Carles Durán because, "he tries to find different types of attack and defense for each player, and in this way he is helping me find my place within the team. He is very demanding and his training sessions are long, but fun. He never looks at his watch to finish, and I like that. "
Regarding his personal and family life, he acknowledges that he feels comfortable in Barcelona because, "when you have been in a city for so many years, it doesn't matter what city it is, you get used to it in everything and it is where you find your life" .
"This has happened to us with Barcelona, which is a perfect city for the family that we formed with my wife Katarina Stimac, with little girls Bela (4 years old) and Arija (1 and a half) and with a dog. I have no reason to say this thing I like more than another in the city. My wife and I have been here for many years and, the truth is, it is the city in which we want to live, "says the Croatian pivot.
COVID-19 has changed his usual life since "now with young girls, with school and with the current situation we try to be at home as much as possible, take care of ourselves and not go out a lot. My neighborhood (lives in Putxet, near the Parque del Turó) I like a lot, I also like going for a walk or with the dog or going to the park with the girls and, for now, little else. When everything was fine I really liked going to Barceloneta, Plaza de España and the Plaza Catalunya ".
De has always been a great fan of reading "I especially read thrillers, autobiographies, history, especially Russian history. I have read some and I love David Benioff's 'City of Thieves' about Leningrad, today San Peterburg in WWII ".
It also reveals that "during the confinement I began to learn the CAD program for architectural design drawings and things like that. I really like this. Maybe someday I can work on something like this in Spain"
A little lover of social networks, last March and when the confinement for COVID-19 began, he opened a Twitter account. In this regard, he says: "I know that I have surprised many people when I opened that account, but during the confinement many things have happened and I felt that I had to explain them. Also to find a way to communicate with people because until that moment they could see me only on television and at a press conference. I tried to open up a little more to the fans ".
He played 579 games as a Barça player in all competitions, the foreign player with the highest number in the club's history, and his second highest rebounder with (1967, an average of 6.3), with whom he signed on July 20 a contract for two seasons with the option of a third.
One issue that bothered him in particular was when he advanced, without foundation, that he had already signed with Penya. "When I denied my signing I did so because at that time there was no type of contact, nor did I think anything about it. Then, almost a month later, there was."
"The offer came first through my agent and then I spoke with Carles Duran and Jordi Martí by zoom, we talked a little about everything, not just basketball", indicates the Croatian player.
It also explains how to prepare before a match. "I maintain a routine to prepare for each game as any player has: I do various types of stretching, things to prepare the legs, to warm up and I have to do everything before going out on the court. I have the same routine every two or three years and after. I change it over a period of time. Maybe now is a good time to change that routine, but I haven't changed anything yet ".
Born in Dubrovnik (Croatia) affirms that, "I love the city, but during the summer with so many tourists that it is impossible to live there. You cannot go anywhere because it is all full but this summer we have seen the other side, that of when There is no one there and I personally liked it a lot, although there were some tourists. It is a city that I recommend visiting in two or three days, although its best beaches are outside the city ".
He concludes with a wish, "I hope to see the Penya fans soon because it means that they will again support us from the stands and that we all have a season with many successes together."
Photos from as.com