The year of Djokovic's troubles: vaccines, COVID, coup against the ATP, expulsion ...
The year 2020 started very well for Djokovic with the titles of Australia and Dubai, but it has gone awry afterwards with several controversies and his disqualification from the US Open.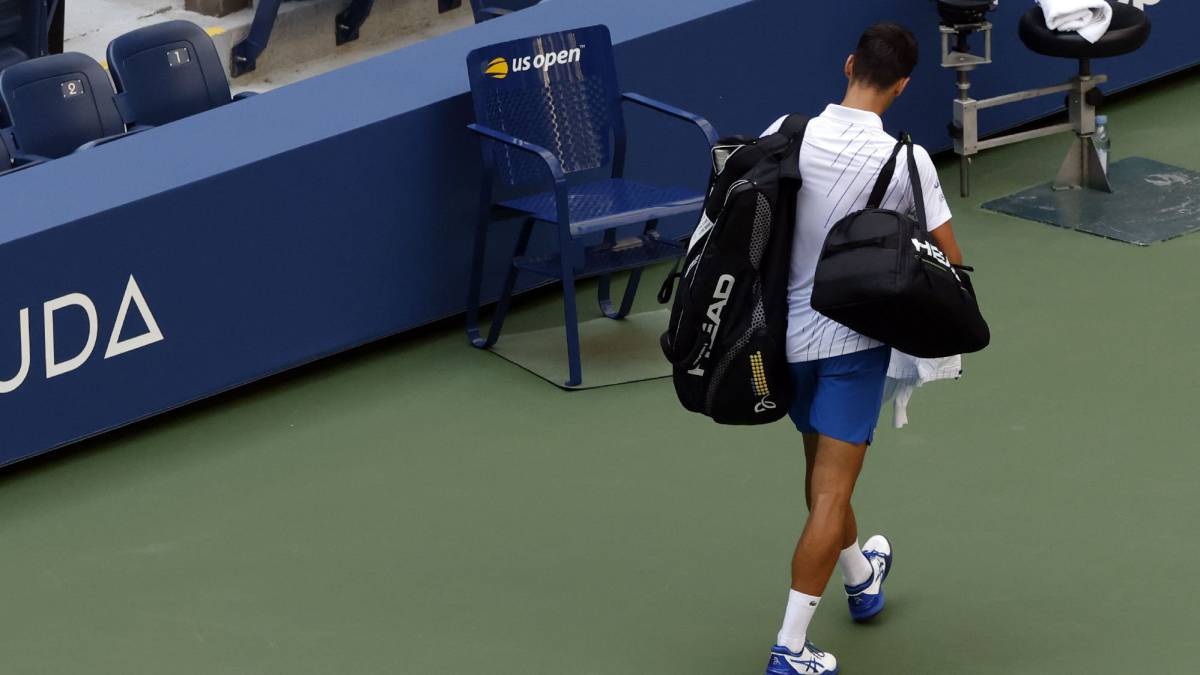 No one could have imagined that 2020, a year that started out great for Novak Djokovic, with his Australian Open and Dubai titles and a streak of consecutive victories that has stopped at 26, could be twisted so abruptly by his expulsion from the US Open for inadvertently but improperly hitting a line judge. Although in reality it can be said that the Serbian's ills had begun earlier and that, definitely, the coronavirus pandemic has not done him any good.Against vaccination
During the break, Djokovic entertained himself by holding video conversations, on public occasions, with other players, athletes and various characters from his rich inner world, which includes meditation, veganism, holistics and an opinion against vaccination, whose exposure brought him not a few criticisms both in the tennis environment and outside it. Once the confinement was over, Nole broke the rules in Marbella to train at the Puente Romano Club, whose officials apologized for allowing that session due to a misinterpretation of government restrictions. The Balkan published it, proud, on the networks and took more sticks.
Adria Tour and COVID
Then, in June, the box of thunder was uncovered with his return to Serbia. There, in a country that had not been as affected as others by COVID-19, Novak distributed hugs by the piece, joined other athletes at various events and attended parties before putting on a disastrous charity tour called the Adria Tour. With the public in the stands, without masks or other precautions, Djokovic uncovered himself and the mess was brown, because he had been infected, probably during the tribute to a basketball coach, and could transmit the virus to eight other people: his wife and his physical trainer, Grigor Dimitrov and his coach, Borna Coric, Viktor Troicki and his wife and Goran Ivanisevic.
Rather than fully focus on his return to the circuit, which took place successfully at the Cincinnati Masters 1,000, where he lifted his third title of the course, Djokovic spent energy launching and announcing the creation of a new association of players, the Professional Tennis Players Association (PTPA), on the fringes of the ATP (it has left the presidency of the players council) and criticized by all tennis governing bodies, as well as by two of its great stars, Rafa Nadal and Roger Federer. Some, like the Russian Rublev, say that he does not have much support, although the one from Belgrade also wants to ally with women and already has the approval of Serena Williams.Expulsion at the US Open
And on Sunday came his moment, without a doubt, more bitter, with that disqualification in New York that keeps him with 17 Grand Slam titles and leaves him, for the moment, unable to close the gap with Nadal (19) and Federer (20). Without the crowd that often bothered him in the stands at Arthur Ashe, he lost his temper like so many times in his career, especially a few years ago, before he took refuge in meditation, yoga and other control techniques, acceptance and relaxation. He is sorry and said on social media that he hoped "to turn all this into a lesson for my growth and evolution as a player and a human being." Your next steps will have to be followed carefully. He will probably be seen again shortly, in Rome, and then at Roland Garros if there are no surprises.
Photos from as.com