The Williams leave Formula 1
Claire and Sir Frank leave the team after the Italian GP after the sale to a North American fund. "It is time to go."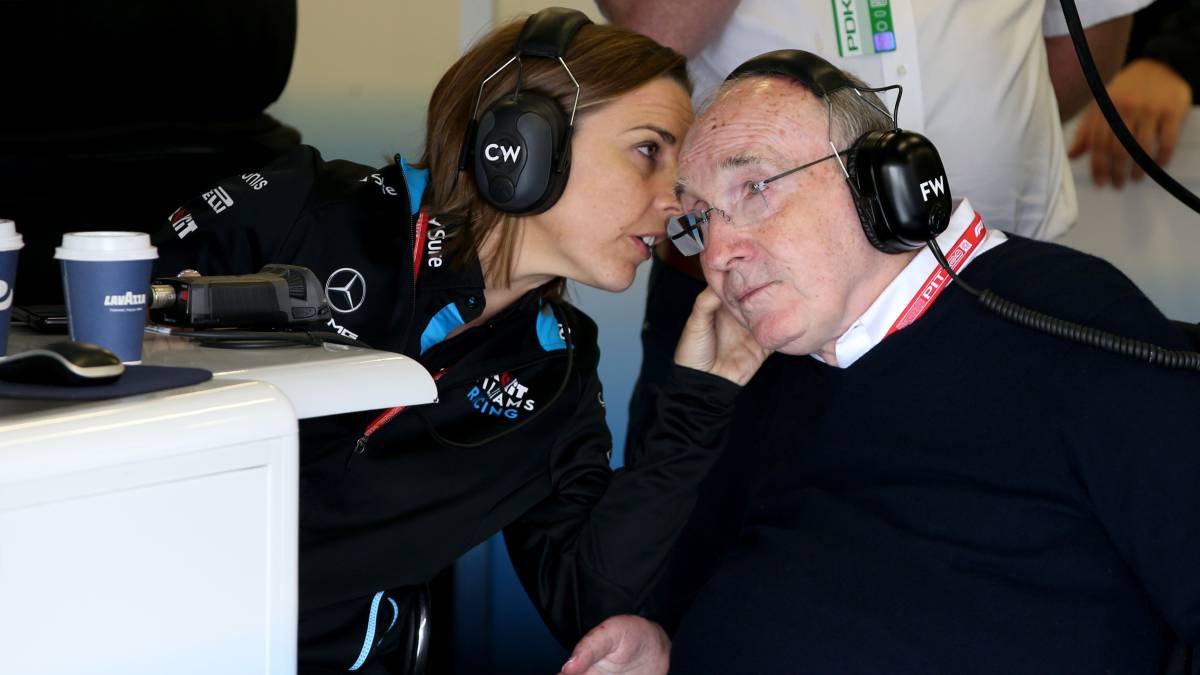 Williams will not stop being the Williams team for now, but it will stop being the Williams team. The family at the helm of the team, commanded by Sir Frank since its foundation in the 70s and led in recent years by his daughter Claire, confirmed this Thursday through a statement that, once the Italian GP ends in Monza, will step aside in favor of Dorilton, the North American investment fund that acquired the company a few weeks ago. The second team with the most constructors' titles of all time, one of the great legends of Formula 1, will lose part of its identity. But it's not a surprise.
The suspension of the season from March to July put the team's accounts in jeopardy, which for the first time reconsidered its position on a full sale. In recent weeks, the entry into the shareholding of Dorilton Capital was completed, with Matthew Savage as head of the group, and now the transfer is made. "With the future of the team secured, the time is right for us to leave the sport. The family always prioritized Williams and now we must allow the new owners to lead the team in the future," says Claire.
Sir Frank Williams debuted his cars on May 8, 1977 at the Spanish GP, at Jarama. Since then, 43 years later, its showcase boasts 114 victories, 128 pole positions, nine Constructors 'World Cups and seven drivers' World Cups (Alan Jones, Keké Rosberg, Nelson Piquet, Nigel Mansell, Alain Prost, Damon Hill and Jacques Villeneuve). They were the great dominators of the 90s in the championship, but they were an exception as an independent manufacturer and family business in a context that drifts towards another class of participations. In addition, poor sports results (at the bottom of the grid in the last three years) accelerated the rebuilding process. It should be announced soon who takes over from Claire Williams at the helm of the team, because next week there is another grand prize at Mugello. As for the pilots, both the Englishman George Russell and the Canadian Nicholas Latifi have a contract for 2021.
In the last decades, all the British independent manufacturers of the Great Circus had to get close to large firms, automotive or not, to guarantee the future of the organizations. McLaren was sold to Bahrain, Benetton went to Renault, Jordan was Force India, it returned as Racing Point and soon it will be Aston Martin. Red Bull bought Jaguar, formerly Stewart, just as Mercedes acquired BAR facilities from Honda.
Williams in numbers
751 Grands Prix
45 Seasons
70 pilots
9 Builders World Titles
7 of pilots
114 wins
128 poles
133 fastest laps
12 podiums
3 doubles
.561 points
3333 337,584 laps led 444 444
5.241 kilometers in the lead
76.383 laps raced
69,258 kilometers traveled 444 444

Photos from as.com