The tester Lorenzo does not like Rossi or Quartararo
The legend and the leader assure that they do not understand that the Spaniard did not ride with the Yamaha in Misano, in the test, and 'The Doctor' asks Dovi in his position.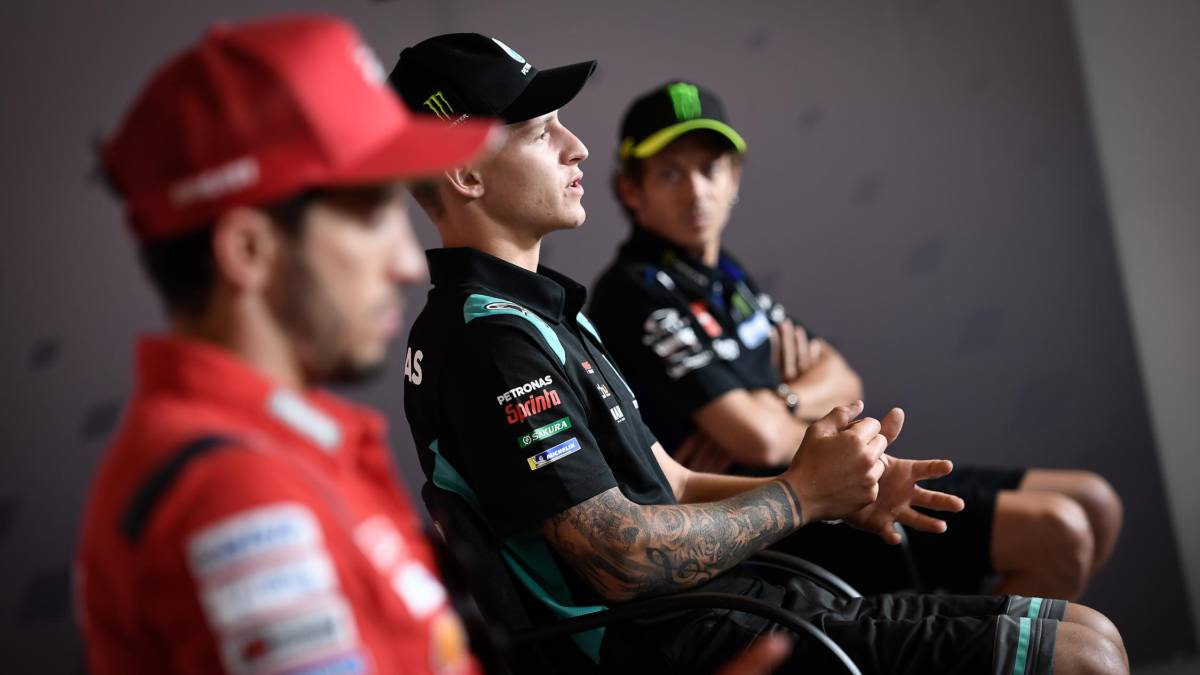 Rossi and Quartararo have not cut the slightest bit at the press conference of the San Marino GP when it comes to showing how unhappy they are with Jorge Lorenzo's role as tester at Yamaha. Both missed the five-time champion in the test that took place at the Marco Simoncelli circuit in Misano for testers and thus obtain their information on the M1 and the new asphalt that will now take two consecutive GGPPs.
It was a French journalist who asked his compatriot Quartararo in this regard and extended the question to Rossi, because of his specific weight at Yamaha. They both smiled wryly at the question and upon hearing the explanations each of them gave. The first to respond was the MotoGP leader, a condition that he holds three points ahead of Dovizioso, and said: "Well, I'm asking myself the same question, really. I don't know, honestly. It's true that we don't understand. We know. that in the past Jorge's ability with the Yamaha was very good and I don't know why he's not really riding. He did 20 laps in Sepang and that's it, and I think a test rider should ride. Seeing that the testers were here in June and that he was not well ... It is not a great advantage, but it is very good to have comments about the performance of the bike on this new asphalt ".
When the legend's turn came, he smiled and said: "I ask myself the same question and ask Yamaha. It made me very happy when I found out that Jorge would be our tester, because he has been one of the best riders with the M1. We already know what Pedrosa has done as a tester with KTM, for example, and Yamaha would also have to trust the program. Sometimes things happen at Yamaha that are difficult to explain. Tomorrow we will have to start from scratch with the asphalt, while other teams have already done that work in the last tests here ".
The discontent of both became clear and Rossi went even a step further when asked about the possibility that Dovizioso, without a contract for next year after his break with Ducati, could occupy the position of star tester at Yamaha instead of Lorenzo . His answer left no doubt of his wishes: "I would sign right now that Dovizioso be our tester, but I hope he finds a bike to race because he is still young and fast.
Photos from as.com