The Renault CEO's plans for Alonso's future team
Luca de Meo spoke to a group of journalists in Monza about the change of identity of the F1 team. On the Asturian: "He is a great asset, an advantage."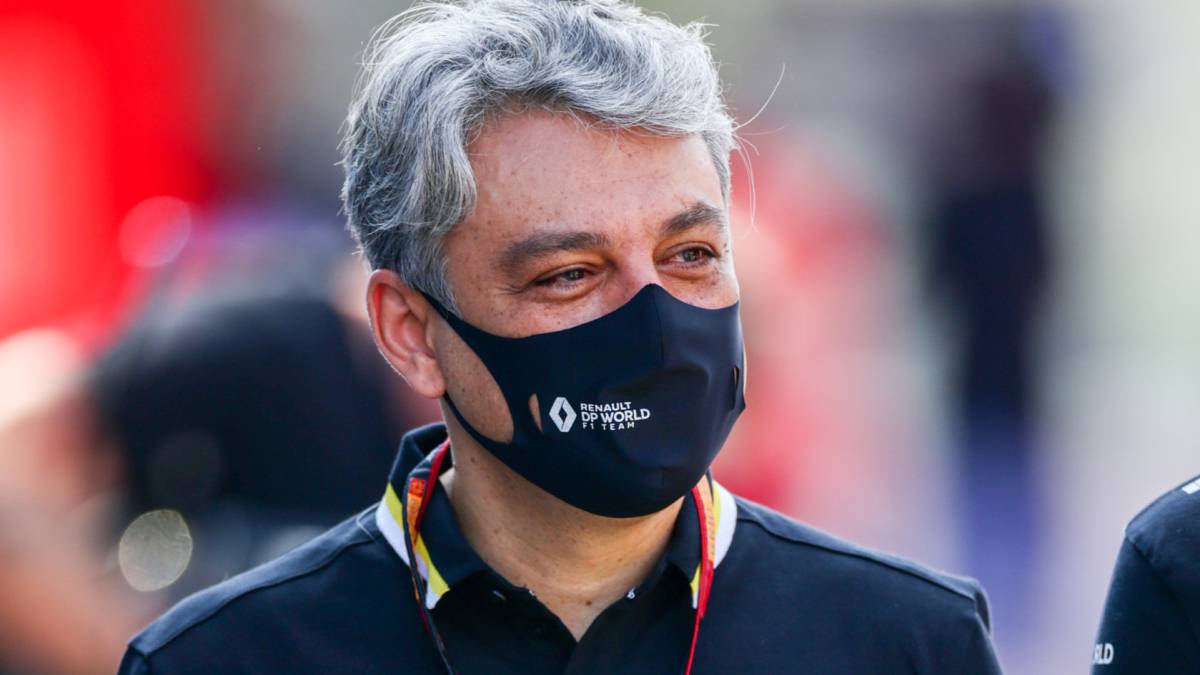 "I was one of those ten-year-olds holding a flag at the entrance to Monza, I like cars." Luca de Meo (Milan, 53 years old) is the CEO of the Renault Group, one of the most important executives in the automobile industry and, for two months, the head of the French manufacturer. A racing man, "a car buff", who probably had to argue to keep Formula 1 on his company's agenda. "There are always those who see it as a hobby or as an expense. Not me," he says. The Italian traveled to Monza to follow the Italian GP and announce that his team will be called Alpine to promote the development of the sports car manufacturer that is owned by his group. Before the race, he shared 40 minutes in person with an exclusive group of international journalists, including AS, to discuss this decision, the future of the team and the car at a round table.
-Alpine F1 Team…
-I have been with the company for eight weeks, but I soon came to the conclusion that it was necessary to reorganize it differently, by business units, to improve our performance. Right now the Renault situation is not fantastic. One of the units will be Alpine, and at the center of everything will be Formula 1 and motorsport. In large companies there are ups and downs and there are people who are not passionate about racing, unlike me, and who can sometimes understand it as a cost. I prefer to see it as a new business model for this company. We will race like Alpine and the car will represent the historical colors of the French engine, blue, plus the tricolor. It's a big change, because Renault has been in F1 for 43 years and will continue as an engine supplier, it will be visible. But the key is that we use F1 as a platform to develop the Alpine brand and to create an ecosystem around our program, like the engineering division or those who make other racing cars. For me, who like cars, F1 is the pinnacle of everything and that is how I have sold it to my teammates. I have also pressured them because they must show the way, they are opening the way and we want to see results, sooner here than we will see them in the company.
-What prospects do you have?
-Alpine's spirit will be a boost and I also know that while Renault is a glorious brand, Alpine's fit in the world of F1 can be even better. I think F1 should be a constructors' championship with brands that make people dream. With a direct connection that the customer can play on the street, run on Sundays and sell on Monday. We look at Ferrari, Mercedes, Williams, Aston Martin. Alpine is good for the sport, we need that and we need brave people and riders. We have the conditions, with the Agreement of Concord in whose construction we have participated actively. And a part of the show, no doubt, is also the brand.
-Will the team be Alpine, or Alpine Renault?
-As a rule, you need the chassis manufacturer and the engine manufacturer. It will be Alpine Renault. But in the car we must decide the formula, if it will be 'Powered by Renault' or another way. You must also include the main sponsor.
-Alpine has been in rallying and competes in the WEC. Do you explore those categories? 444 444
-It's too early to tell. This year we will compete in the 24 Hours of Le Mans in the most important category, LMP1, with limited resources. We have not decided how we will continue thereafter. But this is an important detail: when I came to the company I saw Alpine as a very nostalgic brand. Okay, but we have to look to the future and think in a different way. Use Alpine to build that future, not think about what they did 50 years ago. If there is a business opportunity, why not? Alpine is very credible in that world.
-Talk about running on Sundays, selling on Mondays. Are you going to make more street cars?
-I was behind the resurrection of some brands in my career and we did not have a huge range. You don't need it, you just need cars that fit the position that brand occupies. I drove an Alpine A110 for a week when I was still in the Volkswagen Group a few years ago and I said it in French, 'chapeau', a great car. It is completely undervalued commercially and has the potential to develop in various ways. Porsche has been a single product brand for many decades with the 911, then came the Cayennes, Caymans and more. You have to be patient, but we have a product and there will be contacts with the Alpine versions of other Renault models. We will find the solution and in this matter you can trust me, I like cars and I know what I am talking about.
-Is there capacity to produce so many cars?
-Excess capacity, unfortunately. I will go this week to see the factory to see how far they can go. There is no big manufacturer in Europe that has such a flexible capacity and can work with high quality and high technology. I want to see how I can use that.
-How about Fernando Alonso, not only as a pilot but as a platform for the brand?
-Sounds good to me, that's why we hired him (laughs) .
-Explain…
-I have just arrived from Spain, I am very aware of the attractiveness it has in that country and in many other countries, also in South America. He is a brand in himself, a very strong driver. And he's very, very motivated to go home. It happens a bit like me, I also started at Renault and I come back after 25 years. We are both very happy to make our contribution. I think without a doubt it is an asset, an advantage.
-Is it good for Renault's image to get out of F1 after so many years of work to get closer to the front positions?
-I do not think that a movement like this will change the perception that exists about Renault, it is a historical manufacturer that has won everywhere. We have a lot of problems as a brand, but I think none of them are perception. We want to do something new and attractive to the public. Before doing these things you have to talk to a lot of people and test a lot of things, and every time you tell them about Alpine you see smiles on their faces. It can be a great story.
-Will the team be economically profitable? Will it bring benefits on its own?
-It depends on Abiteboul, it is a question for him. But one would not invest in F1 thinking about the benefits because there are more profitable businesses. The budget ceiling has two advantages, one is that it effectively limits the budget and you are not tempted to spend more. The other is that it will balance the playing field, we will all compete with the same resources and the sport will be more interesting. But we are not here, in F1, necessarily looking for a super profitable business. I also want to avoid that this is a burden for the entire system, we must not forget that my main priority is to turn around a company that does not perform as it should. At least, with the spending cap, everything will be more predictable. It is important that it is a closed circuit and I have already done it in the past in Italy, Germany or Spain.
-Are you preparing any structural changes?
-We will look at the possibility of making synergies, but we are manufacturers who make our own chassis and our engine. We have two souls, the British and the French. I like that when you see the car from the side you have the French tricolor flag and when you see it from above, you have the British Union Jack flag. This project will federate the energies of all. I asked Cyril (Abiteboul) to be the architect of this movement and we have to reorganize, find the right resources and the right talent and he is an important part of history.
-Will the new F1 have a direct application in Renault technologies?
-There is a marketing part, such as the use of the E-Tech brand with a connection between F1 technology and what people find on the street. There is a relationship, to begin with, Philippe Brunet was our engine engineer in F1 and now he is in charge of that project. In the future, when electrification comes, aerodynamics will be fundamental in cars and also battery management, I think that in that sense F1 will be important. But you have to be frank, the amount of money we spend on research and development is at another level. There may be specific applications. But with Alpine, which makes another class of lower-production cars, this connection can be applied faster with light materials, electrical solutions, etc.
-Are you interested in making F1 fuels synthetic from 2023?
-I really like the idea, but I don't know what it implies technically in terms of investment and other things. We have to assume those kinds of expectations because they come from society, not from rules. For the new generations it is very important.
-The pandemic has shaken all manufacturers. Were you always clear that they would continue in F1?
-There is always that tension because the situation is so dramatic, particularly at Renault, that some people would like to eliminate what they call hobbies. But I like cars and I'm not going to be the one to change the commitment to F1. I do not. That's why I came up with this idea to turn around and build a new story that has potential as a business. But of course, it has been complicated. There is always someone, in every company, who thinks that motorsport is not a good idea. But I was one of those children who at the age of ten came to Monza with the flag, that's me. Likewise, there is responsibility within the system to ensure that we do not waste money, that it is not justified.
-How will the pandemic affect market trends?
-Right now, the market is going down. The pandemic will have a huge impact on the real economy and we assume that the market will experience a slow recovery that we will have to deal with. But I think that many people, during this time, have reassessed the beauty of having a personal vehicle on which to move with individual freedom. Making the right product for these people is an opportunity for us, some will return. Although the new mobility is a different story, it gives for another interview and could talk for hours.
Photos from as.com