The prediction of doctor Costa about Márquez
"When the humerus is consolidated and therefore perfectly functional, it will no longer have problems", predicts the Italian physician.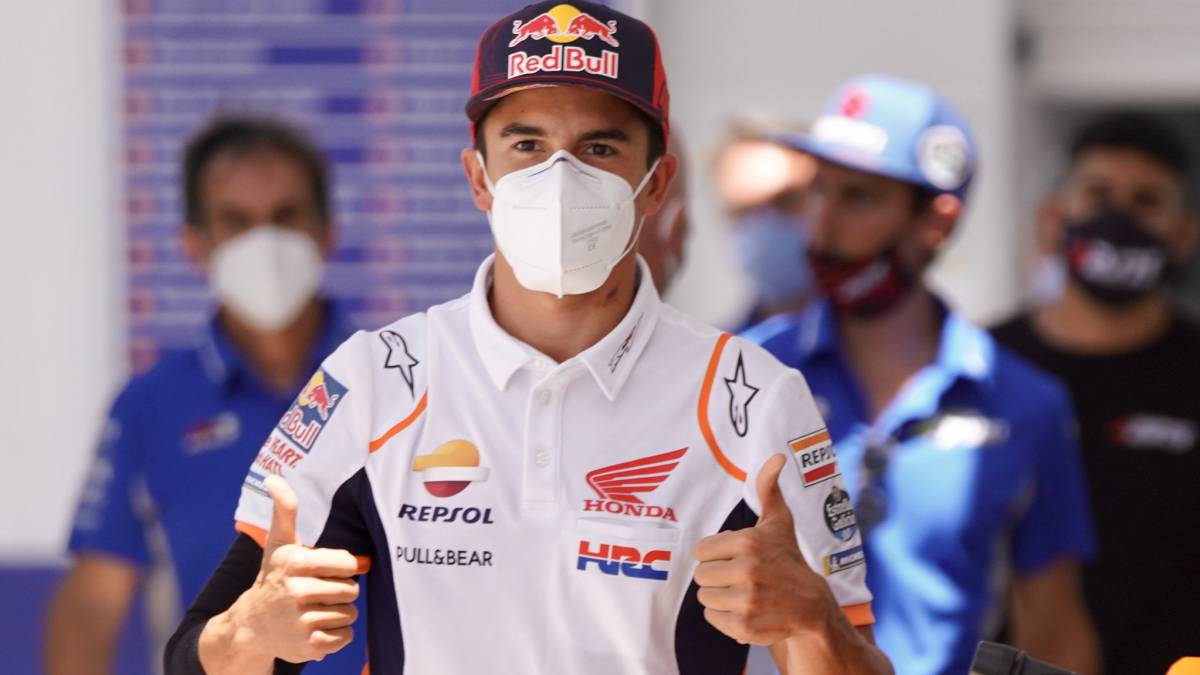 "An injury like this leaves marks on the body and mind. In the physical aspect, you should understand if you have discomfort when riding a motorcycle and mentally you should understand if you have any fear." This was the prediction that Valentino Rossi issued this Monday in an interview on 'GPOne' after being asked about Marc Márquez's injury and what his return to the MotoGP World Championship will be like.
A planned return for the Teruel (October 25) or Europe (November 8) Grand Prix, although it cannot be ruled out that Marc still has to wait for the Valencian Community GP (November 15) to get back on the handlebars of the Honda, that Dr. Claudio Costa, unlike 'The Doctor', predicts that it will be successful and without any physical or mental sequelae in the short, medium or long term for the champion once his right humerus has been consolidated.
"Adversity has always strengthened Márquez, as it also happened in 2012 when he underwent eye surgery after a fall. From adversity Márquez gets up stronger than before and I say this from direct experience. When the humerus is consolidated and therefore perfectly functional, you will no longer have problems. Once the bone is healed, you will become a stronger rider than before. You will not need tutors the day you return ", says Costa.
The Italian doctor, who in 1977 founded the Mobile Clinic, in 1992 saved Mick Doohan's right leg by performing a blood transfusion from the healthy limb to the sick one and in 2016 he retired after 44 years in the service of the pilots, he intuits in a talk on 'Motosprint' that Cervera is undergoing rehabilitation to maintain his muscles: "A humerus with a plate takes a minimum of three months to heal when all is well. Once the bone has healed, you will no longer need anything. They have put on a corset to protect what the fracture is, because a fracture welded to the plate does not represent such a safe means for limb freedom. Surely, you will be doing a rehabilitation to maintain the musculature, which is one of its great qualities ".
Finally, Claudio Costa continues to defend that the best strategy would have been to fix the break from the beginning with a nail instead of a titanium plate, although he specifies that this element could have damaged Márquez's battered right shoulder: "This should to have been an open speech with the pilot, something like ... 'Do you want to run? You can only do it if you put a nail in.' The nail, however, goes through the rotator cuff and would have reached the shoulder that has been injured several times and it has also been intervened, with the possibility of damaging it at the joint level, so it would have been he who would have had to decide: 'We run this risk or we do not run it and we make sure that it heals without consequences.' whether they asked Márquez or not. In any case, the only certainty is that the plate could not withstand an immediate return and Márquez's act of heroism ".
Photos from as.com