The Bucks start with another loss ... and with Giannis suffering
Butler and Dragic went out against the Bucks, where Middleton stood out but not Antetokounmpo. The Greek finished with 4/12 in free throws.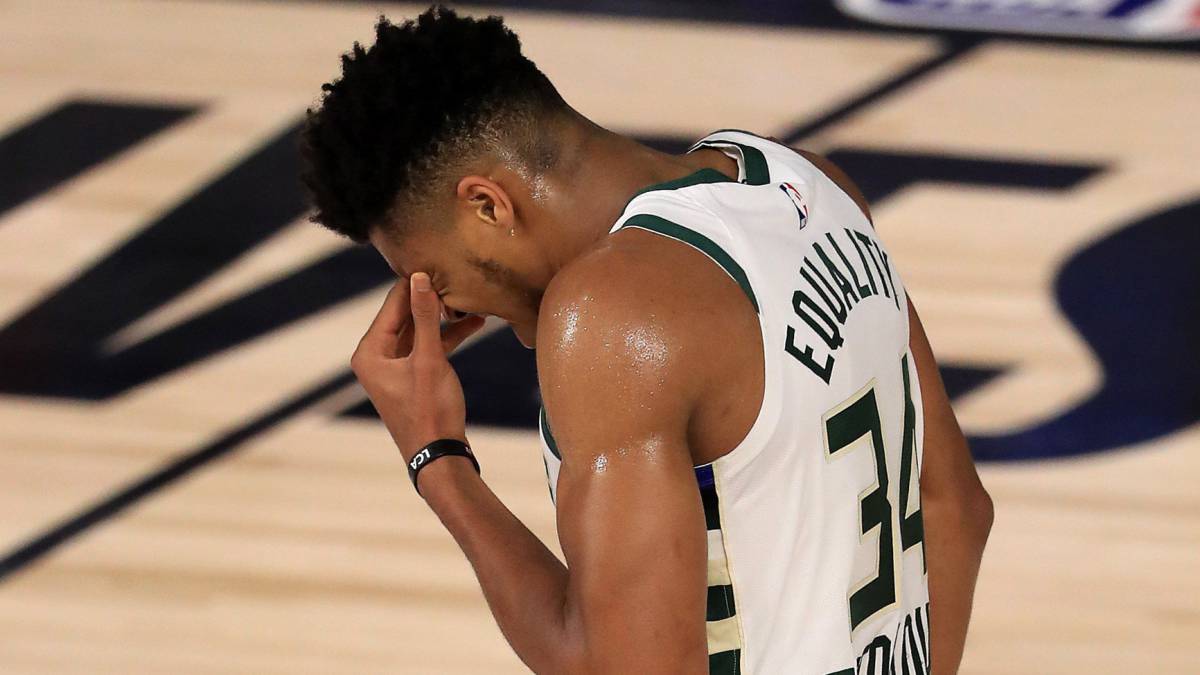 If in the first round it was Orlando who started their seven-game battle against the Bucks with victories, in the second round it was up to their Miami neighbors to do the same. The sensations are, in this case, of greater danger for the best team in the regular phase because their rival now has much more quality. He has put together a squad with players who surprise for their youth and self-confidence and with some veterans at the right point to hurt a favorite to the Ring. On that fine line, the Bucks are going to have to play, and now come back.
This 104-115 shows a real risk for Mike Budenholzer. If his bench works and at least three of his five starters are inspired, it seems clear that they have to prevail. But Connaughton goes on a roll, DiVincenzo, Hill and Matthews don't show up, Lopez and Middleton have trouble linking positive sequences in attack, Williams took Ilyasova's place but doesn't take advantage of it ... and worst of all: there seems to be antidote for Giannis, we will see if effective at all or only momentarily. In this match, Eric Bledsoe was missing and, before someone with as many kilometers as Goran Dragic, it was noticed too much.
Despite what happened next, the Bucks got off to a good start with some very positive news: Khris Middleton had come to the game. The one who is considered the second best player on the team, as well as an All-Star player, has had some ill-fated games in the bubble and is being asked for more. It started as a shot, being the reference of some Bucks that went to forty in the first quarter, but it was diluted as the game progressed. Dragic was the one in command of operations on the other side and with his direction and success and the adhesion of Herro, Adebayo and Butler the meeting was balanced.
Giannis was letting the play go well, at least until the break: four assists, all four for triples. The Greek would end up with a triple-double basket pass, indicative if we take into account that he had a bad performance in general and horrible in terms of decision-making in hot moments and when facing the line of shots free (4/12, 25%). Adebayo stayed defending him at times and that was undermining him. Lopez, the rival pivot, punished from the triple with his teammates, since between all they scored 16, but it was not enough.
The Bucks' defenses on the inside were insufficient and in the middle distance there was going to be the greatest damage for them. While Kyle Korver put the batteries in defense and attack to activate his team, his people fell short of gas. A triple from Herro, three master actions from the Slovenian point guard and a totally immeasurable Jimmy Butler, in his personal best and one of the best in the history of the Heat (40 points, the only one next to LeBron James and Dwyane Wade to achieve it in Miami), they sentenced. Ex officio victory.
Photos from as.com