The best paid in the Premier
After his renewal, Aubameyang equals Özil and both chase the Spanish goalkeeper in this particular classification. Sterling, next on the list.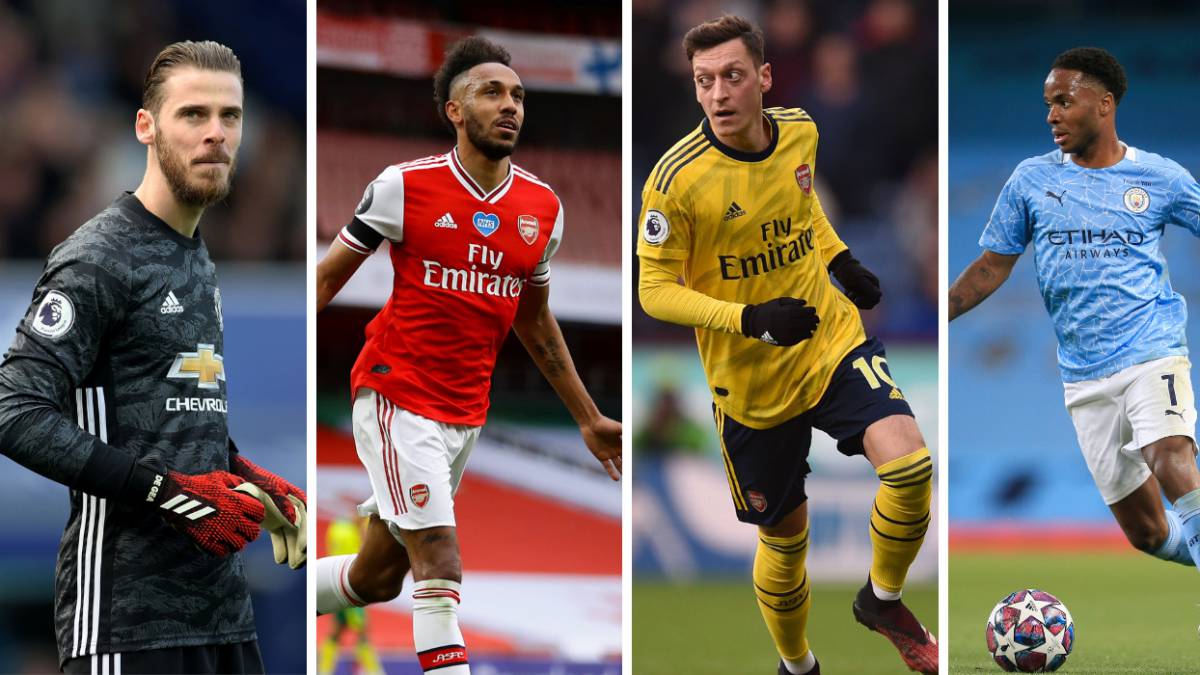 The recent renewal of Pierre-Emerick Aubameyang with Arsenal placed him in contractual terms at the level he had earned on the pitch, at the head of the team. Although not alone. That honor is shared with a Mesut Özil whose 2018 renewal continues to bring tail, given the performance delivered. Forward and midfielder earn 385,000 euros a week (350,000 pounds), an amount only surpassed by David de Gea in the entire Premier League. The United goalkeeper, surrounded by questions and with his ownership threatened by Dean Henderson, leads the islands' monetary ranking for yet another year, with his more than 410,000 euros a week (375,000 pounds) .
From the Daily Mail they have broken down the highest salaries of each of the Premier teams, with some unknown as that of James Rodríguez in Everton. It is estimated that he has seen the more than 150,000 euros per week that he received at Real Madrid reduced, but it is not known exactly how far the cut goes. Raheem Sterling is the fourth highest paid footballer in the competition, earning 330,000 euros a week (300,000 pounds) and leads the Manchester City squad. Kevin de Bruyne (308,000 euros, 280,000 pounds) and Sergio Agüero (242,000 euros, 220,000 pounds) chase the Jamaican winger and occupy sixth and eighth places in the Premier, respectively. Same amount that Kun receive Mo Salah and Willian, who share a position with the Argentine.
Among the City players are two teammates of De Gea, Paul Pogba and Anthony Martial. The French are the fifth and seventh best salaries in England, respectively, with their 324,000 (295,000 pounds) and 275,000 euros (250,000) weekly. Already outside the top-10 is a Harry Kane (€ 220,000, £ 200,000) who precedes Chelsea's highest paid player, newcomer Ben Chilwell (€ 209,000, £ 190,000) .
Other notable salaries are those of Virgil Van Dijk (198,000 euros, 180,000 pounds), Alison and Mané (165,000 euros both, 150,000 pounds), from Liverpool; Timo Werner (193,000 euros, 175,000 pounds) and Kepa (165,000 euros, 150,000 pounds), from Chelsea; Tanguy Ndombélé (176,000 euros, 160,000 pounds), from Tottenham; Jamie Vardy (€ 154,000, £ 140,000) from Leicester; Jack Grealish (€ 148,000, £ 135,000) of Aston Villa; o Rodrigo Moreno, brand new Leeds United signing and highest paid player in the team (132,000 euros, 120,000 pounds) .
Photos from as.com