"Everything that has happened to me in these months is crazy"
Gasly scored his first victory at the age of 24 and breaks a massive drought in French motorsports, winless since Panis in Monaco 1996.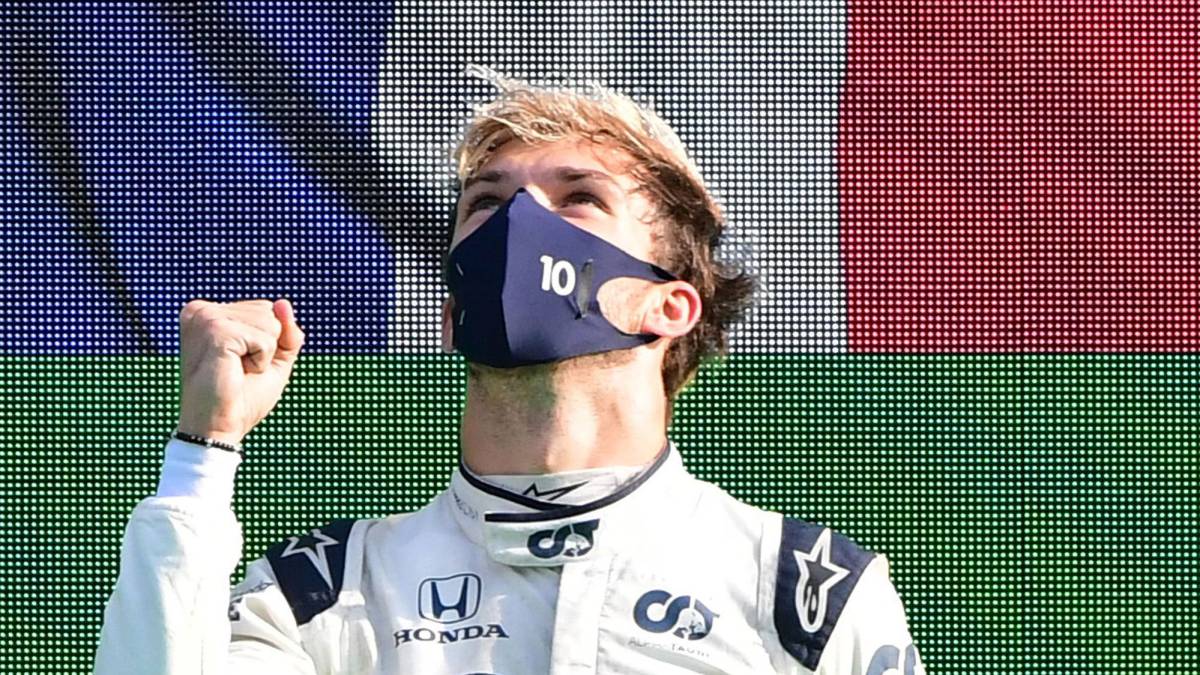 At the age of 24, the driver to whom Red Bull descended to Toro Rosos has achieved the second victory for the Faenza team, now called Alpha Tauri. Pierre Gasly breaks the French stigma in Formula 1 and achieves the first win in 26 years for the country of Alain Prost. This tenacious driver from Rouen has faced many barriers, and he has broken them all.
-How do you feel?
-Incredible, I have no words, I still have to reason what happened. My first victory, at Monza, with Alpha Tauri, which is an Italian team. Could not be better. We work a lot, every day, after everything that has happened to me in the last 18 months. It couldn't be more perfect and I can't believe it. I don't know how many times I will be able to enjoy moments like this, it is a pity that there were no tifosi because the racing style in 2020 is different. But yes, once on the podium I wanted to sit down and take a moment to enjoy everything that happened.
-What did you think about those last laps?
-After the restart, there were 20 laps left until the end. I passed Lance in the first corner and that calmed me down for the rest of the race. Lewis stopped on the first lap and I was alone, it reminded me of Formula 2 when I was leading the whole race. I pushed hard at the beginning, I didn't want to be caught in the slipstream, but the last laps were very hard because my tires were suffering and Carlos was getting closer and closer. I would have been quite annoyed to lose in the last laps.
-Did you feel the pressure from Sainz?
-I knew Carlos would pressure me, it started four seconds. But the third sector is not always ideal to catch the slipstream. I tried to push in the corners, the tires degrade more but it was the only way to build an advantage. I watched it get bigger and bigger in my mirrors, especially at the end of the straight when it got closer. But I saved battery power, which is the only way to defend myself in case I tried something.
-Do you think how important this triumph is for French motorsport?
Is this big? I am proud of how important it is for me to achieve my first F1 victory, in my third season. I've been through a lot in recent years but I'm still new to this world, I keep improving. I would never have expected this a year ago, when I returned to Toro Rosso, and that podium in Brazil was unexpected and I was not prepared that day either. You always imagine the best possible scenario, but this had already happened once in the history of Toro Rosso and F1. I am happy to show my speed, I have worked a lot, race by race, to be stronger. Today I receive all the reward from the work with Alpha Tauri and Honda.
-What did you think when you sat alone on the podium?
-I had many things on my mind. My family, my friends, my brothers, the people who support me and who always encourage me. I remember everything that I have been through and I just imagined how happy they would be in that moment. Everything that has happened in the last few months has been crazy, it's incredible to just think about it. "
-Does this bring you closer to Red Bull? Want?
- (laughs). I think I am ready, but it is not up to me to make that decision, as I have said before. Since coming back to Toro Rosso, all I have done is focus on myself and show what I can do when given the right tools. In general, we have always been strong from qualifying to the race. We'll see what happens, there have been a lot of strong drivers at Toro Rosso and I'm happy to be one of the two who managed to win for this team. It's a reward, but we'll see what happens later. It's not something I want to think about now, I want to enjoy my first win and there will be time to think about that. "

Photos from as.com