Suárez, through tears: "They say that I did Messi badly ..."
Emotional farewell to the Uruguayan and message to Bartomeu. "Reproach me or ...? He said pointing to the seat where Bartomeu said goodbye to him:" Things have been invented.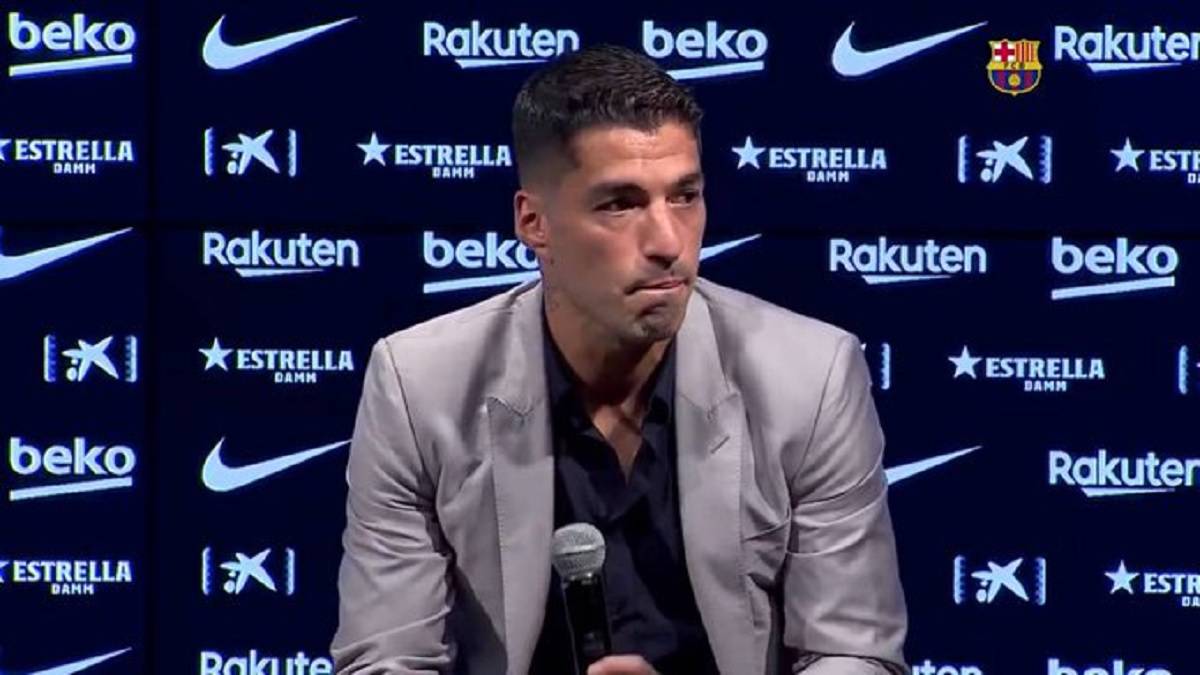 Dressed in a gray suit, and with his wife, Sofía Balbi, and their children present at the event, Luis Suárez did not take half a minute to burst into tears at his farewell as a Barça player, a club he leaves after having scored 198 goals and as the third highest achiever. Suarez made an opening speech: "It's very difficult for me. This is all unforeseen, I have nothing prepared. I just have to thank the club for signing me. They continued to trust me. It was not easy to accept that. The coach, the teammates, everyone They treated me wonderfully. I will always be grateful. All people know the effort I made to fulfill a dream. I always said that this is the best club in the world. I am aware that a stage is ending. I take friends with me, because they are many years and I take friends with me. That makes me happy, saying goodbye to the club's people and letting them see that a player was leaving, but also a human being who has feelings. My family knows the suffering I experienced. That my children saw me get up trophies, scoring with goals. That they see me next to the best in history will remain in the memory. I have to thank the fans for everything ".
Then came question time.
-Has everything gone better than you expected in your presentation?
-Arriving and fulfilling the dream of playing for Barça is a dream come true. I never imagined reaching these numbers. At Barça you have to constantly be performing at your best and I am proud to have endured so much.
-What moment is left?
-There are many good moments, trophies, bad moments. I stay with the first League, get a Champions League by scoring a goal. Play with wonderful players that I used to see them play on the Play Station.
-Has your ending been at the height of the trajectory you have had?
Each player has his way of saying goodbye, of living. It's something that I have to keep to myself. Let there be colleagues of mine and their family ...
-Did you imagine that your departure would be like this? Is there someone who has not done things well?
Now I have to feel proud. There are going to be people who want to agree and people who don't. Now what I have to do is change the chip and be grateful to Barça for living unforgettable moments.
-It's been a crazy month. You two brothers separate. Who was responsible for your separation?
-I'm with you, it was a crazy month, saying many things that one thought. Things have been invented, things have been leaked that are not true. Sometimes you are outraged by that, but you have to try to stay away. When you arrive at Barcelona, they say be careful with Leo, the strikers ... And now it turns out that Leo is hurt by the forward. We are aware that we try to do our best.
-Do you think you could still contribute to Barça?
I already thought that, it is past. Obviously I feel qualified to continue competing in LaLiga. I'm looking forward to it, more after the injury, which leaves me with a bittersweet taste. I go the way I go. With a new illusion and to show that I can continue competing.
-How would you like to be remembered by the hobby?
With the feeling that I have lived up to expectations. Beating players like the ones I beat, I never imagined. I'm happy to leave a nice mark.
-Were you expecting Koeman's call?
When the coach tells me, I expected it because it had already been said before. I can accept it and, as I said from the beginning, I had a contract and was going to continue training. I told him that I wanted to keep training until I found a solution.
-How, when and with whom did the option of signing for Atlético come up?
It sounds ironic but when Barça told me they didn't count on me, there were many calls. I felt qualified to fight with two teams like Madrid and Atlético.
-Have you imagined playing against Barça?
No. I have not yet digested the farewell. I am looking forward because I am attracted to this challenge. I already told some that they know me, I also know them. It will be something nice.
-What do you think of the Barça leaving in the attack phase?
From what you see in training, it's like every beginning of the year. There are many young people and that contributes. I think there are more variants to rotate than before. I think it will be a good year for Barça and that the youngsters will achieve important things.
-In case something has to be reproached, what would be reproached?
Me or ...? I can do a lot of self-criticism. It happened to us once, twice, three, four. We have to learn. We are professionals to learn from that. Well, I can't blame myself for anything. Everyone knows that I have played with discomfort, with injuries and I value that. I am proud to enter the history of the club and to leave the way I am.
-Who are you referring to?
Each one to hold it as they want. I'm not going to please anyone. I am leaving as a great player who has made history at this club.
-Have you missed love? Have you paid for the broken dishes?
I think that each player has their moment and if the club, or the player, thinks that this is the point, they have to accept it. As if a player says it, you have to accept it. It costs, it is difficult. These are rare moments. You have a family and it is difficult to accept, but you have to accept it.
-What do you know about Atlético?
I have spoken with Godín and Griezmann has told me about the club. Atlético is very competitive, ambitious. What I want is for him to keep growing and I will try to get him to achieve something important.
-What did Messi advise you?
We know each other well. Leo knows what I think, I know what he thinks. We are old enough to give advice.
-What did you say when you found out you were going to Atlético?
Obviously, these are weird things. But we'll see what will happen in the future. I faced him in a Uruguay-Argentina. That won't change the relationship or the feelings we have.
-Was the decision of Koeman or the club?
One is no stranger to what happens in the life of football, nor to the journalistic report. It was already speculated and with the call of the coach it is confirmed. I had already accepted it.
-Do you have a thorn left after 2-8, what would you say to the partner?
I will be eternally grateful to the partner for the support he has had since I arrived. I had a bad time and he has always supported me. That is critical.
Photos from as.com