Shaquille slap Kobe: "If he let go, it would have killed him"
Jeff Pearlman's new book on the Lakers chronicles the fight, which happened in 1999. Kobe yelled at the center "you're nothing, this is my team."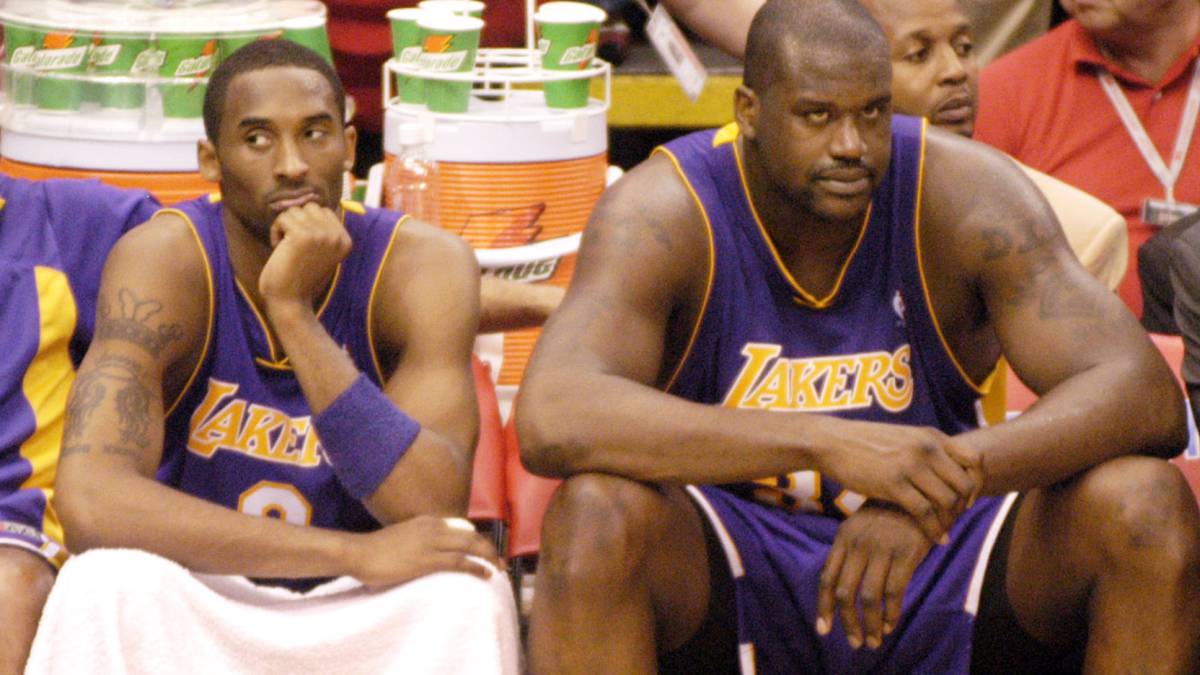 Jeff Pearlman is the author of "Showtime," the great book about the unforgettable Lakers of the 80s, Magic Johnson and Kareem Abdul-Jabbar. Now he publishes "Three Ring Circus", a review of the following Los Angeles dynasty, the turbulent years of Kobe Bryant and Shaquille O'Neal under Phil Jackson, which will undoubtedly be another essential work for NBA lovers, especially for Fans Of The Angelina Franchise.
Some excerpts are already known from a work that will undoubtedly deepen the difficult relationship between Kobe and Shaq, one of the great couples in basketball history and one who won three rings (2000-02) but later broke down very quickly and in The middle of a bloody and mediatic war of egos that took Phil Jackson himself ahead. The technician sided with the pivot (in the same way that the owner, the legendary Jerry Buss, always bet on Kobe) but returned later to amend his relationship with the guard and win two more rings, in 2009 and 2010. O'Neal arrived to the Lakers in the summer of 1996 and was traded to the Miami Heat in July 2004, after a tough loss in the Finals against the Pistons. Kobe arrived in 1996 via draft and still 17 years old. Shaq, 24 and after four seasons with the Orlando Magic, landed in LA as one of the great acquisitions in free agency history.
But Kobe never wanted to bow to Shaq's rule. And their clashes, two alpha males of almost antithetical character, began before the glory years and the rings. Jeff Pearlman's book tells, in fact, how a game during the 1999 lockout ended in a fight and a slap from Shaquille to Kobe: 444 444
One day O'Neal and Bryant came to Southwest College to play. It was early January, shortly after LA Magazine published the piece that talked about Kobe as the new Jordan. There were other Lakers players and there was Olden Polynice, the veteran center who had been with the Sacramento Kings for four and a half years and wanted to sign with the Lakers. Despite their battles in the zones for years, Polynice and Shaquille were friends: "I just wanted to go there and play with Shaq, the Lakers were my team as a kid, it was a dream to be able to play with them and I wanted to show that I was serious."
Then the players warmed up, took some shots and made two teams: "One on one side and others on the other. Kobe was on my team, we were playing Shaq, "Polynice recalls. The game heated up when O'Neal started calling fouls when he missed shots and Kobe yelled at him, "I'm tired of this shit, just play." And Shaquille replied, "One more comment like that and I'll slap you." A few possessions later, Bryant entered, pounced on Shaquille and scored. A good move but nothing to write home about. "Fuck you, this is my team, this is my fucking team!" Kobe yelled at O'Neal. Then everything stopped, as Polynice recalls: "We realized that he wasn't talking about that little game, he was talking about the Lakers."
O'Neal replied, "No, you bastard, it's my team," and Kobe insisted, "Fuck you, seriously, fuck you. You are not a leader, you are nothing ". Shaquille told him "there was no problem" because he would get Kobe's ass pierced. The two were separated, but only a few possessions later, and already with a lot of tension, Kobe scored on another penetration and yelled "Yeah, you bastard, that shit isn't going to stop me." O'Neal caught the ball, stopped the game and replied, "Say another fucking word ...". Kobe interrupted ("Fuck you, you won't believe…") and at that moment Shaquille slapped Kobe Bryant. Loud, as Mark Blount, who was also playing, recalls: "His hands were huge, he sounded very strong."
Polynice tells the rest of the story: "Shaq threw another hand at Kobe but missed. I ran to catch him, because I was big enough to do it, and he kept slapping but unsuccessfully because he had caught his arms. He was grabbing him as best he could and yelling for someone to catch Kobe, who was throwing punches too. There's a moment when Shaq lets go of an arm and hits me on the head. And I was just breaking up… seriously, if he had let go all the way, he would have killed Kobe. I'm not exaggerating. I wanted to finish him. "
But Kobe kept yelling at the pivot: "You're soft! Is that all you have?". Blount asked him to be quiet, because he wasn't helping. Jerome Crawford, Shaquille's bodyguard, was the one who finally put an end to the brawl and Polynice turned to Mitch Kupchak, the Lakers general manager who had witnessed it all, and said, "You should hire me just to thank me for this." In the following season, 1999-2000, the Lakers won the first of their three consecutive rings with Shaquille and Kobe as superstars. To achieve this, they had hired Zen Master, Phil Jackson, before the start of the course, who achieved enough harmony between the two for that legendary threepeat to arrive.
Photos from as.com