Shapovalov, Kyrgios, Serena ... the precedents of Djokovic's pitch at the US Open
Other tennis players have also incurred this type of reaction during various tournaments. Shapovalov, one of them will be measured against Carreño, who already experienced Djokovic's pitch.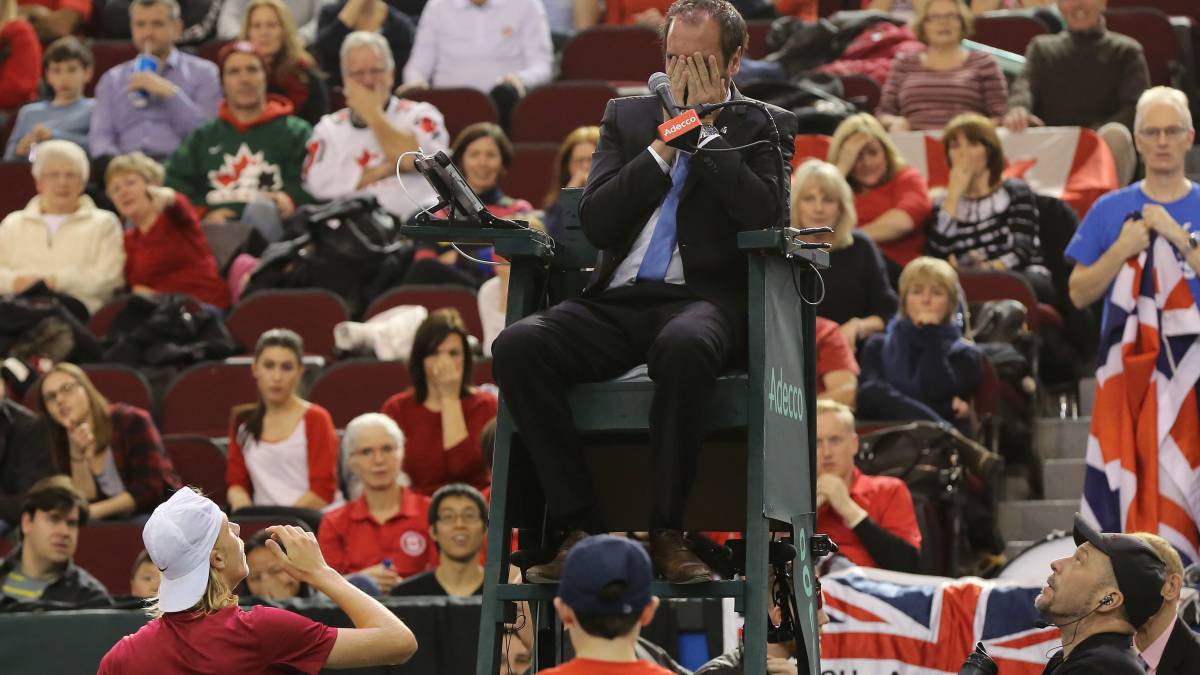 Novak Djokovic's hitting a linesman during his match against Pablo Carreño at the US Open, which resulted in his disqualification from the tournament, is not the first incident of this type seen on the circuit in recent years.
One of the most memorable episodes was the one that featured Canadian Denis Shapovalov, who will precisely be Carreño's rival in the US Open quarterfinals. The Shapovalov incident took place during the Davis Cup tie between Canada and the United Kingdom. After a point the Canadian hit a ball in the air with such bad luck that it hit the chair umpire Arnaud Gabas. This fact led to the disqualification of Shapovalov, who at that time was 18 years old. Shapovalov's disqualification meant Canada's elimination from that Davis Cup.
Precisely Shapovalov himself wanted to give his opinion on the Djokovic incident after beating David Goffin in his round of 16 match at the US Open. "I've been in that situation, so I know exactly how Djokovic feels. I hope Novak can overcome it. He has to grow and learn from this. But it was also bad luck. The ball could have hit anywhere," said the Canadian.
Another controversial episode took place during the final of the Queen's tournament in 2012, when David Nalbandián kicked a box near a linesman causing a wound to the shin. In this way, Marin Cilic was proclaimed champion despite the fact that Nalbandián led the score by 7-6 (3) and 4-3.Also on this disqualified list is Australian Nick Kyrgios, who was disqualified at last year's 1000 Masters in Rome after kicking several bottles and throwing a chair in the middle of the court during his match against Casper Ruud. Also featured on this list is American John McEnroe, who was sent off during the 1990 Australian Open during his match against Mikael Pernfors after confronting a linesman, throwing his racket on the ground and then throwing loud insults.
Another tennis player who was disqualified in a Grand Slam was Britain's Tim Henman, who was also disqualified at Wimbledon in 1995 after hitting a ball boy with a ball, to whom he later apologized. Henman also wanted to give his opinion on the hit of Djokovic in statements to Amazon Prime. "It is the correct decision. It is not aimed at the linesman, but the ball hit her and therefore you must be responsible for your actions."
Another of tennis's greats, Serena Williams, also knows what it's like to suffer a disqualification during a tennis match. It also happened at the US Open, in the semifinals of the 2009 edition against Kim Clijsters. Serena lost her papers after a linesman pointed out a foot fault and the tennis player told her "I'm going to kill you." Nine years later, Serena again faced disqualification during the 2018 US Open final against Naomi Osaka after her heated discussion with chair umpire Carlos Ramos, although this time there was a warning and loss of a game for Serena, which would end losing that final
Photos from as.com