San Emeterio: "By names this is the best Valencia Basket"
The Cantabrian speaks in the preview of the We're Back Preseason Tour, the tournament that will face Bayern, ASVEL and Olympiakos today and tomorrow.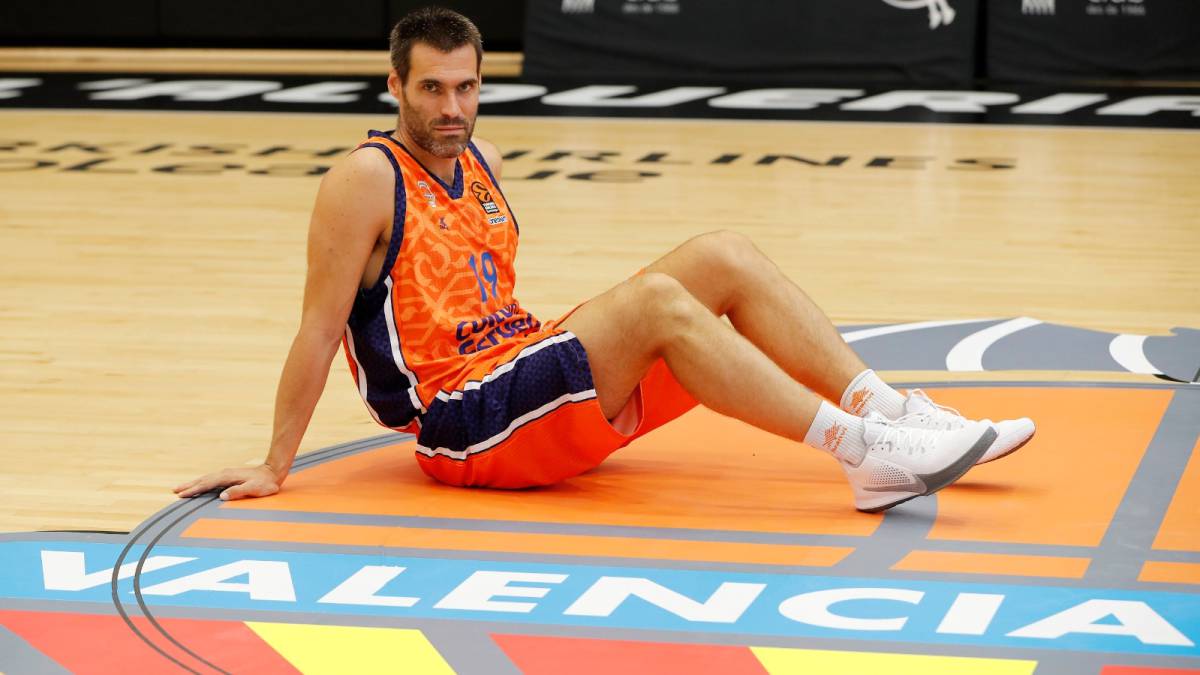 -After the special end of last year, where Valencia was one shot away from the final of the Endesa League, a new season begins ...
-Yes, with renewed energy. We started a year with a lot of uncertainty, due to the circumstances. But it is also something that keeps us on our toes. I really want everything to go well, to enjoy the competition, enjoy a year in the Euroleague ... I think last year we competed well and we were in a good line. This year we want to take a step forward. The club has shown it, with good incorporations. we have a solid team to fight in both competitions and compete well. And this is the goal.
-Does the team that you are watching in the friendlies motivate?
-Motiva that we have a very good team. And that we are a versatile team, as we have been in recent years. But we are not fooled by the preseason results, which in the end are what they are, teams arrive in different workload circumstances and that can be a bit misleading. However, it is true that we are excited to have a good year and above all to start better than last year, which is fundamentally what we lacked.
-What level of adaptation are you seeing in the new ones?
-Well, they are players who know Europe, they are veterans, there is no one who arrives new to Europe and even with experience in the Endesa League like Klemen Prepelic. There it will help us to adapt well.
-Without detracting from other squads, do you think it is the best squad that has been formed since you've been in the team?
-Surely yes, by names. But now we have to put everything together and that we are truly a team on the track and it shows that these names make a team and that they can compete with the best.
-Has the athletic power that the team lacked at specific moments in Euroleague been signed?
-Yes, we have brought athletic power with Derrick Williams, we have brought scoring ability with Prepelic, we have brought experience in the Euroleague and in big teams with Kalinic and Williams ... I think we have made a well thought out team, with many wickers and many keys that now must be combined so that everything goes well.
-What is the goal of Valencia?
-We are not going to fool ourselves, the goal we all have in mind is to play the playoff, to enter the top-8. It would be something that would guarantee us the Euroleague for the following year. For the first time we would play this playoff, in the new format, and this is something that motivates us all. And then, in the ACB, to be as high as possible. Last year we were on the verge of playing the final. The key is to be there every year, to fight and for the people of Valencia to identify with the team. In the end, what we wear on the shirt, which is the 'effort', is the most important.
-Individually he will begin his 20th season in the elite. The record is held by Joan Creus with 24 ...
-It is very difficult, now I am entering the most difficult years. But I'm fine physically. Obviously I am not like when I was 23 or 24 years old but I am very calm, very aware of how I can help the team and at this age what you care about is being a team that wins, that plays basketball well and enjoys playing.
-What role will Saint Emeterio play this year?
-I don't know. But it is clear that we have to be a long team. There will be opportunities for everyone. There will be games in which people will have to be dosed and someone will pull the team ... And the next day it will be another. If we all understand this, in such a tough and long season, we will be competitive. If not, we will suffer.
Photos from as.com