Rossi: "The key? The good taste in your mouth that makes you happy"
"I am very happy and very proud of this decision, because I want to continue competing," says the Italian about his departure to Petronas.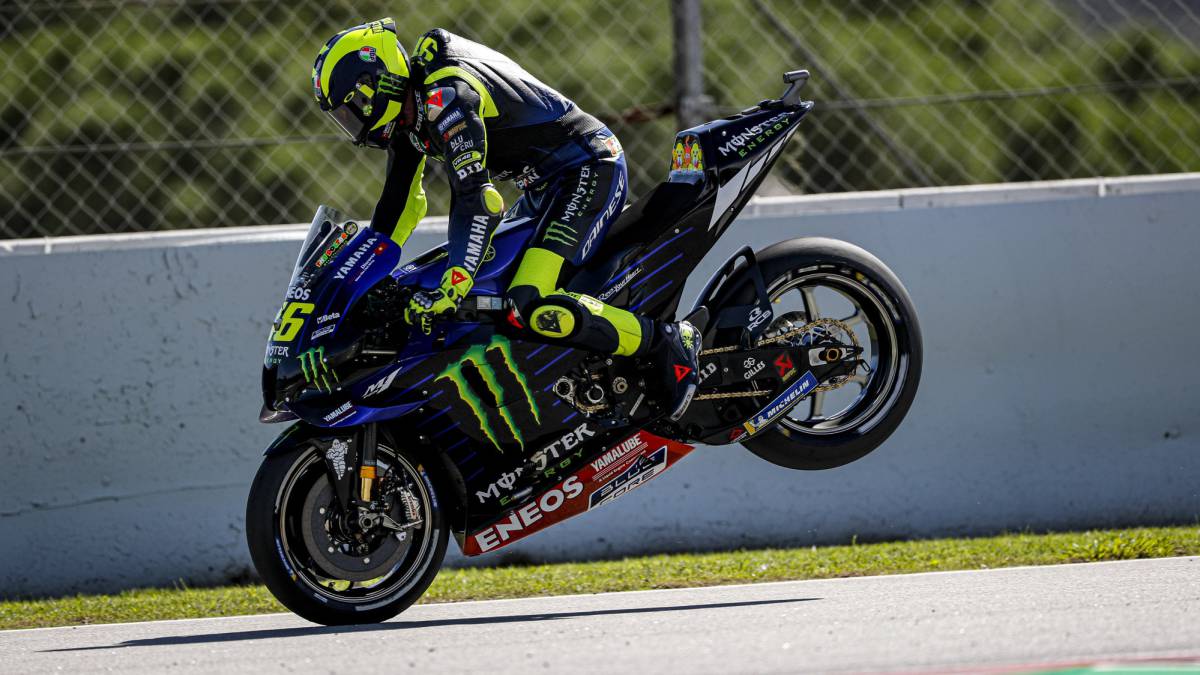 Valentino Rossi extensive press conference to discuss his renewal, at 41, with Yamaha, to race in 2021 with 42 springs on the Petronas Yamaha SRT. He had previously talked about his third place in Q2 of the Catalan GP.
-What can you say about your renewal with Yamaha?
-I am very happy and very proud of this decision, because I want to continue racing. It is a somewhat strange season, first I had to try to understand if I looked competitive. Afterwards we talked a lot with Lin Jarvis, with Yamaha, and later with the Petronas team, and the truth is that it is very good to reach this agreement. I have been with Yamaha in the second half since 2013 and I was also from 2004 to 2010, and I think this movement is positive for me. I want to thank Lin Jarvis and Yamaha. I don't think things are going to change much. You will change the color of the bike. I am satisfied because the Petronas team has a high level, they are very professional and have achieved important results.
-How was everything forged?
-The story went like this: in a normal situation, I would have asked Yamaha to wait until Mugello, because I had not liked the results of last year. It's true that I had a good first part of the season, but it was hard for me and I didn't feel competitive enough to stay. When you start having these problems at this age, you start to question yourself. If I looked at the data of the rest of the pilots, you see that you are the oldest and that you take seven years out of the second oldest ... you think that it was still time to stay home. But in my heart I knew it could be competitive. It is clear that it is not the same as 10 or 15 years ago, when I could win 10 races in one season, but I think that if you are physically well, motivation makes the difference. Last year I wanted to make changes to my team, because I knew we could be strong and competitive. After that it was a bit strange, because before the COVID break came, Lin called me and asked if she could come to the Academy. It was not good news. Honestly, I expected it because it is normal, already from Thailand last year because Maverick was going strong and, above all, Quartararo was achieving incredible results, so I thought it would be difficult to have a place for 2021. I always say that Lin came to say goodbye to me (Laughs), but it was normal. But I asked him if he wanted to continue, if they could give me a third M1. I put him a bit between a rock and a hard place, and from that moment on he said yes, because the relationship between Yamaha and me was very special. From there we started working on this project and I feel very happy, because I enjoy it. If I am able to be competitive, I want to continue next year. I have Lin, Yamaha and the Petronas team to thank.
-Why was the contract delayed?
-Because it was fun and because we like to put things off for later. Jokes aside, I was honest from the beginning and said in Jerez that 99% would race with Petronas. From that moment, the situation was already clarified, and both Petronas and Yamaha had already said yes. But we were in no rush. As Lin explained, it was complicated because it is a three-part contract, not just with Yamaha, because in recent years we had always signed the same contract with minor modifications and it was faster. That is why this time it has taken longer. We wanted to know what Razlan and the Petronas team thought, and we were in no rush. On the technical team, we had to negotiate because Fabio also brought some of his mechanics to the official team. But generally speaking, it was because we weren't in a rush.
-You will be separated from members of your team ...
-I have fought a lot to take the whole team, but sometimes it is impossible, because great professionals also work at Petronas. In my career, having my team has always been very important to me. We have been with Alex and Brent since 2000. At this point in my career it is normal that everything cannot be perfect, so I have tried to stay with my crew chief (David Muñoz), Idalio Gavira (coach) and Matteo Flamigni ( telemetry), and unfortunately Alex and Brent I have not been able to take them and it is something that saddens me.
-What will it be like to share a box with your friend Morbidelli?
-I am very happy to share the team with Morbidelli, who is a pilot at the academy. If you had told Franco or me that we were going to share a team, we would have said that it would not be possible, because I might have already finished my career. It's great to share equipment and to be able to increase our performance.
-Will you renew for 2022?
-It's a bit early to say. We'll see what happens for 2022. There may be some team change and maybe we can have the chance to have a VR46 team in MotoGP. But honestly, it's still too early and it's not easy. Our organization is very good for Moto3 and Moto2, but for MotoGP it is a great step. I don't know yet, it's early. As for being with Yamaha, we've already talked to Lin and why not? Before we have to decide if we make the team or if we continue only in Moto3 and Moto2. Then we'll see.
-What is the secret of your eternal youth and your passion for racing?
-The truth is that I grew up with my father, who was a pilot and the first thing I remember is that I loved following him to see him race, especially on motorcycles. At first I was racing cars, but he put me on a motorcycle very fast, when I was very young. Now it's more normal, but at that time I was the first driver of the new generation, because I started very, very early. I was very precocious and that is a key element in reaching the top positions and Graziano loved to ride the bike and try to see if I was messing it up or making a mistake in one place or another. That is the secret of passion. This is a good lifestyle, but you have a lot of pressure and, to be a MotoGP rider right now, you have to be a true athlete, train every day and lead a certain lifestyle. It's not easy, but when you ride the bike and hit the track, if you have that good taste in your mouth that makes you happy, that's the key. Perhaps for others it is otherwise and those sensations end and they continue, but without that taste in the mouth, everything becomes more difficult.
-What are the differences between the factory equipment and the satellite?
-The Nastro Azzurro was indeed a true satellite team, because the current ones are all very important for the factories. Normally in the satellite team you have the young teams that serve as quarry for the official team, but now those teams have the same bikes as the official teams on many occasions. The same thing happened with the Nastro Azzurro Honda team and I am the only one who has won the title, in 2001, with a satellite team. I will try to repeat that same result next year.
Before the press conference on his new contract, Rossi spoke about his third on the grid for the GP of Catalonia. Said this:
-Is it the best Saturday?
-It is a positive Saturday because we started well from Friday and we felt from the beginning that we were competitive and today we have worked well with the modifications we have made, which I liked. In FP4 with the used tire I have seen that I had a good pace and starting from the front row is important as the first corner is far.
-Tires?
-We have not decided on the tire yet and we will try to make a comparison and we will be aware of what happens tonight with the weather, hopefully the conditions are dry because the choice of tires will be crucial. The soft one works well at the beginning but in the end you suffer and the medium is worse at the beginning but then by the end of the race it is more stable.
-How about the temperature change compared to running here in June?
-Always in the history of Barcelona, it has been a low-grip circuit, especially with the Michelin ones, where there is a lot of spinning and skidding a lot and it is a shock coming from Misano, but compared to other years for me it is better. Last year it was very hot, we had like 50 degrees on the asphalt and in the race I remember that we had difficulties and the issue of the tires became very difficult. This temperature is best for motorcycling.
-How do you see your championship options?
-In this championship I am not so far in terms of points, but I have lost some important ones. I am ninth and there are many drivers ahead so tomorrow we have to give our best and it is difficult to make calculations about the championship when you go ninth and what you have to do is push hard.
-With soft tire it was the fastest.
-My pace on the soft tire worked very well this afternoon, but I have to control the pace of the other Yamaha as Fabio, Franco and Maverick go very fast and do more laps in a row. It will depend on that although the performance is quite similar at the pace level.
Photos from as.com