Rossi: "Honestly, I didn't want my students to beat me"
"When Morbidelli won the title in 2017, I began to think that maybe he would have a strong rival in MotoGP who came from the Academy," says 46.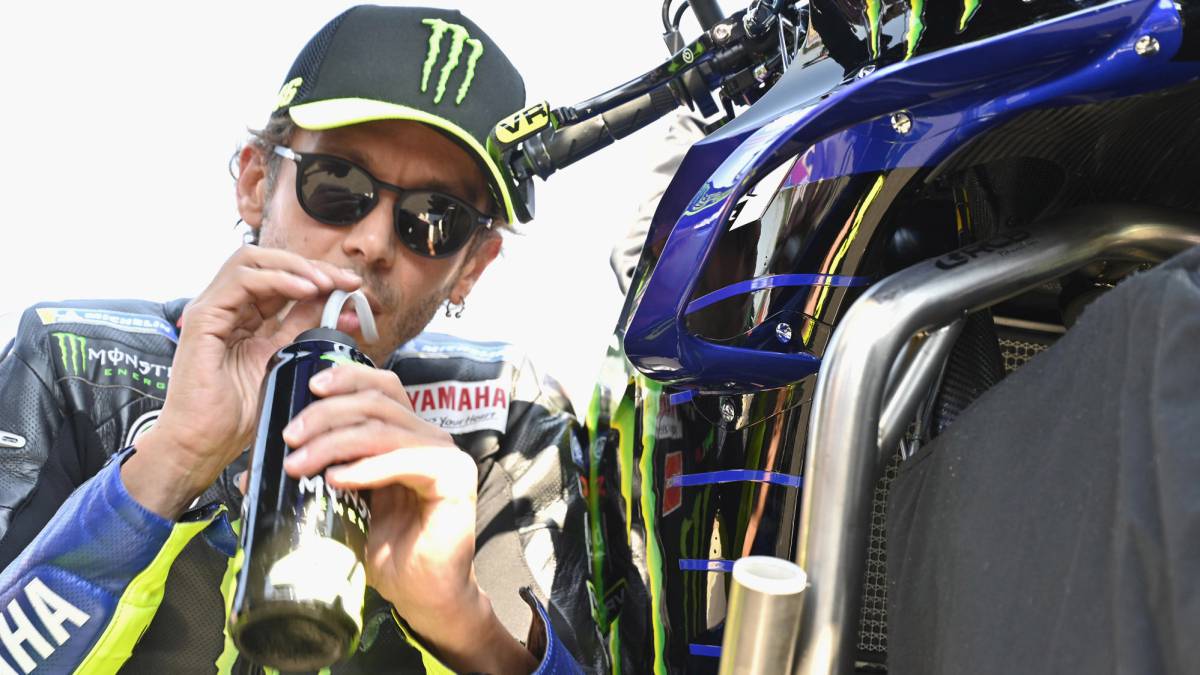 Valentino Rossi has monopolized most of the questions at the press conference with which the Emilia Romagna GP began. Beyond what he thinks of the future of his brother Luca Marini in MotoGP and of his helmet for this occasion, this is what he has said:
-What did Misano's podium mean as the creator of the Academy VR46?
-For us it was an unforgettable day, for all the people who have been working on the Academy project. We are very proud of our riders, and if I could have made it to the podium it would have been a historic moment. In any case it was a good race, I kept up the pace from the beginning but had more problems at the end. I tried to hold onto the podium tooth and nail, but Mir was coming too fast. A pity because a podium is always special and more so at Misano. The good thing is that we have another good opportunity this weekend, but I think it will be more difficult because all the drivers will be closer to us, so we will have to improve ourselves.
-Have you ever thought that your students could surpass you?
-Honestly, I didn't want my students to beat me. When we started that project, I didn't know what it would bring us in the following years, because it was a unique program. When Morbidelli won the title in 2017, I started to think that maybe he would have a strong rival in MotoGP who came from the Academy. But if we are together we can improve and we like to run together.
-How about Tuesday's test?
-It was a good test. We worked hard and I went around a lot. I had a few pieces to test and some worked better than others. For tomorrow the starting bike will not change much, but we will see how the track conditions are during the weekend. Tomorrow I will start with a motorcycle very similar to the one from the previous weekend, but I have planned to use a new swingarm and the new exhaust, which you are going to notice because it is very large and can be seen a league away.
-Will experience be more important than speed to win the title?
-It's a crazy championship. We have 9 drivers at 23 points. It is a different championship in every way, but very motivating. Throwing experience will be important, but the most important thing is having speed. I'm not that far behind, but I have to increase speed to fight for the championship. It is the crucial factor.
-How about the holeshot beyond the exits?
-We have the exit device, which lowers the rear of the bike and we try to use it in some accelerations when exiting the curves. The sensations are not bad, but it is not easy to manage the device because it is one more thing to do during a race, but it may be a good idea in the future.
-What did you learn from Morbidelli the other day?
-I know him very well, because we always drive together at the Ranch. I already know his style and on Sunday he was in great shape. He rode superbly from start to finish and was able to turn the bike very fast. It was a masterpiece what he achieved, because it is not easy to always be ahead and not make any mistakes.
-In the 2000 season, his first in the queen class, there was no clear favorite either. How would you describe this year?
-Crazy, very balanced. The truth is that it is like 20 years ago, when we competed with the 500 and 2T. In those years there were many riders with possibilities, because the bikes were very close. There were 5 Honda, 5 Yamaha, 2 Suzuki and all the bikes were factory. The organization has worked to achieve this equality again and I consider this to be one of the most attractive points of the championship.
-Does age influence Q2s?
-It depends a lot on the DNA of the pilots. For both me and Dovi the fastest lap in Q2 was not our strength. Maybe it's my weak point. There are other drivers who can be in front more easily on the grid. I don't know if it's a question of age, of course age doesn't help, but I don't think it's just age. I love racing, it's what I like the most about this sport. Now everything is so even that if you don't square the lap, you go far back on the grid. To avoid problems in the races you have to be in the top five.
Photos from as.com